Obama Leaves Key Questions Unanswered in Afghan War Strategy Summit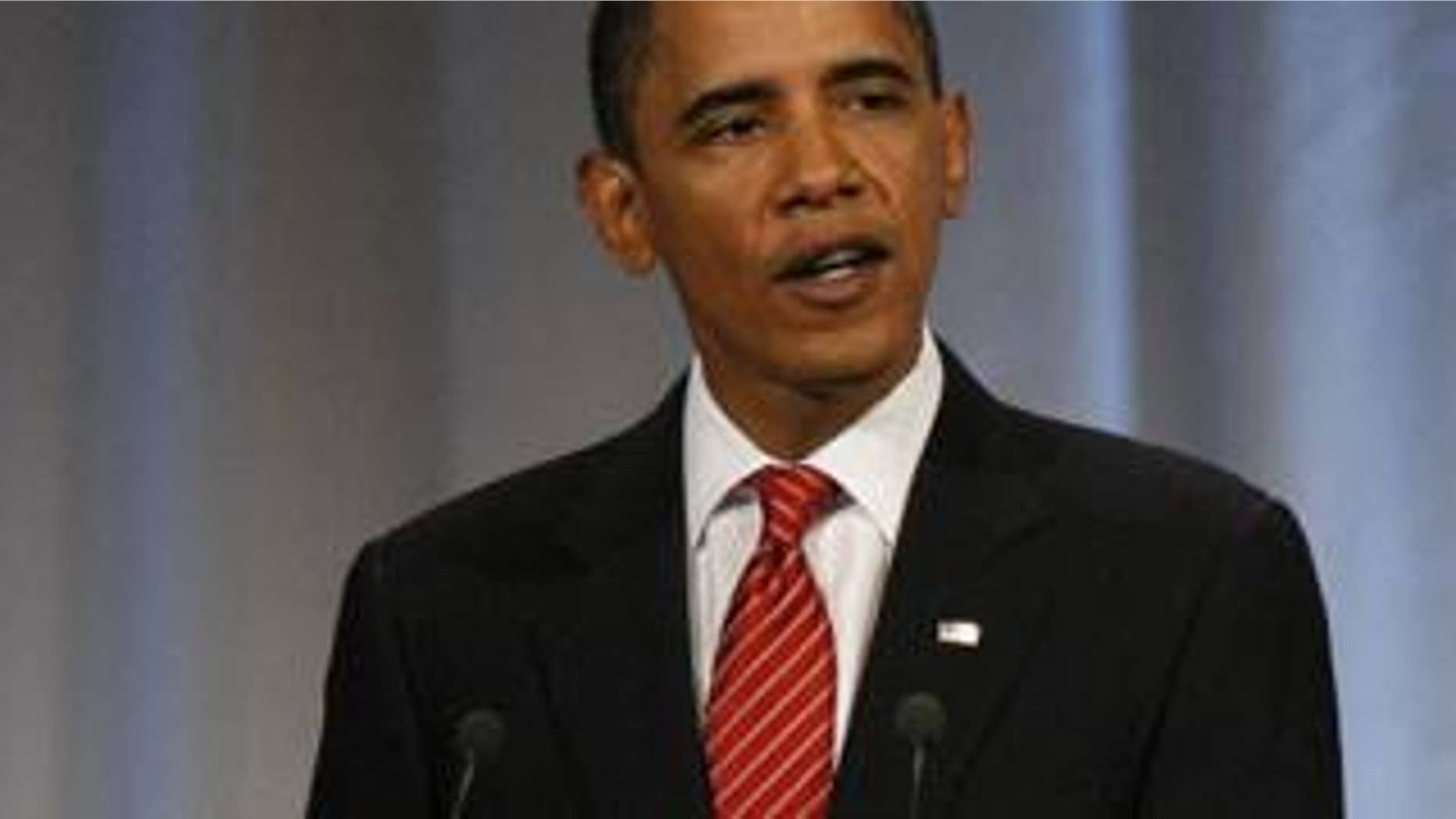 President Obama's meeting Tuesday with congressional leaders over his Afghan war strategy bought him some time but still left questioned unanswered about how he will proceed with the war, particularly regarding troop levels.
Leaders from both parties emerged from the meeting to say they were eager to see the president's next move, as Republicans stressed that the strategies proposed by top U.S. commanders should be given "additional weight."
Obama ruled out shrinking the war into a counterterror campaign. Yet he did not signal whether he is prepared to send more troops to the war zone, either the 40,000 his top commander wants or a smaller buildup, according to several officials.
After the summit with 31 Democratic and Republican congressional leaders, the White House issued a statement saying Obama had "underscored the importance of the decision."
"Given the importance of the policy to our security -- and to our troops -- the president said that he will be rigorous and deliberate, while moving forward with a sense of urgency," the White House said.
House and Senate leaders appeared optimistic that Obama would reach a viable solution in Afghanistan, as troop casualties mount and public opinion sours on the war.
"It's very clear that the president is headed in the right direction," Senate Majority Leader Harry Reid said in a brief press conference, while House Speaker Nancy Pelosi emphasized that without a definitive strategy in Afghanistan, the U.S. should not devote resources until it has "evaluated the tools at our disposal."
But leading Republicans -- though seemingly confident Obama will reach a thorough and informed decision -- said proposals from top U.S. commanders, like Gen. Stanley McChrystal and Gen. David Petraeus, should be given additional weight.
"Their recommendations should be given great weight given their successes in the past," Sen. John McCain, R-Ariz., said of the two commanders, both of whom officiated over U.S. combat operations in Iraq.
McCain stressed the if Afghanistan falls again to the Taliban, "Al Qaeda will come back."
"It's pretty clear that time is not on our side," he said, adding that he saw many parallels between the conflict in Iraq and the U.S.-led counterinsurgency in Afghanistan.
"I think all of us recognize that the president of the United States has a very difficult decision to make, and I think he was honest about wanting our input and our advice," said House Minority Leader John Boehner.
As U.S. troops wage an increasingly deadly war in Afghanistan, Obama finds himself mired in what amounts to a war of appeasement in Washington, with advisers, generals and lawmakers from both parties sparring over military strategy.
Tuesday's summit came on the heels of a firefight that saw eight U.S. troops killed on Saturday while defending a remote Afghan military outpost. Taliban militants opened fire on the outpost in Nuristan province from various locations with rockets, mortars and heavy-caliber machine guns.
Obama and his policy advisers are debating whether to escalate the conflict after already sending 21,000 more troops to Afghanistan earlier this year; that discussion is certain to take center stage when he hosts the members of Congress in the White House Tuesday.
In a 66-page document leaked to the Washington Post, Gen. Stanley McChrystal, the top U.S. commander in Afghanistan, wrote that tens of thousands more troops are needed to address a "deteriorating" security situation and maintain stability in the region. And during an Oct. 1 visit to London, McChrystal said that "a strategy that does not leave Afghanistan in a stable position is probably a short-sighted strategy."
But the president's National Security Adviser, Gen. Jim Jones, offered a stark difference of opinion on the 9-year-old war on Sunday, saying he doesn't foresee the return of the Taliban.
"I want to be very clear that Afghanistan is not in danger, imminent danger of falling," Jones told CNN's "State of the Union," adding that a troop surge is "just one option."
Obama -- who has defined the conflict as a "war of necessity" in stopping Al Qaeda training in the region and protecting the U.S. from terror attacks -- has not committed to a troop surge. White House press secretary Robert Gibbs said Monday that the administration is considering shifting troops to more populated areas instead of manning remote command centers like the one attacked over the weekend.
Gibbs said Obama is not considering a troop withdrawal, despite calls by Vice President Joe Biden to scale down America's combat presence in the country.
Defense Secretary Robert Gates and Secretary of State Hillary Clinton have said that the administration's war goals remain the same: to sideline Al Qaeda. But White House officials say changing circumstances in the region require a reassessment of how to achieve those goals.
McCain and Sen. John Kerry, D-Mass., have called for additional troop deployment to fight a growing insurgency.
"It's basically the same counterinsurgency strategy that succeeded in Iraq after the strategy right now advocated by the vice president and others failed," McCain said in an interview Tuesday on NBC's "Today Show."
"We have to hold and clear ... so that people can live secure lives and have a continuation of political and social environment that will allow them to beat back at the Taliban and prevent Afghanistan from returning as a base for attacks on the United States of America and our allies," he said.
Sixty-six percent of Americans say military commanders on the ground should decide strategy in Afghanistan, while 20 percent say Obama must make the call, according to a FOX News poll conducted Sept. 29 and 30. The poll found that 64 percent support military action in the country, while 27 percent oppose it. Public opinion on whether to send additional troops is evenly split -- 43 percent back a surge while 43 percent support a withdrawal.
The Associated Press contributed to this report.