Obama: Final state dinner a 'bittersweet moment'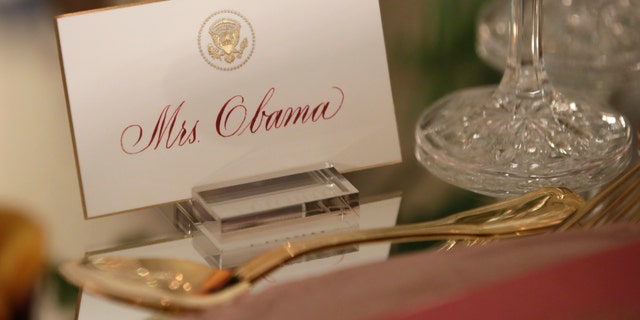 President Barack Obama called it a "bittersweet moment" on Tuesday as he and first lady Michelle Obama welcomed the Italian leader and his wife for an official visit and the final state dinner of his time in office. But the president added with a big grin: "We've saved the best for last."
With herald trumpets and a full dose of pomp and pageantry, the arrival ceremony on the South Lawn of the White House turned into a time for nostalgia and a moment for mutual admiration between Obama and Prime Minister Matteo Renzi.
Obama described the 41-year-old Italian leader as young and handsome and credited him with challenging the status quo in Italy with bold reforms.
"He's put forth a vision of progress that's not rooted in people's fears but rather in their hopes," Obama said.
Renzi, in turn, told Obama that many people think politics is about screaming, fighting and creating division, but that Obama was different: "We think history will be kind with you, Mr. President."
After each leader spoke, they hugged briefly and patted each other on the back.
The arrival ceremony marked the beginning of a daylong visit that will be capped with a glitzy state dinnerthat features celebrity chef Mario Batali in the kitchen and singer Gwen Stefani performing.
The visit provides star treatment for a key European ally who soon faces a critical leadership test in his home country.
White House officials are describing the two political leaders as ideologically sharing a great deal of common ground, most notably their belief in the importance of a strongly integrated Europe. Britain's decision to exit the European Union is testing that vision, and a Dec. 4 referendum in Italy on the government's proposed overhaul of the constitution could derail Renzi's political future if it fails.
The White House said Obama strongly supports the economic and political reform efforts that Renzi has undertaken as prime minister, and he wanted to show it.
"He wants to actually demonstrate the strength of the relationship with Italy as well as to get behind and put wind in the sails of someone he sees as one of the most promising young politicians in Europe," said Charles Kupchan, senior director for European affairs at Obama's National Security Council.
Kupchan said it goes without saying that Europe has faced tough times over the last couple of years with sluggish growth and a migration and refugee crisis stemming from conflict in the Middle East. Those trends have created an undercurrent of anti-European Union sentiment. He said Obama believes that Renzi's agenda to revitalize Europe is critically important to the long-term interests of the United States.
During the arrival ceremony, Obama spoke of how Italian-Americans have helped shape the United States. He said their experience was often one of arriving with nothing, of overcoming prejudice and discrimination, and relying on faith and the love of family to go on to succeed. He said that experience reveals a "truth we must never forget, and that is that America was built by immigrants, America is stronger because of immigrants."