Obama Calls for Egypt Transition to Begin Now, Urges Mubarak to Make 'Right Decision'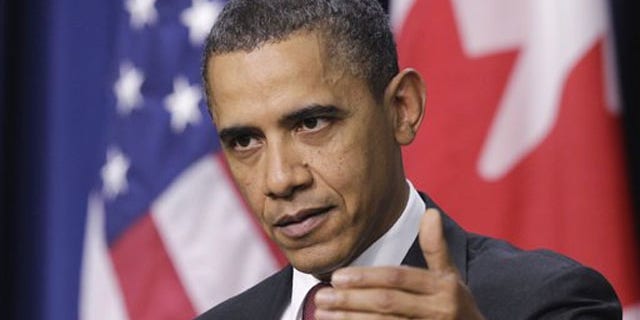 NEWYou can now listen to Fox News articles!
President Obama on Friday urged Egyptian President Hosni Mubarak to begin the transition process "now," condemning the recent string of attacks on journalists while expressing hope that the country can emerge from the unrest with a democratic system that respects the rights of its people.
"We want to see this moment of turmoil turn into a moment of opportunity," Obama said. "The entire world is watching."
The president, speaking during a press briefing alongside Canadian Prime Minister Stephen Harper, did not say outright whether Mubarak should leave immediately or serve out his term. The protesters who surged Friday into the streets of Cairo for what was billed as a "Day of Departure" want Mubarak to leave office now, something the 30-year ruler of Egypt has refused to do. But in what could be perceived as a hint, Obama noted that Mubarak's term is up shortly and said he hopes "he will end up making the right decision."
"The key question he should be asking himself is how do I leave a legacy behind in which Egypt is able to get through this transformative period?" Obama said.
Amid reports that the Obama administration is talking behind the scenes about different scenarios to quell the unrest, including one in which Mubarak hands over power to a caretaker government until elections can be held, the White House stressed Friday that the United States is not calling the shots. "The future of Egypt will be determined by its people," Obama said.
He added that the United States will remain a "strong friend and partner" -- though some foreign policy analysts are concerned that a group like the Islamist Muslim Brotherhood could emerge with greater power and steer Egypt away from the West, as well as from its peace with Israel.
Obama also used his remarks Friday to address for the first time what the administration has described as the "systematic" targeting of foreign journalists covering the demonstrations. Journalists from a number of news organizations, including Fox News, have been attacked over the past three days. A state-run newspaper also reported Friday that an Egyptian reporter who was shot earlier in the week has died, making him the first journalist casualty of the turmoil.
Obama said the violence on the streets violates "human rights, universal values and international norms."
"Attacks on reporters are unacceptable, attacks on human rights activists are unacceptable, attacks on peaceful protesters are unacceptable," Obama said.
Earlier, White House Press Secretary Robert Gibbs said the protesters in Egypt "aren't going anywhere" until they see meaningful steps from the Mubarak regime on moving toward "free and fair" elections and human-rights improvements.
"They need to take some concrete steps for this process to happen," Gibbs said. Until then, he said, there will be "more uncertainty and more unrest."