'Day of Departure': Protesters Pour Into Cairo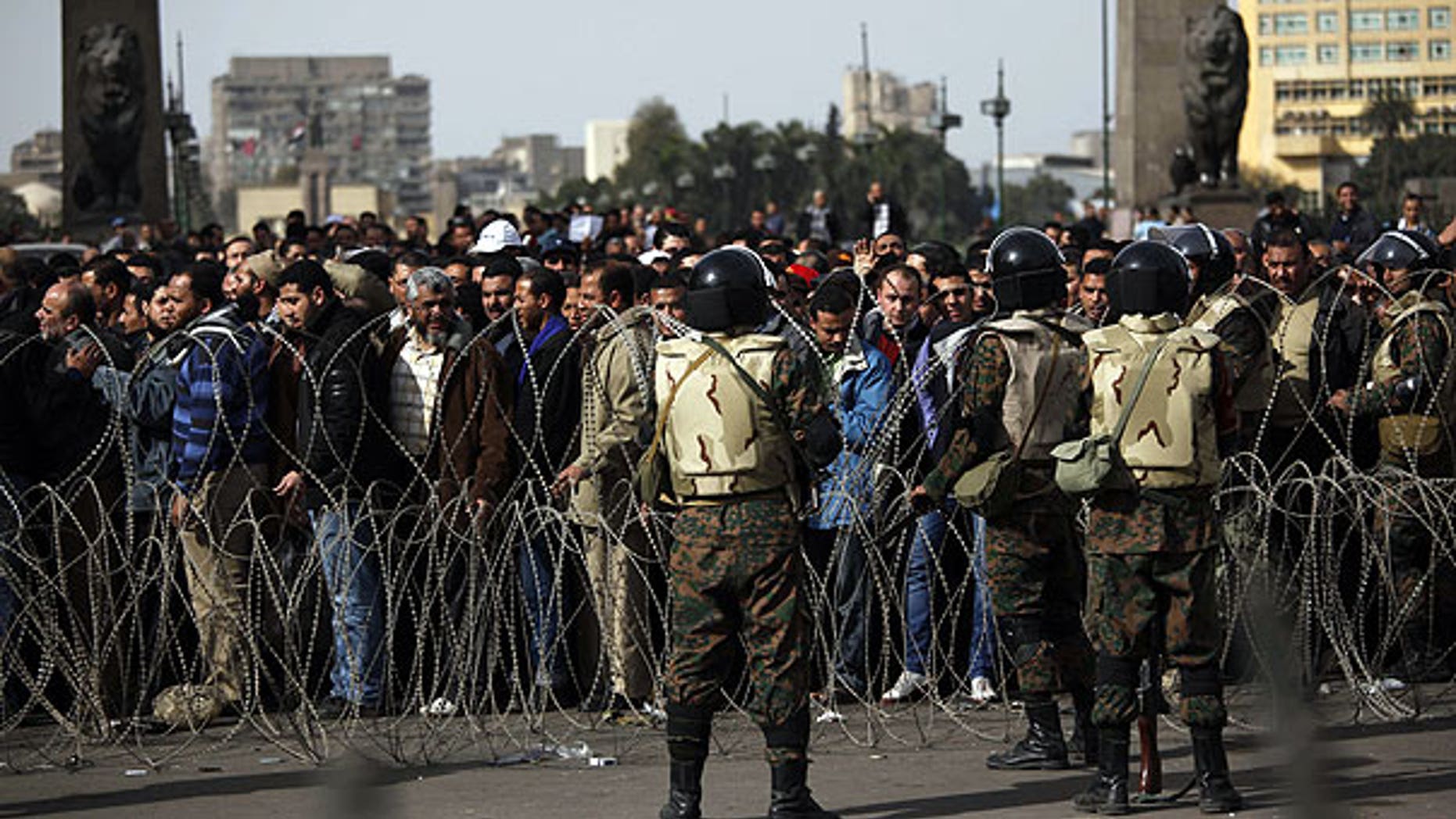 CAIRO – Tens of thousands of anti-government demonstrators flooded Cairo's Tahrir Square on Friday in what is being billed as a "Day of Departure," a final attempt to topple the government of President Hosni Mubarak after more than 10 days of violent protests and deadly street battles.
Egyptian Defense Minister Mohamed Hussein Tantawi visited the square and spoke with the largely non-violent protesters, the most prominent government official to do so since the unrest began to demand an end of Mubarak's nearly 30 year rule.
Soldiers checked IDs to ensure those entering were not police in civilian clothes or ruling party members and performed body searches at the square's entrances, a sign that Egypt's most powerful institution was sanctioning the demonstration -- though Tantawi tried to convince those he spoke to end it.
Protesters labeled the rally the "Day of Departure," a reference to their demand for Mubarak to step down Friday. Some held up signs reading, "Now!" Others chanted "Leave! Leave! Leave!"
Mubarak, who insists he will serve out the remaining seven months of his term, told ABC News he wants to step down, but that doing so would spark chaos. He also vowed not to leave Egypt.
The Obama administration said it was consulting with top Egyptian officials about the possibility of Mubarak immediately resigning, and an interim government forming before free and fair elections this year.
"The president has said that now is the time to begin a peaceful, orderly and meaningful transition, with credible, inclusive negotiations," a White House spokesman, Tommy Vietor, said late Thursday. "We have discussed with the Egyptians a variety of different ways to move that process forward, but all of those decisions must be made by the Egyptian people."
White House and State Department officials would not discuss details of the discussions U.S. officials are having with the Egyptians. Vice President Joe Biden spoke with Egyptian Vice President Omar Suleiman on Thursday, a day after a similar conversation between Suleiman and Secretary of State Hillary Rodham Clinton. Officials said neither Biden nor Clinton made a specific call for Mubarak to resign immediately but pressed for measures that would ease tensions on the streets and set the stage for democratic elections.
U.S. officials said the creation of a military-backed caretaker government was one of several ideas being discussed between the Egyptian regime and the Obama administration. The U.S. officials spoke on condition of anonymity to discuss the continuing sensitive talks. Among the options was a proposal for Mubarak to resign immediately and cede power to a transitional government run by Suleiman, the officials said.
Meanwhile, Egypt reportedly imposed a travel on former trade minister Rachid Mohamed Rachid and froze his assets, Reuters reports, citing the state news agency MENA.
"The public prosecutor's decision is part of the precautionary measures taken against some officials after prosecutors received complaints of theft of public money," MENA said.
The prosecutor imposed a travel ban on other ministers from the former government and a former ruling party official on Thursday, the agency said. It also froze their assets.
Prominent reform advocate Mohamed ElBaradei has called on Mubarak to "hear the clear voice coming from the people and leave in dignity."
"The quicker he leaves in dignity the better it is for everybody," said ElBaradei, a Nobel Peace laureate who has become one of the leaders of Egypt's protest movement.
He told reporters Friday that there should be a yearlong transition to democracy under a temporary constitution with a presidential council of several people, including a military representative. During that year, a permanent constitution would be drawn up to guarantee freedom to form political parties -- currently highly restricted -- and other freedoms, and then elections could be held.
That scenario would mean pushing back presidential elections scheduled for September, but ElBaradei's camp said that timeframe was too rushed given the amount of legal restructuring needed to guarantee a fair vote. ElBaradei repeated his stance that he does not seek to be president himself.
One self-professed potential candidate -- Arab League chief Amr Moussa -- appeared in the square Friday, his convoy greeted by chants of "we want you as president, we want you as president." Moussa, previously a former foreign minister under Mubarak, has an elder statesman appeal for some Egyptians, boosted by the tough rhetoric he takes on Israel.
Asked earlier by France's Europe 1 radio if he would consider a role in the transitional government or eventually running for president, Moussa replied, "Why say no?"
The atmosphere was peaceful after the 48 hours of violence between pro- and anti-Mubarak crowds battling with rains of rock and concrete torn from the street and shields fashioned out of sheet metal from a construction site. Gangs backing Mubarak attacked journalists and human rights activists across Cairo Thursday, while others were detained by soldiers.
The pro-Mubarak crowds that have attacked demonstrators and foreign journalists did not have a visible presence in Tahrir on Friday. But the Al-Jazeera TV station said it Cairo office had been stormed by "gangs of thugs" who burned and damaged equipment. The station also said its Arabic-language website has been under "relentless attack" by hackers since the unrest began on Jan. 25. Egyptian authorities closed Al-Jazeera's Cairo office last week, revoked the credentials of Al-Jazeera reporters and detained several of them for varying periods.
"Our website has been under relentless attack since the onset of the uprisings in Egypt," a statement from Al-Jazeera said. "While the deliberate attacks this morning were an attempt to discredit us, we will continue our impartial and comprehensive coverage of these unprecedented events."
The Committee to Protect Journalists, a New York-based media watchdog, said Thursday that it had recorded 24 detentions of journalists, 21 assaults and five cases in which equipment was taken away over a 24-hour period. Among those detained have been correspondents for The New York Times and Washington Post.
Two Fox News Channel journalists were severely beaten by a mob near Tahrir Square on Wednesday. Correspondent Greg Palkot and cameraman Olaf Wiig had retreated to a building, but someone threw a firebomb inside and the men were attacked as they rushed out, said Michael Clemente, Fox's senior vice president for news.
On the other side of Cairo, dozens of regime supporters carrying machetes and sticks on Friday set up an impromptu checkpoint on the ring-road highway encircling the city of 18 million, stopping cars to inspect them and ask for IDs. The roadblock appeared to be looking for protesters heading to Tahrir. One of the armed men wore a sign around his neck reading, "We are sorry, Mr. President."
In Tahrir, protesters formed their own cordon inside the military's to perform a secondary check of IDs and bags. Many of those arriving brought fresh bread, water, fruit and other supplies, and the atmosphere was relaxed. Long lines formed at tables of people handing out tea and bread. Many waved the Egyptian flag or chatted amicably with the soldiers. Women in full face veils and enveloping robes stood close to women in blue jeans and tight tops.
Around the square were makeshift clinics, set up in the entranceways of stores, including a KFC. At one, a man received an injection in his arm. Above another was the sign of an interlocking crescent and cross.
Around 5,000 of the protesters prostrated themselves in prayer at noon. Though men and women prayed separately as is traditional, the women knelt in a block parallel to the men instead of behind them out of sight or in a separate area entirely as takes place in most Egyptian mosques. After uttering the concluding "God's peace and blessings be upon you" of the prayer, they began the chant: "Leave! Leave! Leave!"
A number of celebrities of Egyptian cinema and TV joined the march, including Sherihan, a beloved screen beauty from the 1980s and early 1990s who largely disappeared from the public eye because of health issues. "This is really a popular revolution, it's civilized and honorable," she told Al-Jazeera TV.
"We're calling on this to be the largest protest ever," said Mahmoud Salem, a youth activist and blogger. "We are hoping it will be the last one." He said that during Thursday's turmoil, his car was attacked by regime supporters as he and four friends tried to deliver supplies to the square.
"It was like a zombie movie," he said, describing the rioters smashing the car windows and ripping off the side mirrors until he and his colleagues fled from the car.
Ayman Nour, a former presidential candidate who is a member of a new committee formed by various factions to conduct any future negotiations on the protesters' behalf once Mubarak steps down, said that he hopes the demonstration "leads to Mubarak's departure."
"The chaos is organized by his ruling party," Nour said. "There is a fifth column inside the regime that led the looting and violence."
The committee and the protesters have refused any negotiations with the government over the country's transition until Mubarak leaves.
Suleiman said Thursday said he had invited the fundamentalist Muslim Brotherhood to participate in any talks -- a stunning concession to a group that the regime considers its worst enemy and has cracked down on ferociously in the past years.
The Brotherhood has rushed to take a stronger role in the unprecedented protests that erupted 10 days ago, led by more secular young activists demanding the ouster of Mubarak. The Brotherhood's strength was on display in the pitched battles in Wednesday and Thursday against government supporters who attacked the protesters' camp in Cairo's central Tahrir Square before they were driven from the square by the pro-democracy forces.
Brothers -- distinguishable by their close-cropped beards -- dominated the front lines, often lining up to pray for "victory or martyrdom," before throwing themselves into the fray, hurling stones, sticks and firebombs at the attackers while shouting "God is great."
Amr Said, a 41-year-old chemist who said he is a Brotherhood supporter, told The Associated Press in Tahrir Square Friday morning that "our instructions are not to assume a role that is too visible at the moment, and to get along with all other groups including and leftist and liberals.
"We also refrain from making our typically brotherhood chants and when one of us does, we quickly shut him up," he said.
The potential of the Brotherhood gaining greater power has clearly weighed on the United States as it presses Mubarak to bow out. U.S. officials have said they want the transition to democracy to be stable to prevent any group from imposing its ideology.
The editor of the Muslim Brotherhood's website told the AP that policemen stormed its office Friday morning and arrested 10 to 15 of its journalists. Abdel-Galil el-Sharnoubi said that the website was also being blocked.
The Associated Press contributed to this report.