U.S. Officials Giving Mixed Signals About Way Forward in Egypt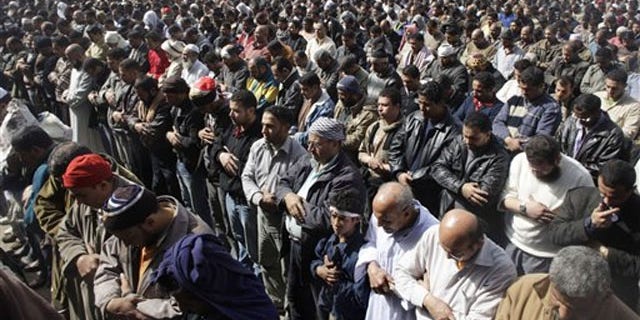 As Egypt teeters between a state of political reform and anarchy, U.S. officials are giving increasingly mixed signals about what steps should be taken to bring the country back from the brink.
It has long been diplomatic doctrine that America speaks with one voice on the world stage in times of crisis. But after days of deference to President Obama's approach, lawmakers confronted with an unpredictable and ever-changing situation involving America's most important Arab ally are starting to push conflicting proposals for dealing with the embattled regime of Egyptian President Hosni Mubarak.
Adm. Mike Mullen, chairman of the Joint Chiefs of Staff, on Friday cautioned against rushing to cut off U.S. military assistance to the Egyptian government. That was after Sen. Patrick Leahy, D-Vt., chairman of the Senate Appropriations subcommittee on the State Department, announced that he wants to freeze U.S. aid to Egypt until things settle down.
Leahy spokesman David Carle told Fox News that Congress should consider whether to cut off all or part of the $1.5 billion in mostly military assistance at the next possible opportunity.
Rep. Lloyd Doggett also reportedly sent a letter to President Obama urging the White House to halt financial aid to Egypt until Mubarak starts a democratic transition. Sen. Jeff Merkley, D-Ore., had a similar message in a floor speech Thursday.
At the same time, Sen. Lindsey Graham, R-S.C., cautioned his colleagues not to "defund" the U.S. relationship with Egypt.
Another developing dispute is over whether Mubarak should bow to protesters' demands and leave office immediately, as opposed to waiting until his current term is expired as he has pledged.
The Senate on Thursday approved a resolution from Sens. John Kerry, D-Mass., and John McCain, R-Ariz., calling on Mubarak to immediately hand power to an interim government.
McCain, who had earlier called on Mubarak to leave office, said on the floor that he was concerned about the crisis turning into a "genuine massacre."
However, Sen. Charles Grassley, R-Iowa, was quoted by a local newspaper saying Mubarak should stay through September for the sake of stability.
The Obama administration is looking at several options for how Egypt could quell the unrest and ensure an orderly transition. Among those options, according to an official, is for Mubarak to resign immediately and allow for the formation of a military-backed caretaker government which could prepare the country for elections later this year.
But officials stressed that there is no single U.S. plan being discussed.
"The president has said that now is the time to begin a peaceful, orderly and meaningful transition, with credible, inclusive negotiations. We have discussed with the Egyptians a variety of different ways to move that process forward, but all of those decisions must be made by the Egyptian people," said National Security Council spokesman Tommy Vietor.
The Associated Press contributed to this report.