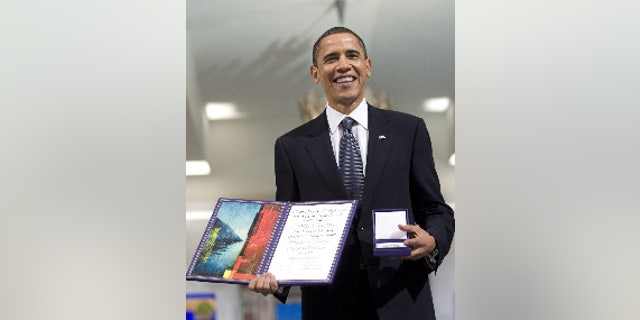 President Obama received the Nobel Peace Prize in Oslo Thursday, but his speech mentioned little about peace and focused more on the fact that he is a war-time President, and needs to defend his nation.
"Perhaps the most profound issue surrounding my receipt of this prize is the fact that I am the Commander-in-Chief of a nation in the midst of two wars. One of these wars is winding down," Obama told an audience of approximately 900 people gathered at Oslo City Hall, the traditional location for the Nobel Ceremony. "The other is a conflict that America did not seek; one in which we are joined by forty three other countries -- including Norway -- in an effort to defend ourselves and all nations from further attacks," Obama continued to the audience who warmly applauded the President but hardly gave him the rock-star appreciation he has become used to seeing in his overseas travel.
The theme of Afghanistan already colored the trip of Obama, having just made clear his intentions to send 30,000 troops to that country, and the President could not escape skepticism that his call for surge troops sent to Afghanistan should be withdrawn by July 2011.
"I've been unambiguous about this, so there should not be a debate. Starting in July 2011 we will begin that transition, that transfer of responsibility," Obama said at a short press conference with the Prime Minister of Norway. "The pace at which that takes place, the slope of a drawdown, how it occurs tactically, those are all going to be conditions-based. And so just as in Iraq there was a constant monitoring of the situation and continues to be, and there's discussion on an ongoing basis between myself and General Odierno and our national security team, so will those kind of conversations be taking place in Afghanistan."
President Obama isn't leaving Norway empty-handed on Afghanistan commitments, with the Norwegian Prime Minister committing millions to help that country. "Norway is committed to continuing our military and civilian efforts in Afghanistan. And I am pleased to announce that Norway will increase its financial contribution to the Afghan national army and police, to a total of 110 million U.S. dollars for the period 2010 to 2014. We must enable Afghans to take responsibility for their own security."
But it wasn't just the cloud of war that hung over the President's trip to Oslo, there was also criticism from many, saying the President may not have done enough to warrant winning the Peace Prize.
Protestors in Oslo unfurled a large banner, seen by the group of journalists following the President that said "You've won it, now earn it" seemingly asking the President to prove the award was deserved.
The topic even came up at the press conference with the Norwegian Prime Minister, when a Norwegian journalist asked the President if he deserved the prize.
"I have no doubt that there are others who may be more deserving. My task here is to continue on the path that I believe is not only important for America, but important for lasting peace and security in the world," Obama said. But even the President acknowledged that if he can't finish the work he started on nuclear arms or Afghanistan, that the prize will mean nothing.
"If I'm successful in those tasks, then hopefully some of the criticism will subside, but that's not really my concern. And if I'm not successful, then all the praise and the awards in the world won't disguise that fact," Obama said.
Anne McGinn contributed to this report