Number of People Seeking Jobless Aid Rises Amid Verizon Strike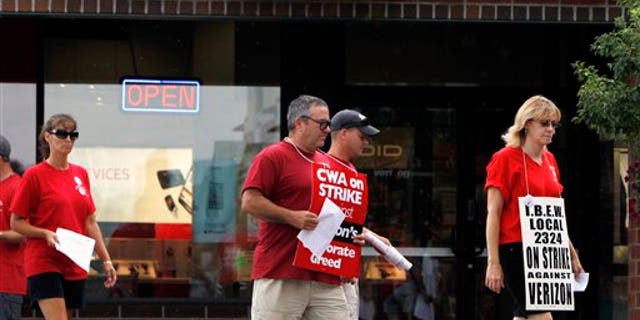 WASHINGTON -- Thousands of Verizon workers on strike pushed the number of people seeking unemployment benefits last week to its highest level in a month.
But excluding the work stoppage, layoffs likely fell. That should help ease fears that the economy is on the verge of a recession.
Investors appeared to overlook the report. Stock futures held most of their early gains.
Weekly applications for unemployment benefits rose 5,000 to a seasonally adjusted 417,000, the Labor Department said.
But about 45,000 Verizon workers went on strike Aug. 7. Last week's non-seasonally adjusted total included about 8,500 of those employees, the department said. Unions representing the workers ended the strike earlier this week.
Typically, workers who walk off the job aren't eligible for benefits. But states have specific rules governing labor disputes.
Applications were slowly declining before the strike. They are down from an eight-month high of 478,000 in April. The four-week average, a less volatile measure, rose to 407,500, the first increase in eight weeks.
Still, applications typically need to fall below 375,000 to signal sustainable job growth. They haven't been at that level since February.
The economy is barely growing two years after the recession officially ended. The government reported last month that it grew at an annual rate of only 0.8 percent in the first half of the year and only 1.3 percent in the April-June quarter.
The government will give its second estimate on second-quarter growth Friday. Economists forecast it will be closer to 1.1 percent, according to a survey by FactSet.
Fear that the U.S. may be entering another recession has rattled investors. The Dow Jones industrial average has recovered some losses this week, but is still about 11 percent below its July 21 close.
Some economic data suggest the economy is improving. A big jump in demand for autos and airplanes pushed up orders for long-lasting manufactured goods in July, the Commerce Department said Wednesday. Consumers spent more on retail goods last month than in any month since March. And factory output rose in July by the most since Japan's March 11 earthquake, a sign that supply chain disruptions caused by the disaster are fading.
Employers, meanwhile, added 117,000 net jobs in July, roughly double the totals from each of the previous two months.
Still, double that many new jobs are needed to significantly reduce the unemployment rate, which was 9.1 percent last month.
The Federal Reserve this month said that it expects weak growth for the next two years. As a result, it said that it plans to keep its short-term interest rate near zero until at least mid-2013.
Stocks have rallied this week on hopes that Federal Reserve Chairman Ben Bernanke will announce another round of bond purchases on Friday in a highly anticipated speech in Jackson Hole, Wyo. The bond purchases, known as quantitative easing, are designed to keep interest rates low and boost stock prices. But economists think that Bernanke will likely take minor steps, if any.