New Romney Ad in Florida Kicks Race for Latino Vote Into High Gear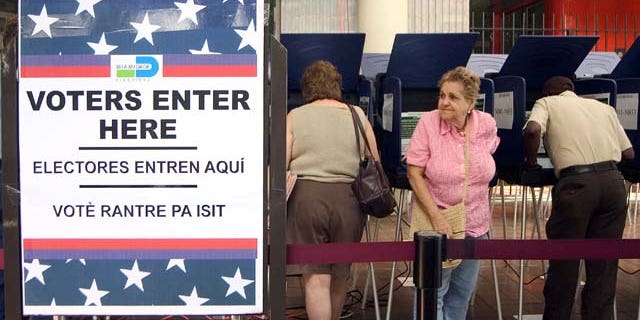 GOP frontrunner Mitt Romney targeted the nation's largest minority Wednesday with a new Spanish language television advertisement in Florida.
Stressing the theme of the American Dream, Romney's advertisement, titled "Nosotros" ("Us"), says the United States is a nation "donde todo es posible" ("where everything is possible").
It is narrated by the former Massachusetts governor's son Craig Romney, who speaks flawless Spanish in the advertisement.
The advertisement describes Romney as a conservative businessman who believes in the values that, as the press release for it says, "have made our country the greatest nation on earth."
Recent poll results from Florida show Romney with a double-digit lead among likely GOP voters in the key southern swing state.
Thirty-six percent of the 560 likely GOP voters questioned by Quinnipiac (Conn.) University said they preferred Romney, though more than half (54 percent) said they could still change their minds before Florida's Jan. 31 presidential primary.
Romney emerged the winner in Iowa and New Hampshire, but said he expects a tougher battle in the South Carolina primary, which will be on Jan. 21.
Romney has the challenge of walking a fine line between appealing to Latino voters, and portraying himself as the most "true conservative" of the GOP presidential contenders -- an effort that has included calls by him for a tough, enforcement-only approach to illegal immigration.
Indeed, on Wednesday, the Romney campaign walked that fine line -- launching the Florida Latino-targeted campaign, while touting on his website the endorsement of Kansas Secretary of State Kris Kobach, the architect of the toughest state immigration laws in the country.
Despite the Quinnipiac poll results, a South Carolina upset for Romney "could shake things up in the Sunshine State," said Peter Brown, the polling institute's assistant director. "Romney could be vulnerable if those voters settle on one candidate."
Also on Wednesday, Republican National Committee (RNC) Chairman Reince Priebus announced a new major effort to engage Latino voters.
"The expanded multifaceted approach to connect with the Hispanic community will include both digital outreach, traditional voter identification, and get out the vote efforts," Priebus said. "Aimed at connecting with the fastest growing demographic, the RNC will place staff on the ground across the country to coordinate the GOP's Hispanic effort as part of a program to make sure Barack Obama is a one-term president."
"Latinos play an integral role in our communities," he said, "and the Republican Party believes it is essential to involve Latinos at every level of our Party's efforts in 2012."
Both parties actually began their 2012 election Latino outreach campaigns last year in an effort to swing the ever expanding Latino voter base. The Latino population grew to 50.5 million in 2010 from 35.3 million in 2000. About 21 million are eligible to vote.
The RNC released television and radio ads geared toward Hispanics in Florida. The ads, dubbed "Change Direction," were part of a series of ads geared toward Latinos. In addition, the RNC blitzed radio stations in New Mexico, Colorado and Nevada, criticizing President Barack Obama on the economy, taxes and unemployment.
The ads said that Obama was destructive to the economy, and to Latinos' financial wellbeing in particular. The ads blamed Obama's handling of the economy for why Latino unemployment stands at 11.6 percent, higher than the national average.
The Democrats quickly pushed back.
In their first ads for the presidential election, the Democratic National Committee targeted Latinos in virtually all the same geographical areas as the RNC's campaign, with the message that Republicans have pushed to cut programs that are critical to Latinos.
In Florida, the Latino voters – from the South Florida Cubans to the Puerto Ricans along the I-4 corridor from Tampa to Orlando – vary in their political affiliations and loyalties. Some Hispanic voters who helped get President Obama into office also catapulted Tea Party favorite Marco Rubio to win the Republican primary and subsequent senatorial election in 2010.
In South Florida, Cuban exiles have long been loyal to the Republican Party and have built their influence over decades.
The exiles long have seen Republicans as tougher on Cuba's Communist regime.
The list of high-level Republican GOP Hispanics in Florida include Rubio, South Florida's three members of Congress and state House Majority Leader Carlos Lápez-Cantera.
Joe García, a past head of Miami-Dade Democrats and former Obama appointee who ran unsuccessfully for Congress last year, told reporters last year that Republicans have been more aggressive in going after Florida's Latino voters.
"The Republican Party views Hispanics in terms of market share: Who are they? How do we reach them? Democrats still view us in terms of quotas," García said.
Florida Hispanics, like Latinos nationwide, provided overwhelming support in 2008 for Obama thanks to a national get-out-the-vote effort. Since December of that year, 73,000 have registered in the state as Democrats and another 76,000 have registered while declaring no party. There have been 31,000 new Hispanic Republicans.
GOP presidential contender and former House Speaker Newt Gingrich hired Jose Mallea, campaign chief for Rubio's 2010 Senate race, to be his Florida director.
Romney, meanwhile, has picked up the endorsement of the state's senior Latino Republicans, who all appear in his new Spanish-language advertisement, singing his praises.
Says Rep. Diaz-Balart in the ad: "Romney believes in us."
This story contains material from The Associated Press.
Follow Elizabeth Llorente on Twitter: @Liz_Llorente
Elizabeth Llorente can be reached elizabeth.llorente@foxnewslatino.com
Follow us on twitter.com/foxnewslatino
Like us at facebook.com/foxnewslatino