In New Hampshire, abortion activists score win as proposed restrictions fail in state House
The NH House on Thursday rejected a proposed 'heartbeat' bill, among others restricting abortion
In a victory for abortion-rights supporters, the Republican-led but closely divided New Hampshire House on Thursday rejected multiple bills to further restrict abortion access while also approving legislation to protect it.
The eight abortion-related bills came up for a vote during what has been a hectic week for abortion policy nationwide. Nine months after the U.S. Supreme Court ended a nationwide right to an abortion, court fights are playing out on multiple fronts, states dominated by Democrats are seeking to protect access and Republicans are trying to tighten restrictions.
In New Hampshire, Republicans hold a 201-198 majority in the House, with one seat vacant. That has made attendance on session days extra important, as evidenced by the vote on a measure Thursday that ended in a tie.
NEW HAMPSHIRE SENATE REJECTS BILL CODIFYING ABORTION AS RIGHT
The proposal in question, backed by virtually all Democrats, would have repealed the state's ban on abortion after 24 weeks of pregnancy. The bill was tabled after the 192-192 tie.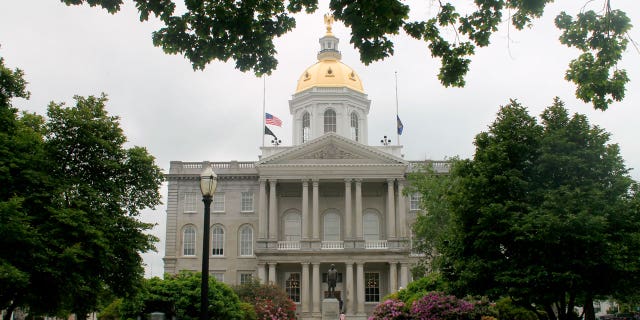 Democrats succeeded, however, in sending the Senate a bill that would remove the civil and criminal penalties associated with the ban, a change Republican Gov. Chris Sununu supports. The House also voted to add an explicit right to abortion up to 24 weeks to state law, though the Republican-led Senate already has defeated a similar bill.
"New Hampshire is one of only three states where abortion is legal but not protected," said Rep. Alexis Simpson, a Democrat from Exeter. "Today we can send a message to Granite Staters – a clear, purposeful message – that the New Hampshire House supports and affirms an individual's right to an abortion and the tenets of Roe v. Wade."
VERMONT SENATE PASSES BILL PROTECTING PROVIDERS OF ABORTIONS, TRANS PROCEDURES FROM LEGAL ACTION
The House rejected a bill that would ban abortions after the first detectable "fetal heartbeat." Cardiac activity can be detected as early as six weeks into pregnancy, before many women know they're pregnant. It also rejected a bill that would have required medical treatment for all infants born alive, including after an attempted abortion, along with measures that would have imposed a waiting period for those seeking abortions and additional audits for abortion providers.
A bill that would have asked voters to weigh in on adding "reproductive autonomy" to the state Constitution failed, however. The House voted 193-191 in favor of the bill, but proposed constitutional amendments need a three-fifths majority to advance.
Rep. Bob Lynn, a Republican from Windham and former chief justice of the state Supreme Court, said changing the constitution would effectively throw the issue to the courts.
CLICK HERE TO GET THE FOX NEWS APP
"Is there any reason to believe that the court is somehow better equipped to make decisions on these issues than we are? I submit to you that the answer is no," he said. "Unlike unelected judges, we are the branch of government that is most accountable to the people. If we get it wrong, the voters will let us know about it soon enough at the next election."