New EPA Rules Put Onus on Energy Plants to Protect Downwind States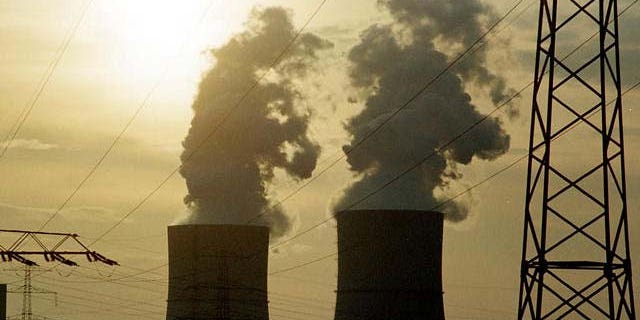 NEWYou can now listen to Fox News articles!
Power plant operators are nervously awaiting a new Environmental Protection Agency regulation, finalized last week, which requires more than 1,000 facilities, including more than 500 coal-fired plants, to meet stricter emissions standards so as not to pollute neighboring states.
The regulation, called the Cross-State Air Pollution Rule, calls for plants to install scrubbers to lower particulate emissions in states that are downwind. The EPA says the new rule will ultimately protect 240 million Americans in 27 states from smog and soot pollution and prevent up to 34,000 premature deaths, 15,000 nonfatal heart attacks and 1.8 million sick days.
But the rule, one of a slew of EPA regulations directed at smokestack industries in the coming months, will impose huge costs on power plant operators, say industry representatives.
"There are five or six other regulations coming down the pike that will have a huge impact on industry and on consumers and businesses, especially in parts of the country where we still have industrial manufacturing jobs," said Jeffrey Holmstead , an expert in environmental strategies at the law firm of Bracewell and Giuliani.
Industry studies suggest that the Cross-State Air Pollution Rule, when coupled with other EPA regulations, could force the closure of scores of coal-fired power plants, raise the price of electricity by as much as 23 percent in some areas, and cause 1.4 million job losses by 2020.
Environmentalists dispute those findings, suggesting that retrofitting scrubbers in hundreds of power plants nationwide will produce thousands of short-term jobs. John Walke of the Natural Resources Defense Council says the costs borne by utilities and electricity consumers will be made up by the recouping of lost productivity, illness and death caused by pollution.
"The happy news about EPA's clean air protections will be to reduce premature deaths from heart attacks, and asthma attacks in states that are home to 240 million American, enabling people to go to work and school when they would normally have to stay home sick," Walke said.
He adds that the cost to power plant operators of installing scrubbers, which can run into the millions of dollars, is not as burdensome as the industry contends.
The "transport" rule was first devised during the Bush administration but was held up by court challenges. Because of those court imposed delays in finalizing the rule, Walke says power companies have had five years to capitalize the expense of installing scrubbers.
But industry representatives contend the costs of the new regulations are much higher than EPA admits.
"Over the last 20 years we've seen manufacturing move to parts of the country where energy is affordable, so you don't see a lot of manufacturing in California or in the old industrial areas of New York," Holmstead said. "It's mostly in the Midwest and Southeast. And the problem is all of the industries compete in the global market. As the EPA continues to regulate the cost of energy higher, they can't compete in the global market place."
EPA's lack of consideration of costs imposed by its regulations are the subject of considerable consternation on Capitol Hill. House Energy and Commerce Committee Chairman Fred Upton last week said that the accelerated rate of new regulations on energy and other sectors by the EPA "has turned regulation from a manageable tool into an unpredictable moving target that makes it difficult for companies to invest and create jobs."
The House Energy and Commerce Subcommittee on Energy and Power last week approved legislation to hold the Obama administration to more transparency for the cost of EPA's regulatory zeal.
The TRAIN Act, which has some bipartisan support, would require an interagency analysis of all the costs incurred by private industry because of EPA regulations.
"It's absurd for taxpayer funded federal agencies to impose burdensome regulations on consumers and businesses without first determining how much it's going to cost and the potential consequences it could have on our overall economy," said Rep. John Sullivan, R-Okla.
Similar legislation is being considered in the Senate.