Nevada Gov. Sandoval draws Republican ire for budget with $1 billion in added taxes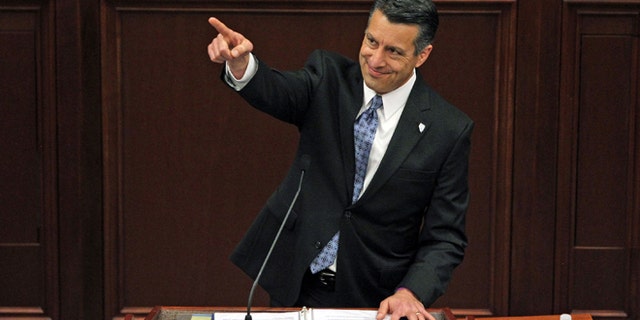 NEWYou can now listen to Fox News articles!
CARSON CITY, Nev. (AP) – Nevada Republicans heralded Nov. 4 as the start of a brave new world, with the party taking control of the Assembly, Senate and every constitutional office for the first time in state history.
Yet popular Republican Gov. Brian Sandoval, who swept in to office with 71 percent of the vote, faces anger from other elected constitutional officers and several conservative Assembly members upset with his $7.3 billion, two-year budget that includes $1.1 billion in new and extended taxes.
Strained relationships between the Silver State's six constitutional elected officers aren't unusual, and friction can come from partisan disagreements or personal conflicts, according to former state officials, historians and state Treasurer Dan Schwartz.
"I am not here to diss the governor, but I think the governor has divorced himself from the other constitutional officers," Schwartz said. "He has divorced himself from the Republican Party."
Indeed, Schwartz and a small host of other elected Republicans say they have a mandate from voters who in November rejected a business margins tax and a proposal to remove the cap on mining taxes. A number of Assembly Republicans, including Michelle Fiore, Victoria Seaman, Shelly Shelton and Victoria Dooling, have said they would automatically vote down the governor's current budget.
And recall PACs formed against more moderate Assembly Republicans like Speaker John Hambrick and Chris Edwards aim to pressure legislators into taking an anti-tax stance or face a possible recall.
While the recalls are considered longshots and would be historical firsts, recall organizer and Citizen Outreach head Chuck Muth said they're designed to target potential swing voters.
The constitution requires a two-thirds majority to pass a tax increase, which means the governor needs cooperation from Democrats and a sizeable number of Republicans.
"Gov. Sandoval is the reason these committees are coming up, because he hid it from voters," Muth said.
Sandoval isn't by any means a political pariah -- Democrats and moderate Republicans alike celebrated his proposals for increasing spending on K-12 education and expanding programs for English Language Learners, children in poverty, gifted students and children with disabilities.
In a statement, governor's office spokeswoman Mari St. Martin said the governor will work with any reasonable idea because "the status quo is no longer an option."
Republican senators Michael Roberson and Ben Kieckhefer defended the governor when they attacked Schwartz's alternative budget proposal during a heated Senate Finance Committee hearing Thursday. Roberson scolded the treasurer for releasing the three-page plan, calling it a purely political tactic.
"This is highly disrespectful of Gov. Sandoval, without whom you would surely not be elected," he said to Schwartz.
State Controller Ron Knecht, who worked with Schwartz on his alternative budget proposal, said that their disagreements with the governor were more philosophical than partisan in nature, and that their positions better represented the views of Republicans.
"I absolutely guarantee you the Republican base is overwhelmingly opposed to spending and tax increases," Knecht said.
Former state Treasurer Kate Marshall said she thought offices like the controller and treasurer ought to be neutral, but understood that personal ambition can also play a role in how individuals see their offices.
"It is not within his purview," Marshall said about Schwartz's alternative budget. "But it is true you will find constitutional officers trying to expand their roles."
A similar issue emerged when newly elected Republican Attorney General Adam Laxalt signed on to a federal lawsuit targeting President Barack Obama's executive order blocking the deportation of some immigrants. Laxalt hadn't consulted with governor, who favored federal immigration legislation over a lawsuit.
Although Sandoval eventually met with Laxalt and cleared the air, the very public dispute brought a clear message that his office was independent from the governor's. Laxalt said he looked forward to working with the governor's office and didn't think similar conflicts would happen in the future.
University of Nevada, Las Vegas history professor Michael Green said it isn't unusual for Nevada constitutional officers to clash. He referenced a number of hostile relationships through the state's history, including one between former Gov. Grant Sawyer and Adam Laxalt's grandfather and then-Lt. Gov. Paul Laxalt.
"I think there is always some sort of political conflict, but it doesn't bubble to the surface all the time," he said.
Like us on Facebook