Nearly 200 Arrested in NYC 'Occupy Wall Street' Protests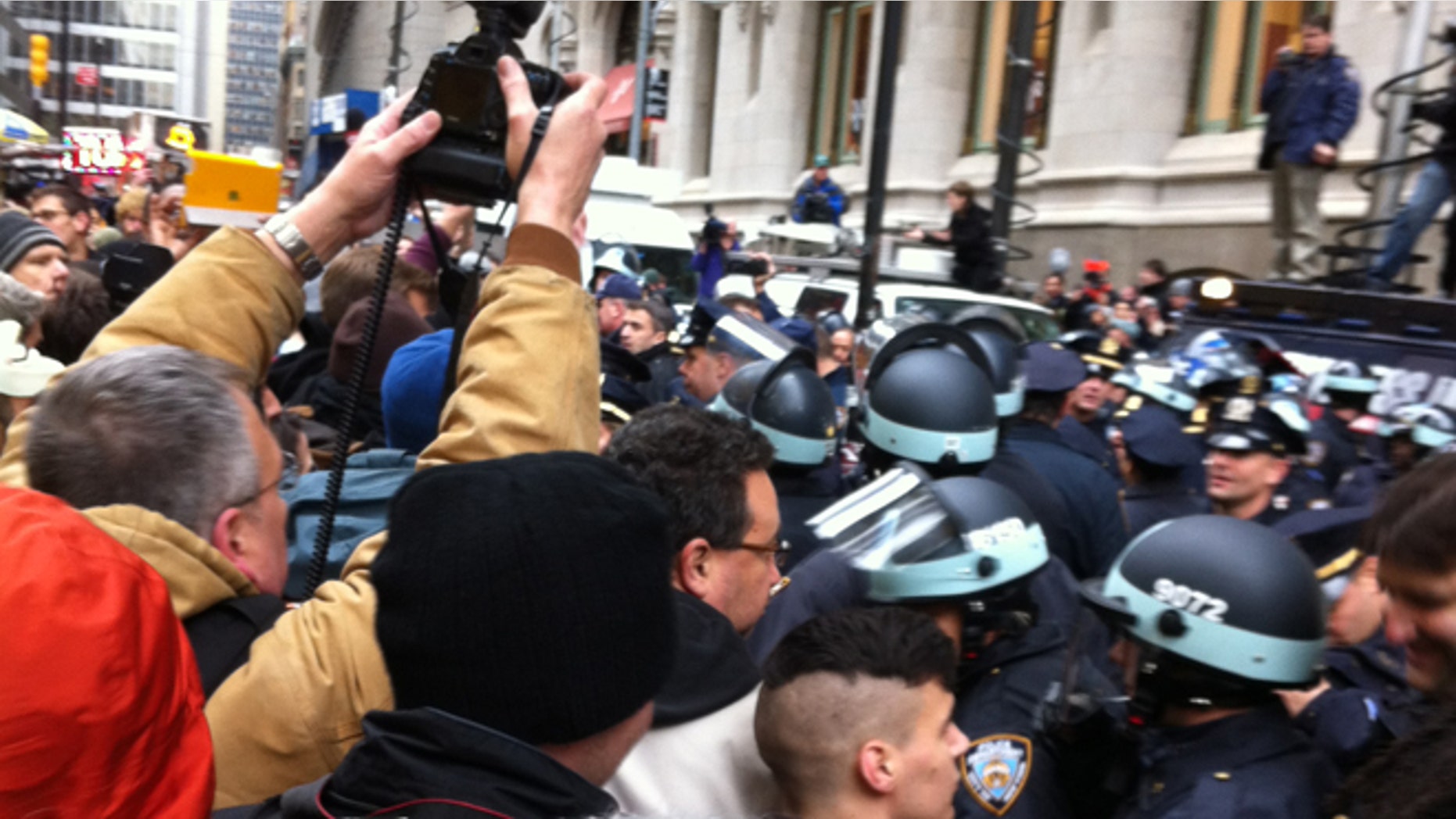 NEW YORK – New York City police arrested at least 175 "Occupy Wall Street" protesters Thursday after scuffles broke out between demonstrators and law enforcement during a massive citywide demonstration marking two months since the movement began.
Demonstrations started peacefully Thursday, but quickly grew tense and escalated as cops arrested dozens of demonstrators who had tried to jump over barricades near Wall Street. Others were cuffed and hauled off after they sat on the ground in defiance after cops had ordered them to scatter.
Seven NYPD officers were injured, four of them when a demonstrator threw liquid -- possibly vinegar -- at their faces.
Cops in riot gear were also in position near the Brooklyn Bridge, where a group of marchers are expected to show up at 5:00pm. Protesters' last organized hike across the famous bridge resulted in more than 700 arrests on Oct. 1.
Another group of "Occupy Wall Street" (OWS) protesters headed to Union Square at 3:00pm., while demonstrators also fanned out to transit hubs in all five boroughs in an effort to block commuters from getting around the city.
Organizers have said they were energized by New York Mayor Michael Bloomberg's decision to clean out the squalid tent city at Zuccotti Park that served as the OWS base on Tuesday, resulting in 230 arrests.
After the 60 arrests near Wall Street Thursday morning, the protesters retreated north along Broadway near Trinity Church in Lower Manhattan. Demonstrators eventually went back to Zuccotti Park, which has been their base since Sept. 17.
A fracas between cops and protesters erupted in the park at about 11:00am when demonstrators took down police barricades. Protesters streamed into the park when a few people grabbed a metal barricade and started dragging it, screaming "Whose fences? Our fences!"
That's when cops moved in to restore order, making several arrests and putting the barricades back into place.
At about 1:40pm, police started forcefully clearing the park, shoving protesters with their batons and making more arrests.
At about the same time, a contingent of protesters decided to storm City Hall, but unknowingly ran to the Department of Education building on Chambers Street. Once there, they chanted, "Bloomberg must go! Bloomberg must go!"
Realizing their mistake, they eventually ran to 1 Centre Street, where one exclaimed: "There it is! That's City Hall!" and the chanting resumed.
The day began when a contingent of 500 protesters gathered near Zuccotti Park at 7:00am and walked towards Wall Street. Protesters never got close to the stock exchange and the market opened as normal at 9:30am.
The NYPD had prepared for all-out war Thursday -- adding an extra 1,000 cops per shift.
Several other "Occupy" protests were taking place across the US on Thursday. The Los Angeles Times reported that police made 23 arrests in an Occupy LA demonstration and The Washington Post said that protesters were marching on the Key Bridge in the Georgetown area of the nation's capital on Thursday afternoon.