Mostly Hispanic San Antonio elects first African-American mayor in runoff against Latina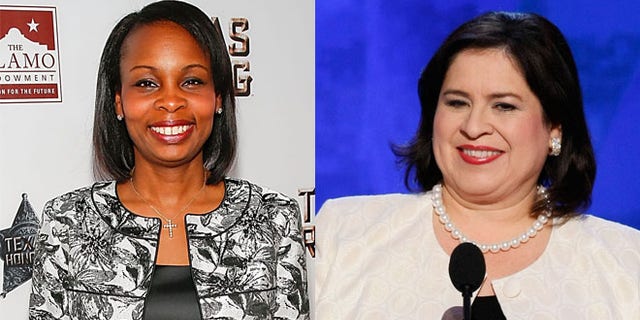 NEWYou can now listen to Fox News articles!
The city of San Antonio made history on Saturday, electing its first African-American mayor in a closely watched runoff race.
Ivy Taylor, a Yale-educated urban planning professor who was appointed interim mayor last summer when Julian Castro resigned to become Secretary of Housing and Urban Development, won with 52 percent of the votes against well-known state politician Leticia Van de Putte.
Van de Putte, who was vying to become the city's first elected Hispanic female mayor, held a solid lead in the May election that attracted 14 candidates. But she was forced into a runoff with Taylor due to the state's law mandating a winner must receive more than 50 percent of votes.
According to Reuters, Taylor surpassed Van de Putte's lead with an unlikely coalition of the city's largest minority voting groups – blacks and generally conservative white voters.
Van de Putte, a prominent member of the Texas State Legislature for 25 years and was the Democratic Party nominee for Lieutenant Governor in 2014, appealed to the city's Hispanic community. While Latinos make up a majority of the city's population, they have traditionally voted in smaller numbers.
Taylor appealed to conservatives and Evangelicals by talking about her open Christian faith and stressing Van de Putte's long ties with the Democratic Party.
In her victory speech on Saturday night, Taylor said, "I thank the Lord," for her election, according to Reuters.
In contrast, Van de Putte stressed traditional Democratic views of raising minimum wage and her endorsement by police and fire union.
She said she's not sure what her future in politics holds, but for now she plans to spend more time with her family.
Conceding defeat, Van de Putte told the city's new mayor, "I will stand with you each and every day to make this a great American city."