Military enlistment program for immigrants with special skills put on hold, creating frustration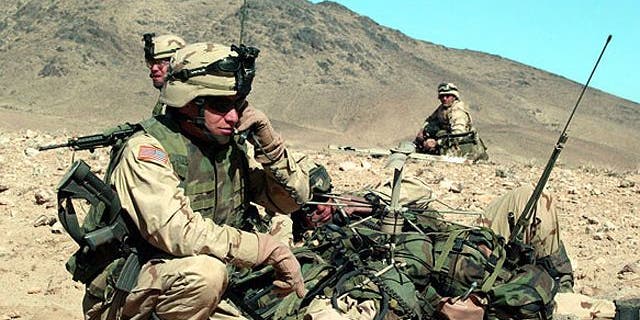 NEWYou can now listen to Fox News articles!
A program that would allow immigrants with certain skills to enroll in the military is on hold because of a Pentagon initiative announced last month that calls for allowing some undocumented people who have a two-year reprieve from deportation also to enlist.
The delay is causing frustration among legal immigrants who were ready to serve under the special skills program, known as Military Accessions Vital to the National Interest, or MAVNI.
Politico reported that the delay is happening because military officials have to finish working on details regarding the screening of undocumented immigrants who want to enlist.
"It's a major bureaucratic screw-up by the Obama administration," Politico quoted Margaret Stock, a retired lieutenant colonel in the Army Reserve, as saying.
Stock came up with the MAVNI program, Politico said.
The undocumented immigrants who would qualify to enlist in MAVNI are those who have qualified for the Deferred Action for Childhood Arrivals program.
To be eligible for DACA, an immigrant must have been brought to the United States before the age of 16 and meet various other criteria, such as having no criminal record.
Military officials have no accepted applications for MAVNI this month.
Army spokesman Wayne Hall said the MAVNI application process should reopen by late November, according to Politico. But officials are not sure when DACA immigrants will be able to apply.
"From the Army's standpoint, the MAVNI Program is currently on hold while Army officials sort out final details on screening MAVNI candidates," Politico quoted Hall as saying.
"Procedures to enlist DACAs require additional coordination (not limited to security screening) which is ongoing at this time."
One powerful lawmaker pushing the Pentagon to allow young undocumented immigrants into the military was Sen. Dick Durbin (D-Ill.), who has sponsored legislation for more than a decade to give Dreamers legal status and was a member of the Senate Gang of Eight that wrote the comprehensive reform bill last year. Durbin also chairs the Senate subcommittee that oversees funding for the Pentagon.
Politico said that few DACA immigrants likely will end up qualifying for MAVNI because of the specialized skills, such as medical knowledge, that are required.
The Army launched MAVNI as a one-year pilot program in 2008 to recruit legal immigrants who had skills that the military lacked. To entice immigrants to enlist, the military promised a fast track to U.S. citizenship.
The program operated through 2010, and picked up again in 2012 with authorization to run for two years.
The provision that called for DACA immigrants to be allowed to apply for MAVNI also called for renewing MAVNI through 2016.
Complications that have arisen in the process of folding DACA into the MAVNI program include the fact that undocumented immigrants lack some key documents that MAVNI requires.
Moreover, it would be highly difficult, if not impossible, to run a thorough security check on DACA immigrants, Stock said to Politico.
"The MAVNI program is not designed for DACA at all," Stock said. "It was rather alarming to see DACAs being put into MAVNI. Someone didn't know what they were doing."
Follow us on twitter.com/foxnewslatino
Like us at facebook.com/foxnewslatino