Military Commission May Be Out for Alleged Times Square Car Bomber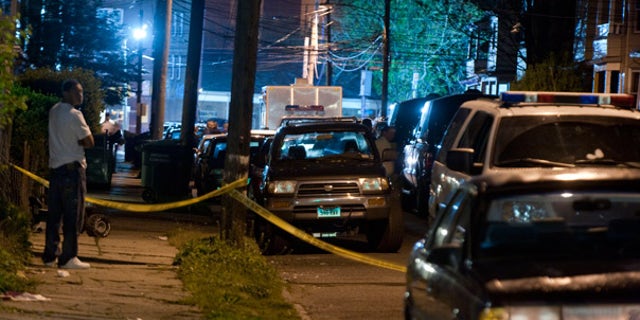 A military commission is not an option for trying alleged Times Square car bomber Faisal Shahzad unless the naturalized U.S. citizen can be linked to Al Qaeda.
The current Military Commissions Act as passed by Congress does not allow a U.S. citizen to be prosecuted by a military tribunal, though some lawmakers say they would like to have Shahzad and other alleged terrorists put before military commissions -- and not tried in federal civilian court.
The Pakistani-born American accused of trying to detonate a bomb-laden SUV in New York's Times Square Saturday night was caught fleeing the U.S. Monday night when his Dubai-bound flight was returned to its gate at New York's Kennedy Airport.
Shahzad is expected to appear in court Tuesday to face charges that he tried to set off a massive fireball and kill Americans after parking his car on one of the busiest streets in the world, officials said.
Shahzad reportedly told authorities that he acted alone in the May 1 bomb attempt and said he has no links to radical groups in his native Pakistan. If true, he cannot be prosecuted by a military commission because the law allows a defendant to be tried by the military only if he or she has known ties to Al Qaeda or its direct affiliates.
However, Pakistani intelligence sources told Fox News that a Pakistani national had been arrested Tuesday in the southern port city of Karachi in relation to the Times Square car bomb probe. The name of the suspect is not being disclosed because Pakistani authorities believe more arrests are expected in the northwest part of the country.
The suspect, described as in the late 20s early 30s, met with Shahzad in July 2009 in Peshawar, according to Pakistani intelligence. Shahzad's roots go back to an area of Pakistan near Karachi that is known for connections to Lashkar e-Taiba, Al Qaeda and Jaish e Mohammed, a group that supports the separatist movement in Kashmir.
Attorney General Eric Holder did not say on Tuesday whether Shahzad would qualify for a military commission, but he noted that U.S. intelligence and law enforcement officials are "coordinating with other members of the president's national security team to ensure we use every resource available to the United States to bring anyone responsible to justice."
The debate over a possible trial for Shahzad in New York City renews the calls for alleged terrorists to be prosecuted before military commissions.
The Obama administration was roundly criticized by Republicans last November for its decision to try self-proclaimed Sept. 11 mastermind Khalid Sheikh Mohammed in a civilian federal courtroom. Mohammed is not a U.S. citizen and can be tried by military commission.
"We can't have civilian trials for Khalid Sheikh Mohammed," former New York Gov. George Pataki said in an interview with Fox News. "He is a mass murdering war criminal. He should be tried in military tribunals and not in a civilian court."
Fox News' Mike Levine and Catherine Herridge contributed to this report.