Mike Pence claims he's learned migrant caravan funded by 'outside groups'
NEWYou can now listen to Fox News articles!
Vice President Mike Pence descended on the southwest as part of a midterm rallying blitz, bringing with him a warning that the migrant caravan is being funded by outside, leftist groups, citing intel said to be provided by foreign partners and a phone call with a Central American leader.
"What the president of Honduras told me is that the caravan was organized by leftist organizations, political activists within Honduras, and he said it was being funded by outside groups, and even from Venezuela," Pence told Fox News in an interview late Friday in Yuma, Arizona. "So the American people, I think, see through this – they understand this is not a spontaneous caravan of vulnerable people."
The Vice President is barnstorming through the southwest this weekend, rallying for Republican candidates in New Mexico, Arizona, and Nevada.
SECTION OF TRUMP'S BORDER WALL UNVEILED IN CALIFORNIA AS CARAVAN ADVANCES NORTH THROUGH MEXICO
Frenzied applause followed his declarations in Roswell and Yuma that the southern border is closed to the migrant caravan.
"Anyone coming up in this caravan should just turn around," Pence told Fox News. "They should go home, or they should apply for asylum in Mexico."
Pence argues that loopholes in US immigration laws are alluring to human traffickers involved with organizing the migrant caravan.
SMALLER MIGRANT CARAVAN ADVANCES QUICKLY TOWARD US, TREKS 62 MILES IN ONE DAY
And he blames Democrats for not failing to shore up the laws on the books – even though Republicans control the House and the Senate.
"We've been blocked by liberals in the United States Senate who have stood in the way of immigration reform," Pence said. "That 60 vote margin that the President talks about all the time has prevented us from really taking up this issue."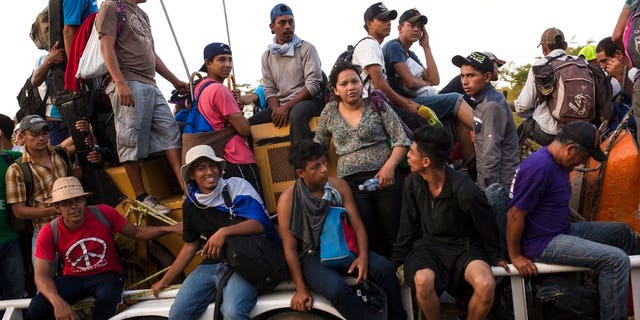 Pence also dismisses the idea that the US must help Central American migrants that make it to the border – because he says the US is doing a lot to help them in their home countries.
"We've also provided tens of millions of dollars of aid to those countries of economic development," Pence said. "The time has come for countries across central America to step up."
On Friday, part of the caravan was able to travel more than 60 miles.
Exactly how many remain in the caravan is unknown. The mayor of nearby Huixla on Wednesday estimated 6,000. Officially, Mexico says there are fewer than 4,000.
The number reduced after some 1,700 applied for asylum in Mexico, four busloads returned to Honduras and others decided to go their own way or stay in Mexico and work.
The group is expected to further splinter in the next few days as some elect to hop on the fast-moving and dangerous cargo train known as La Bestia, or "The Beast", that stretches from Guatemala to the U.S. border.
Fox News' William La Jeunesse contributed to this report