Melania Trump joins presidential descendants to plant baby Eisenhower oak at White House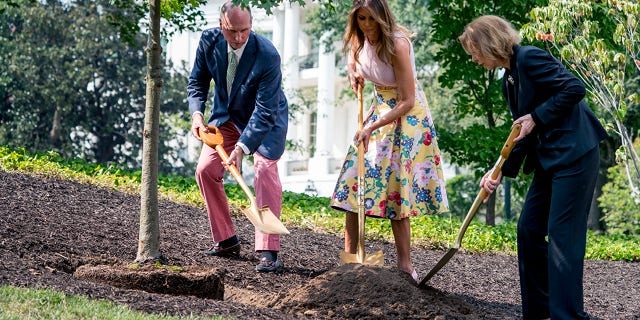 First lady Melania Trump was joined by descendants of past presidents Monday as she helped plant a sapling from an Eisenhower-era oak tree on the south grounds of the White House.
The 12-to-14-foot sapling came from the original Eisenhower oak that towers over an East Wing garden created by former first lady Jacqueline Kennedy. It replaces a tree that was felled during a March windstorm and was removed by groundskeepers.
The first lady was assisted in the planting by Mary Jean Eisenhower, a granddaughter of the 34th president, and Richard Emory Gatchell, Jr., a fifth-generation grandson of President James Monroe.
Other descendants of presidents, in town for a summit organized by the White House Historical Association, and board members of the organization, also attended the brief ceremonial planting under a hot late-August sun.
"We're honored to make a place here for another historical monument," Mrs. Trump said. "It's a very special day."
The first lady thanked the National Park Service for keeping the White House grounds in "beautiful shape and the whole of America in good shape." She also wished the White House Historical Association "good luck" with its summit.
"It's a beautiful tree that we will plant today," she said before she and her two guests each used gold-toned shovels to toss scoops of dirt onto the sapling.
The president and first lady have planned a White House reception Wednesday night for the White House Historical Association.
The Associated Press contributed to this report.