McConnell suggests Senate will delay Lynch's AG vote until Dems pass anti-human trafficking bill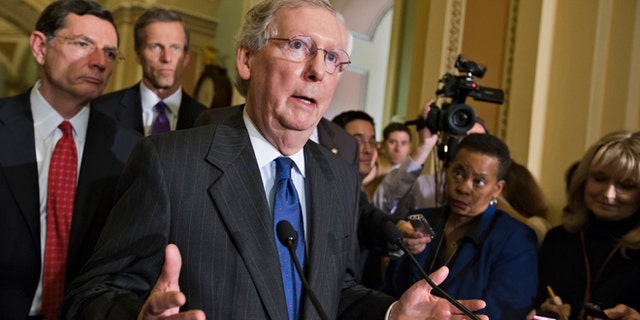 Senate Majority Leader Mitch McConnell said Sunday that a final vote on appointing Loretta Lynch as attorney general will remain on hold until Democrats help pass an anti-human trafficking bill.
The Kentucky Republican said Tuesday that a final vote on Lynch, President Obama's nominee to succeed Attorney General Eric Holder for the Cabinet post, would be scheduled this week. But that plan blew up Thursday when Senate Democrats objected to abortion language in the bipartisan bill to stop human sex trafficking.
"This will have an impact on the timing of considering the new attorney general," McConnell told CNN's "State of the Union." "I had hoped to turn to her next week. But if we can't finish the trafficking bill, she will be put off again."
The 68-page bill has been available for nearly two months and was approved unanimously in February by the Senate Judiciary Committee. But Democrats said they didn't notice the abortion language until last week.
Fines paid by those convicted of the sex-trafficking crimes would go into a fund to help victims. But Democrats are balking because the legislation also contains a Republican-inserted provision that bars the use of fines to pay for abortions, except in cases of rape, incest or when the life of the pregnant woman is in jeopardy.
Republicans say the language is simply an extension of the so-called Hyde Amendment that bans the use of federal funds for abortions except in limited circumstances.
"They all voted for the very same language in a bill in December," McConnell also said Sunday. "This is boilerplate language that has been in the law for almost 40 years that they all voted for three months ago in another bill."
However, Democrats argue the legislation would mark a significant expansion since it applies to personal funds paid in fines.
They also say the restriction against the use of fine money would be permanent, while the one that applies to federal funds would lapse unless renewed on a year-by-year basis. And they argue that Republicans are using any excuse to stall the nomination -- at a time when terrorist groups are threatening the United States.
"It's time for Republicans to stop dragging their feet on Loretta Lynch," said New York Sen. Chuck Schumer, the chamber's third-ranking Democrat.
Schumer's party doesn't appear to have the votes in the GOP-controlled Senate to remove the abortion language, but think they have enough support to keep the bill from passing.
"If they want to have time to turn to the attorney general next week, we need to finish up this human trafficking bill," McConnell also said Sunday. "It's extremely important to the country."
Lynch is now the U.S. attorney for the Eastern District of New York. She was nominated by Obama in November and would replace Holder, who last year announced his retirement.
The Senate Judiciary Committee approved Lynch's nomination Feb. 26 with a bipartisan vote, sending it to the floor. Three Republicans -- Sens. Orrin Hatch of Utah, Jeff Flake of Arizona and Lindsey Graham of South Carolina -- voted for her.
She is expected to win the nomination in the final vote, but by a very close margin.
The Associated Press contributed to this report.