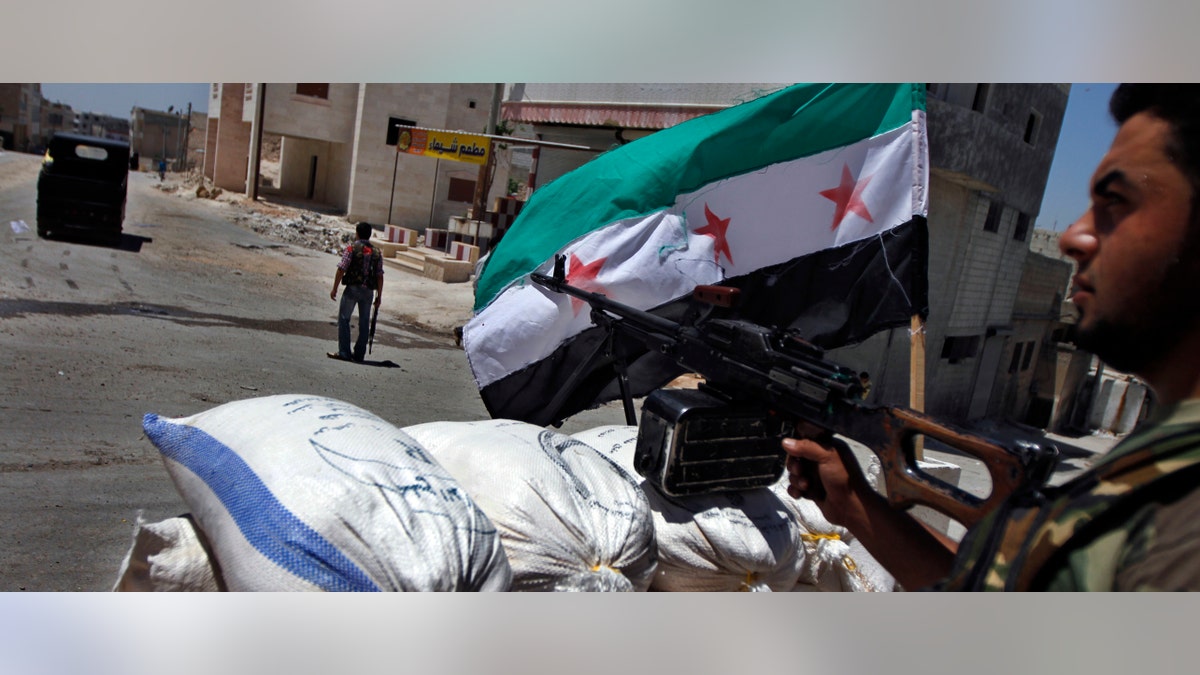 Arizona Republican Sen. John McCain suggested Saturday that efforts to end Syria's roughly 3-year-long civil war are on the brink of failure and the crisis is worsening, following a second round of stalled talks.
"The second round of Syria peace talks ended today with no progress toward a negotiated political settlement to the conflict and UN Special Envoy Lakhdar Brahimi recognizing that failure is looming," McCain said this weekend. "After three weeks of talks, we are moving further and further away from a peaceful political solution."
McCain argues the regime of Syrian President Bashar al Assad has in fact accelerated its attacks on residents, with more of them killed in the three weeks since peace talks began than at any other time during the conflict.
He said fighters have continued with their bombing campaign, are detaining hundreds of men evacuated from the city of Homs in violation of a humanitarian agreement, and will not allow the international community to provide aid to thousands caught in the fighting.
McCain argues the United State has embarked on a failing strategy in Geneva of allowing Russia, Assad's closest ally, to put pressure on him.
"Russia has recently prevented the passage of a much-needed U.N. resolution on bringing aid to desperate Syrian civilians," he said. "Such actions indicate that the Russian government is simply not a partner for peace in Syria and cannot be relied on to help secure a successful outcome."
McCain said he wants to "change the balance of power on the ground" but is calling for options "far short" of an Iraq-style invasion. He also said he was encouraged to hear that President Obama may begin considering different policy options for Syria.
Strong evidence suggests Assad forces used chemical weapons on civilians this past summer, killing thousands.
The Geneva talks reached an impasse Friday -- with no guarantee of continuing -- after five days of sparring over responsibility for the mounting violence in Syria and Assad's future, government and opposition delegates said Friday.
Senior U.S. and Russian officials traded accusations over who was to blame for the stalemate, adding to the polarization of a war that has killed 130,000 people, displaced millions, destroyed a country and threatens to engulf the Middle East in religious conflict.
It was unclear Friday how long the sides were willing to continue with the talks, which have been on the verge of collapse since they were convened last month.
Despite the rancor, both sides left the door open for more negotiations, including a possible final session Saturday before breaking up.
A senior U.S. official acknowledged that "talks for show make no sense" but told reporters there was still "enormous" energy for a political solution, adding that perhaps what was needed was "a few days of recess" for people to reflect.
The official spoke only on condition of anonymity in keeping with rules established by the U.S. administration.
Both the U.S. and Russia have kept the talks going, knowing that it was the only option on the table -- at least for now.
The rebellion against Assad's rule has been sapped by deadly infighting among moderates, Islamic groups and Al Qaeda-inspired militants competing for control of territory, weapons and influence. Assad's forces are solidifying gains, but the battle lines are largely stalemated -- leading to a growing sense internationally that neither side is close to victory.
For the Americans, backing down from a threat to strike militarily following the chemical weapons attack in August has left the Obama administration with little choice but to pursue a diplomatic track to end the carnage.
The opposition, which holds little sway among the dozens of rebel groups on the ground, is under pressure to come away with a deal rather than risk Assad holding on to power in a grinding war of attrition.
"Unfortunately we have reached a dead end," said opposition spokesman Louay Safi following separate meetings Friday between U.N. mediator Lakhdar Brahimi with opposition and government delegations.
Safi said it was too early to say whether there would be a third round of talks.
Syria's deputy foreign minister, Faisal Mekdad, also announced "with deep regret" that the talks were not going anywhere.
"We came to Geneva to implement Syria's declared position to reach a political solution to the crisis. ... Unfortunately the other side came with another agenda, an unrealistic agenda," he said.
U.S. and U.N. officials have said merely getting the two sides in the same room was something of a victory. Some credit the talks, now in their second round in Geneva, with leading to an evacuation of hundreds of civilians from the embattled Syrian city of Homs. Other than that they yielded little more than acrimony.
That's largely because the Syrian delegates have a fundamentally different interpretation of what the talks are about.
The Western-backed Syrian National Coalition agreed to the Geneva talks only if the focus were on an end to the Assad dynasty through the establishment of a transitional governing body. The Damascus contingent zeroed in on fighting terrorism before anything else.
Instead of hard bargaining behind closed doors, the two sides did most of their haggling in public, finger-pointing and repeating long-standing positions over and over again to reporters.
The Associated Press contributed to this report.