McCain Re-Emerges as Happy Warrior for GOP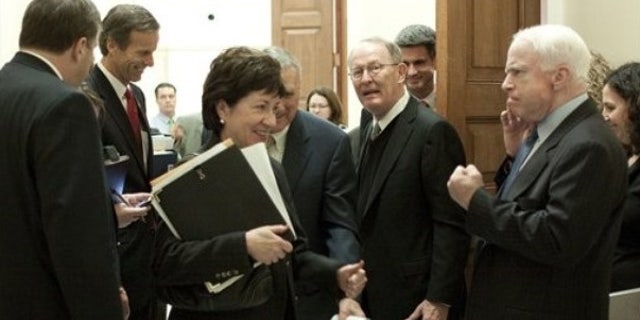 NEWYou can now listen to Fox News articles!
Soundly beaten for the presidency a year ago, an unbowed Sen. John McCain has re-emerged as the happy GOP warrior against President Obama and the Democrats' health care reform agenda.
The Arizona Republican was also front and center over the weekend against wasteful Democratic spending on Capitol Hill.
"I urge, no I don't urge, I demand the president of the United States veto this bill," he said on Saturday.
Since the president took office, McCain has been on the Sunday morning newsmaker shows with frequency. He has appeared on NBC's "Meet the Press" three times, CBS' "Face the Nation" three times, CNN's "State of the Union" twice and "Fox News Sunday" three times.
His appearance on ABC's "This Week" on Sunday will be his third visit in five months.
Unlike some failed presidential candidates who seem to fade away, McCain has taken center stage. The man who could not unite enough Republicans to stop Obama's election has helped the GOP galvanize quickly against the Obama agenda, particularly on health care reform.
"I think it's partially true that this and the fiscal insanity that's going on around here is clearly being helpful to the Republican Party. But we will also sometime in the spring be coming out with a positive agenda for what we are going to do. That's one of the things we've got to do," he said.
McCain won the 2008 Republican presidential nomination but not the hearts & minds of many conservatives who consider his maverick history of going against the GOP grain as a lone wolf sort of liberalism.
His fight with Republican Senate leader Mitch McConnell over campaign finance reform went all the way to the Supreme Court.
"I learned that the best way to get along with my friend John McCain is to go along with my friend John McCain," McConnell joked last week.
McCain's support for immigration reform infuriated conservatives, who publicly outed him for dropping curses and shoving colleagues behind closed doors.
After last year's drubbing, McCain downplays his transition from presidential nominee back to senator. It's not an aversion to introspection, just a preference for action and engagement.
"I got right back in the arena, that is the cure for defeat, and I have enjoyed every minute of it being back. I really have," he said.
As a young man McCain's temper earned him the nickname McNasty. It fit his political style. But after decades in the Senate and two presidential bids he's once again a GOP team captain for the opposition, but also seems to enjoy the role of team player.
Fox News' Carl Cameron contributed to this report.