Mayor Bloomberg Slams Board of Elections for Failure to Mail Military Ballots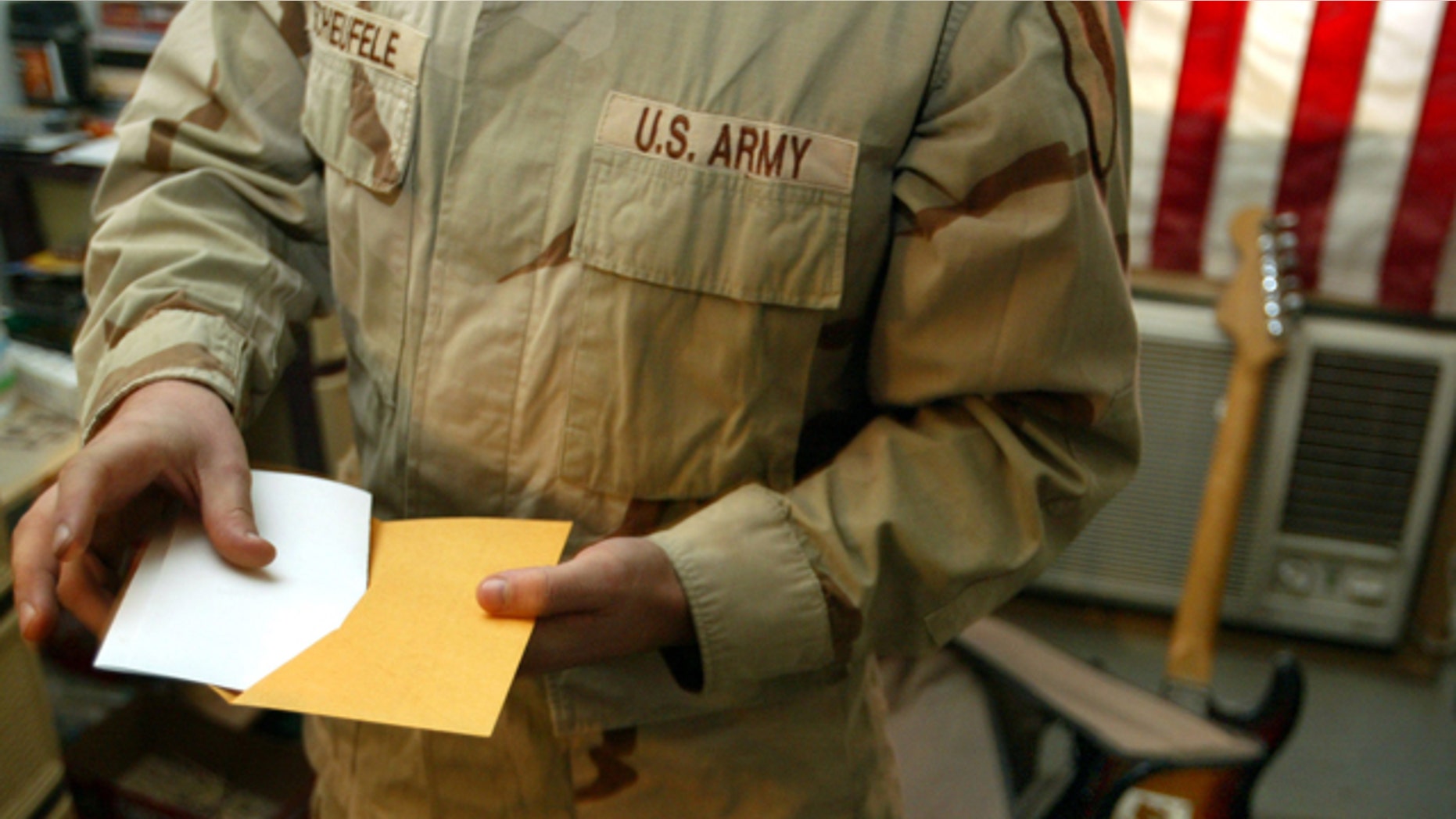 New York City Mayor Michael Bloomberg slammed the state's Board of Elections on Monday for failing to mail out absentee ballots to military and overseas voters from New York City and four additional counties.
"I don't know whether or not the Board of Elections has failed to send out absentee ballots to the military or anybody else, but if they have failed it really is reprehensible," Bloomberg told Fox News. "We send our young men and women overseas to fight and to die for us and we don't care enough to make sure they get the right to exercise their franchise? That's what they're over there fighting for as much as anything else."
FoxNews.com first reported Sunday that New York had not mailed out absentee ballots to all its 320,000 military servicemen and women and overseas voters, in clear violation of the MOVE Act.
As of Monday at noon, the ballots still had not been sent.
"It would not surprise me if the Board of Elections screwed up in this; they certainly did not do a good job the last time," Bloomberg said. "I'll do anything I can to help them, but they've been given more than adequate monies to make sure that everybody in this city and in this state can vote, can vote privately, can vote for whomever they want, can vote at times that are convenient and accessible to them in places around the state."
New York City has no jurisdiction or control over the state's Board of Elections, which is tasked with administering and enforcing elections throughout the state. But Bloomberg offered to help.
"They've not done a good enough job yet, but rather than criticize them, maybe it's time to help them.  The trouble is they don't seem to be willing to take help from other people," Bloomberg told Fox News. "There are a number of other things that we could do to help them. They don't seem to want to help, so maybe you should address the next question to them."
FoxNews.com's calls and e-mails to Board of Elections officials and staff were not returned for the second day in a row.  The board's offices are closed for Columbus Day.
According to the 2009 MOVE Act, a state must send out its military and overseas ballots 45 days prior to elections.

New York was granted a waiver to this deadline by the Department of Justice and given an additional 15 days — until October 1 — to send out all its ballots. On October 5, New York State Board of Elections co-directors informed federal officials that the state had not fully met its extended deadline, according to an e-mail posted online at FVAP.gov, the website of the Defense Department agency tasked with overseeing military voting.

In an e-mail sent October 5, New York State Board of Elections co-directors Robert A. Brehm and Todd Valentine wrote:

"County Boards of Elections have reported to our office that UOCAVA ballots have been transmitted to voters within their respective jurisdictions except in the City of New York, and the following counties: Erie, Niagara, Putnam and Westchester."

And, as of Oct. 9, these ballots still have not been mailed to voters in these counties, who will now have less than 25 days to receive, mark and return their ballots, federal and state officials told FoxNews.com. New York City alone has about 50,000 servicemen and women and overseas voters.

"The gravity of New York's failure cannot be overstated. With approximately 50,000 military and overseas voters in New York City alone, there is no doubt that the November elections could be altered by this failure," said Eric Eversole, a former Justice Department voting section attorney who recently started a nonprofit organization, Military Voter Protection Project, to protect military voting rights.

In September, the MVP Project filed a lawsuit against Maryland Board of Elections on behalf of an unnamed serviceman in Iraq who, the suit alleges, will be disenfranchised this election.

"The sad fact is that New York City's failure will have its greatest impact on those military members serving on the front lines," Eversole said. "They do not have the luxury of receiving their ballots via e-mail and must rely on a notoriously slow postal service to receive their ballots. Without immediate action, there is no doubt that some of these troops will be disenfranchised by New York's failure. It is truly shameful."

Another former Justice Department attorney, J.Christian Adams, weighed in on Monday.
"This is the latest in a cascade of ineptitude by the Department of Justice. Military voters and their families should be enraged," said Adams, who now is a conservative blogger.
"A credible enforcement operation would have detected problems on October 2.  DOJ didn't detect it, and almost two weeks later, the situation has become critical in New York and other states.  The only place they have sued to enforce the law?  Guam. "
Department of Justice spokeswoman Xochitl Hinojosa provided FoxNews.com with the following statement:

"The department is aware of recent issues in New York and we are in urgent discussions with state officials aimed at achieving a prompt resolution. The department is committing significant resources to vigorous enforcement of the MOVE Act nationwide to ensure that our men and women serving in the military and our citizens living overseas have the opportunity to vote and have their votes counted in this year's elections."

E-mail requests for comment sent to the co-directors, other Board of Elections officials and its spokesman were not returned.

The MOVE Act was passed in 2009. It's lead author and sponsor was Sen. Charles Schumer (D-N.Y.), chairman of the Senate Rules Committee. It was co-sponsored by John Cornyn (R-Texas.)

In a statement to FoxNews.com, Sen. Schumer said:

"Put these ballots on the next plane to Afghanistan. These soldiers sacrifice their lives to protect our freedoms, they should never, ever be denied their right to vote. I wrote and passed this law so our brave men and women overseas would no longer be disenfranchised and there is absolutely no excuse for failing to get this done. The boards of election should immediately get these ballots to each and every one of our service members around the world. They should overnight them if they have to — no ifs, ands or buts."

Cornyn gave this statement to FoxNews.com:

"The fact that New York government officials failed to live up to the clear terms of the waiver is shocking, in light of how much our troops have sacrificed in the years since 9/11. This is a clear violation of federal voting rights law. If DOJ does not file a suit to right this wrong as soon as the courts open on Tuesday, then we will know once and for all that DOJ is not serious about safeguarding military voting rights."
Go to FVAP.gov for information about military voting, and to learn about online balloting options available for military voters from 31 states.
Fox News' Chris Laiblecontributed to this report.