Massachusetts Voters Choose GOP And Democratic Nominees In Primary Election For U.S. Senate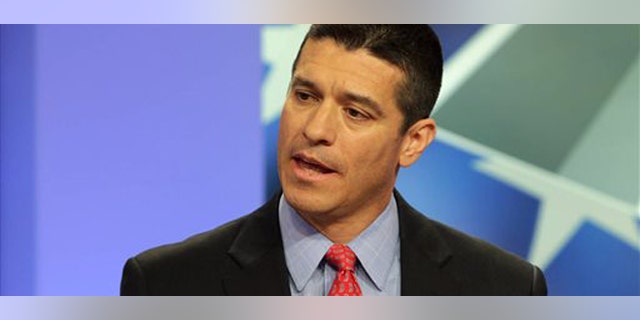 Will businessman Gabriel Gomez be one step closer after Tuesday to being a U.S. senator?
Tuesday is when Massachusetts voters are casting their ballots in a primary election where two Democrats, both members of the state's congressional delegation, and three Republicans are vying for their parties' nominations in the special election for John Kerry's former Senate seat in the heavily Democratic state.
The GOP primary race is pitting Gomez against two other candidates: former U.S. Attorney for Massachusetts Michael Sullivan, and state Rep. Daniel Winslow, former legal counsel for ex-governor and 2012 presidential nominee Mitt Romney.
Gomez, 47, has tried to portray himself as the new face of the Republican Party. The son of Colombian immigrants, he learned English in kindergarten, then went on to become a Navy pilot and SEAL, earn an MBA at Harvard and launch a private equity career.
He's also staked out moderate positions, including support for gay marriage, which is legal in Massachusetts.
Few were expected to turn out to vote, however, in a state that has spent the past two weeks transfixed by the Boston Marathon bombings and their aftermath.
Gomez, who ran the marathon and finished before the bombing, touted his outsider status as he shook hands with voters in Marshfield. He's also the best-funded Republican, having collected nearly $1.2 million, including $600,000 he loaned his campaign.
Pointing to the combined 40-plus years of political experience of Winslow and Sullivan, Gomez said, "I have zero experience and I wear that with badge of honor."
Even before the bombings, the campaign had failed to capture the attention of voters compared with the 2010 special election following the death of longtime Sen. Edward Kennedy. Former Republican Sen. Scott Brown won the seat but was ousted last year in another high-profile race by Democratic challenger Elizabeth Warren, now the state's senior senator after only a few months on the job.
A win would help Senate Democrats maintain a caucus edge of 55-45 as they press forward on major issues including immigration and an effort to gather additional votes on a gun control proposal that failed this month.
The Marathon bombs disrupted the race, forcing the candidates to suspend their campaigns for about a week heading into the primaries. The bombings have also brought national security and terrorism issues to the fore in a race that was expected to turn on questions of the economy, gun control, taxes, immigration and abortion.
The Democratic primary pits U.S. Rep. Edward Markey, who has staked out more liberal positions, against fellow Rep. Stephen Lynch, a former ironworker who has tried to appeal to the party's working- and middle-class base.
Lynch, 58, has had to explain why he was the only member of the state's House delegation to vote against President Barack Obama's 2010 health care law, while Markey, who won his first elected office while in law school, has had to fend off efforts to portray him as a Washington insider.
Markey is better-funded, having raised $4.8 million through the end of the last reporting period, compared with $1.5 million for Lynch.
Markey, 66, has also benefited from outside spending. Of the more than $2.2 million spent by outside groups, nearly 84 percent went to Markey, an Associated Press review of Federal Election Commission reports found.
Markey said he's hoping for a win Tuesday and is anticipating a flood of GOP money in the final election.
"I am going to fight against the coal industry. I am going to fight against the NRA. The Republicans are saying they'll welcome that undisclosed, unlimited money," Markey said as he greeted commuters at Boston's North Station.
Lynch had to call off most of his campaigning due to illness although he planned to attend an evening rally at an ironworkers' hall near his South Boston home.
Sullivan, 58, who bumped into Gomez campaigning on the same Hingham street corner, said experience is critical, pointing to his own national security resume, which includes helping investigate both the Sept. 11 attacks and the failed attempt that year to blow up an airliner using shoe bombs.
"Experience does matter. It matters in almost position that the private sector recruits for. They want somebody with experience and it certainly should matter in terms of someone serving in the United States Senate," Sullivan said.
The 54-year-old Winslow, who began his last full day of campaigning in Boston and planned to sweep through several more communities, says he's the only candidate with experience in all three branches of the government.
After 12 years as a private attorney, Winslow was appointed to a judgeship on the state's district court in 1995. He served eight years and left to join Romney's administration as chief legal counsel.
The state's top elections official, Massachusetts Secretary of State William Galvin, predicted a low turnout, saying fewer than one in five registered voters could end up casting ballots.
Polls open at 7 a.m. Tuesday. Whoever wins Tuesday's primaries will compete in the special Senate election June 25.
Based on reporting by The Associated Press.
Follow us on twitter.com/foxnewslatino
Like us at facebook.com/foxnewslatino