Massachusetts Lawmakers Gear for Fight over Immigration Bill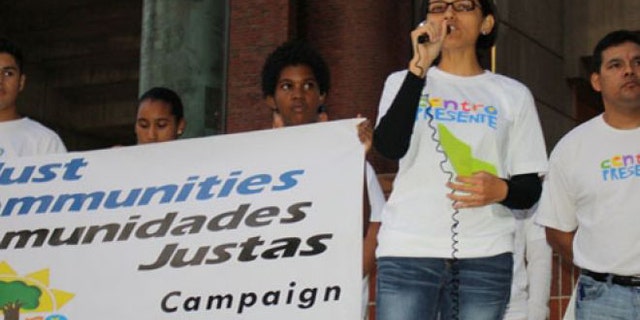 A controversial bill making its way through the Massachusetts Legislature is being presented at a state committee hearing today and is facing stiff opposition by immigrant rights groups across the state.
The bill would require local police to run immigration status checks on those arrested, mandate proof of citizenship to apply for services and jobs in the state, penalize companies that employ undocumented immigrants, and increase penalties for driving without a license on a first-time offense, from $100 to $500. (Subsequent offenses would impose jail time.)
The bipartisan bill, "An Act to Enhance Community Safety," was introduced in September after the death of 23-year-old Matthew Denice of Milford, Mass., who was killed in a hit-and-run accident by Nicolas Guaman, an undocumented immigrant from Ecuador.
Those who oppose the bill say that it is being introduced under the guise of public safety but bears characteristics of similar anti-immigrant legislation that has passed in Arizona and Alabama.
Celebrities Who Were Once Undocumented
"The [immigrant] community has come together to make sure it doesn't pass and it might not pass but instead be introduced again as amendments," said Nataly Castaño, an activist with the state's Student Immigrant Movement. "It's criminalizing all immigrants."
In 2010 and 2011, a number of amendments that would restrict access to certain benefits for undocumented immigrants were included in the state budget but did not pass in part due to opposition by immigrant-rights groups.
The bill's supporters say that the bill's main focus is ensuring the community's safety and addressing the financial strain on the state as a result of illegal immigration. If the bill passes, it would require the state to appoint an official to implement the Secure Communities program, which as of yet, has not been implemented in all of the state's municipalities.
Boston piloted the program in 2006 and has been using it since 2008, but it is not being used all over the state. Last June, Governor Deval Patrick said Massachusetts would not sign onto the program, which forces fingerprints of those arrested to be run through a Homeland Security database. Still, the federal government has said the program will be implemented nationwide in 2013.
What is the LEAST Latino State of the Union?
Immigrant-rights groups have been scrambling to inform the immigrant community about the proposed bill by holding a press conference last week and holding a call-in day to legislators on Monday.
The bill will be heard Tuesday along with other bills being presented to the Joint Committee of the Judiciary. People will have an opportunity to testify at the hearing, said a spokesperson from Sen. Richard Moore's office, the bill's main sponsor. The committee will have to decide by March 21st whether the bill should pass or whether it needs further study.
has José Palma, an activist with Centro Presente, a state-wide advocacy organization, will testify today about how passage of the bill could impact him and be detrimental to the Latino immigrant community.
Palma, from El Salvador, is on Temporary Protected Status but has two American-born children, and said that most Latino families are comprised of people with mixed status. Passage of the bill could make it difficult for non-citizen members of a family to access public housing, one specific provision mentioned in the bill.
Barring of Latina Candidate in Arizona Stirs Criticism of English Proficiency Law
"They're using the [Denice] case to push this bill and adding things in it that have nothing to do with public safety," he said.
Palma said that despite the state's image as a liberal haven, Massachusetts could be following the footsteps of other states and get swept up in the wave of anti-immigrant sentiment that has emerged.
"What you see on the news is that the people being detained and deported are Latino," he said. "Where are the European people being identified as undocumented? This bill is against the Latino community because the stereotype is that most undocumented immigrants are Latinos."
Tanya Pérez-Brennan is a freelance journalist based in Boston. She can be reached at tpb775@yahoo.com.
Follow us on twitter.com/foxnewslatino
Like us at facebook.com/foxnewslatino