Massachusetts Democrat charged in bribery, kickback schemes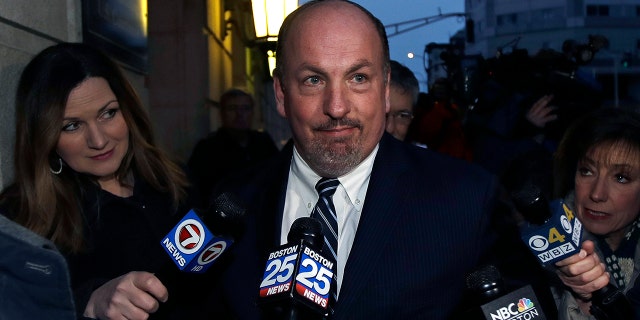 A former state senator from Massachusetts was charged last week with collecting about $1 million in bribes and kickbacks that he allegedly laundered through his company.
Brian A. Joyce, 55, a Democrat who served from 1998 until January of this year, also accepted hundreds of pounds of free coffee from a Dunkin' Donuts store owner in exchange for his influence, the Boston Globe reported.
Joyce was escorted from his home in handcuffs Friday, the paper reported. He faces federal charges including corruption, embezzlement, mail fraud and money laundering.
"Brian Joyce represented over 100,000 Massachusetts citizens in the state Legislature,'' acting U.S. Attorney William Weinreb said at a news conference announcing the indictment. "He had a duty to serve them honestly. And he violated that duty by accepting bribes and kickbacks in exchange for his official action."
Republican Gov. Charlie Baker called the allegations against Joyce disturbing.
''People in public life need to respect the offices they hold and that means not using them for personal gain, and if the feds believe there's enough there to justify an indictment then the investigation needs to be thorough and move forward accordingly,'' Baker said.
"People in public life need to respect the offices they hold and that means not using them for personal gain."
In one case, prosecutors alleged Joyce used his position to exert influence on behalf of a New York-based energy brokerage business and formed a shell company to collect secret kickbacks from the firm. In another scheme, prosecutors say Joyce pressured a local planning board to approve a waiver sought by a developer, who gave Joyce a Jeep from one of the developer's car dealerships.
The indictment also accuses Joyce of taking legislative action to aid a coffee franchise whose owner was paying him tens of thousands of dollars for ''purported legal fees'' and providing him with hundreds of pounds of free coffee.
Weinreb would not say whether charges would be brought against any of the companies accused to be involved in the schemes but said the investigation remains ongoing.
Joyce pleaded not guilty Friday before U.S. Magistrate Judge David Hennessy, and was released on a $250,000 bond. He will return to court Feb. 23, the Globe reported.
Joyce's arrest was the second blow to the state Senate last week.
Senate President Stan Rosenberg, also a Democrat, announced Monday that he was stepping aside during a Senate Ethics Committee investigation into the circumstances surrounding reported sexual misconduct allegations by several men against his husband, Bryon Hefner.
The Associated Press contributed to this story.