Maryland Dems weigh bailing on ObamaCare site, sending people to HealthCare.gov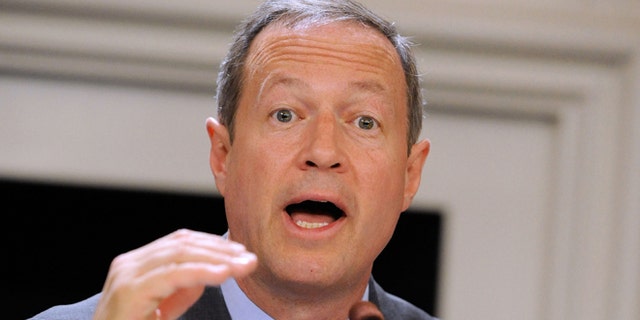 NEWYou can now listen to Fox News articles!
Top Maryland Democrats are considering drastic measures to address ongoing problems with their state-run ObamaCare website, including sending people directly to the already-strained federal exchange.
Gov. Martin O'Malley, an ardent champion of ObamaCare, initially batted down the idea of sending Marylanders to the federal HealthCare.gov site when it was first proposed last month. But he's shifted his tone in recent days, and now appears open to such a solution, at least until the state website improves.
"Whatever works best to serve the greatest numbers of people most quickly is what we will do," O'Malley said last week.
Should Maryland take that step, it raises the possibility that other states struggling with the insurance exchanges could follow. Oregon, for instance, experienced such severe problems with its website that officials told residents to use paper applications.
Any move by the states to direct more people onto HealthCare.gov would inevitably put more strain on the troubled federal site.
"The Maryland site is a disaster, and the federal site is a semi-disaster," David Craig, a Republican candidate for governor, told FoxNews.com on Tuesday.
Meanwhile, O'Malley and Lt. Gov. Anthony Brown are set to take additional steps, including introducing emergency legislation which would insure Marylanders who enrolled for a policy but whose applications didn't process on the glitch-plagued site. The state's legislative session starts Wednesday.
Brown said Friday that a few hundred to 5,000 people fall into that category and that the proposed legislation could cost taxpayers in the heavily Democratic state as much as $10 million.
Under the proposed legislation, they would be insured through a safety-net program for residents without insurance, and their coverage would be retroactive to Jan. 1.
Premiums would be set on a sliding scale, depending on a participant's income.
The Maryland site, one of 14 state-run ObamaCare exchanges, got off to an abysmal start but has slowly improved. As of Dec. 27, roughly 18,000 residents had enrolled for private insurance plans through the exchange, said the O'Malley administration, which had a goal of 150,000 people in private plans by March 31. The total number on enrollees including Medicaid sign-ups is 152,892.
The idea of switching to the federal site, which weeks after its Oct. 1 start was still spitting out incorrect information and crashing under a crush of visitors, was first posed by Maryland Democratic Rep. John Delaney.
But Attorney General Doug Gansler, Brown's closest opponent in the state's Democratic gubernatorial primary, has also been highly critical of the state's rollout. He said Tuesday that "all options for a potential fix" should be on the table.
"Lt. Governor Brown mismanaged the exchange rollout, helped create the mess, and has failed every test of leadership to fix it," Gansler said in a statement to FoxNews.com on Tuesday.
Craig, the Republican gubernatorial candidate, said the O'Malley administration should instead be helping people get coverage directly through the insurers. He wants to reallocate $150 million, originally earmarked in part to market the problematic exchange, toward promoting alternative enrollment options.
Delaney on Monday also wrote Maryland's secretary of health asking about the feasibility of switching to the federal site, after calling last month for such a temporary solution.
"I understand that my idea of transitioning to the federal website may contain challenges that I am underestimating and it may not, in fact, be feasible," the Maryland Democrat wrote. "With less than three months remaining in the open enrollment period, each day is critical."
The Associated Press contributed to this report.