Maria Butina, accused Russian spy, ordered to stay in jail after feds backtrack on sex-for-access claim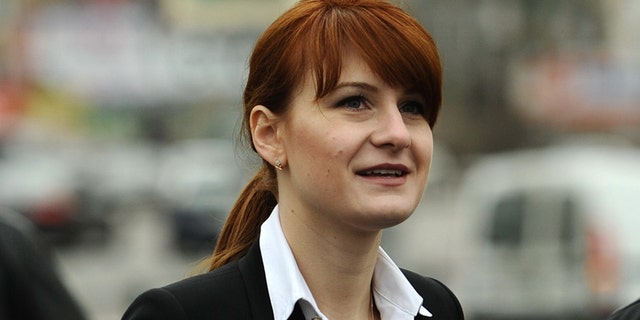 NEWYou can now listen to Fox News articles!
A federal judge Monday denied a bid by accused Russian spy Maria Butina to be released on bond and placed under house arrest after federal prosecutors walked back allegations that she offered to trade sex for a position with a special interest organization.
U.S. District Judge Tanya Chutkan said there were "no conditions, or combination of conditions" that would ensure Butina would make future appearances in court if she were released.
"There's a very real risk of flight," Judge Chutkan said.
Butina, 29, was arrested in July and accused of gathering intelligence on American officials and political organizations. Prosecutors said she used her contacts with the National Rifle Association and the National Prayer Breakfast to develop relationships with U.S. politicians and gather information for Russia. They also said she used her role as a student at American University in Washington as a cover for her activities.
The sex-for-access accusation against Butina was based on text messages and other information prosecutors said they had obtained. The text exchange between Butina and "DK" -- a public-relations professional for a gun rights group Butina had founded -- concerned how Butina would repay him after he took her car for an insurance renewal and government inspection. She replied, "Sex. Thank you so much. I have nothing else at all. Not a nickel to my name."
Butina's lawyer, Robert Driscoll, has said the exchange was "innocuous" and the sex comment was meant as a joke.
In a court filing last month, Driscoll said that Butina is a friend of DK's wife and child and treats him like a brother. He said there has been no evidence that the two ever had sex.
"The impact of this inflammatory allegation, which painted Ms. Butina as some type of Kremlin-trained seductress, or spy-novel honeypot character, trading sex for access and power, cannot be overstated," Driscoll said at the time.
In court documents filed Friday, the government admitted its understanding of the text conversation in question was "mistaken."
However, prosecutors also argued that the other evidence in the case was sufficient to keep Butina in custody moving forward.
In court Monday, Judge Chutkan reprimanded prosecutors for submitting the messages between Butina and "DK" as evidence. She said she was "dismayed" by the mistake and by the "rather salacious allegations" made by prosecutors. She said that the joking nature of the text message exchange was immediately "apparent on their face" when she read them.
The judge also chided Butina's lawyers for submitting evidence that morning, well after the deadline to do so. She added that Driscoll had "crossed the line" in making frequent public comments about the case and imposed a gag order on both sides.
The next hearing in the case is scheduled for Nov. 13. Butina has pleaded not guilty to the charges of conspiracy and acting as an unregistered foreign agent for Russia.
The Butina case is being handled by the U.S. attorney for the District of Columbia and not by special counsel Robert Mueller, who has been leading an investigation into alleged collusion between Russia and Donald Trump's Republican presidential campaign as well as Russian interference in the 2016 U.S. election.
The Associated Press contributed to this report.