Making nice, Donald Trump to meet with N.M. Gov. Susana Martinez 'in near future'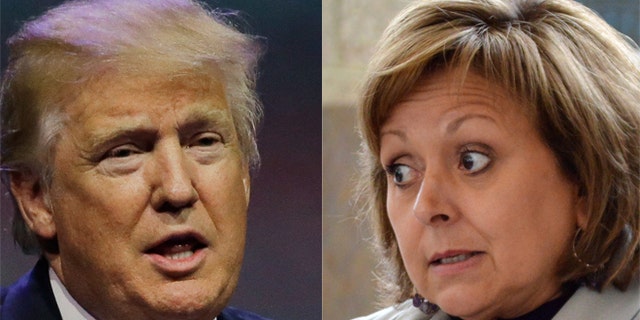 NEWYou can now listen to Fox News articles!
These two never seem to get their timing right.
Just when New Mexico Gov. Susana Martinez appears to be warming, somewhat, to the idea of Donald Trump being the presumptive Republican nominee, he goes and starts bashing the job she's doing while campaigning in Albuquerque.
But in the last week, Trump has made overtures toward Martinez, telling the Santa Fe New Mexican on Thursday that he likes and respects Martinez and would like to get her endorsement.
Now CNN is reporting that Martinez and Trump will meet "in the near future," according to a spokesman for the governor.
"Gov. Martinez is encouraged by Mr. Trump's commitment to protect New Mexico's labs and bases, which are not only important to our state but also our national defense," spokesman Mike Lonergan said. "The governor hopes to visit with Mr. Trump in the near future to discuss this issue and others that affect New Mexicans. As she has said, this has never been about her -- it's about the issues that impact New Mexico."
For these two, those are remarkably non-fighting words.
Martinez, the head of the Republican Governors' Association and the first Latina to be chief executive of any U.S. state, has been critical of the real estate tycoon a number of times in the past, including when he first brought up the issue of immigration and building a border wall last summer. His description of Mexicans as criminals was "completely and unequivocally wrong," Martinez, who is of Mexican descent, said at the time.
According to the Washington Post, she told a group of 60 Republican donors in April that she felt insulted by Trump's comments about Mexicans, and that his plan to get Mexico to pay for the border wall was "unrealistic and irresponsible," according to people at the gathering.
Trump, for his part, called out Martinez while campaigning in New Mexico in May, telling supporters that she "has got to do a better job. She's not doing the job."
Then he added, "Hey! Maybe I'll run for governor of New Mexico. I'll get this place going ... She's not doing the job. We've got to get her going."
Lonergan attributed his remarks to bitterness over the fact that Martinez had not endorsed the mogul and had chosen not to attend the rally.
The Dr. Jekyll and Mr. Hyde act on Trump's part may be attributable to pressure from the GOP leadership to make nice with Martinez, who embodies two groups of voters Trump is believed to need to win over, Latinos and women.
Senate Majority Leader Mitch McConnell, who has endorsed Trump, told CNN, "I think the attacks that he's routinely engaged in, for example, going after Susana Martinez, the Republican governor of New Mexico, the chairman of the Republican Governors' Association, I think, was a big mistake."