Lincoln, Halter Resume Warfare After Tuesday's Inconclusive Primary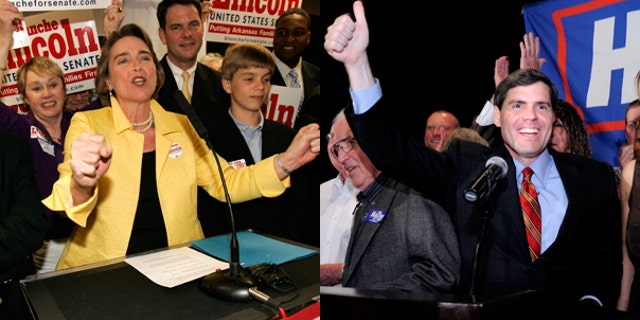 Just hours after Arkansas voters forced Sen. Blanche Lincoln into overtime against Lt. Gov. Bill Halter for the Democratic nomination in Tuesday's primary, the two camps wasted no time in resuming their political warfare with an eye toward a June 8 runoff.
Whoever wins will face Republican John Boozman in the fall. Boozman, who scrapped a re-election bid for his U.S. House seat in order to challenge Lincoln, defeated seven primary hopefuls as voters rejected claims he was a Washington insider.
Polling before the primary indicated Boozman would defeat either Lincoln or Halter in the general election. All three have spent considerable time in Washington.
The contest between Lincoln and Halter had already been one of the most expensive and bitter in Arkansas history, with the candidates trading daily attacks on health care, trade and other issues. Outside groups on both sides, including the AFL-CIO and the U.S. Chamber of Commerce, had also pumped millions of dollars into the race.
Halter was out campaigning early Wednesday morning, standing at a busy intersection and waving to commuters.
When asked if he thought Lincoln was dishonest, Halter said, "No... But I think the campaign tactics are cynically dishonest."
Only hours before, Halter was on stage at his victory party, framing news that the primary election would continue to a runoff with Lincoln as a victory for his camp.
Lincoln also called the runoff a victory for her camp and promised to take down her negative television ads if Halter would do the same.
Halter denied that his camp is to blame.
"The Halter campaign has not run negative ads. Our first ads were all positive, never mentioned Sen. Lincoln's name." Halter said. "Contrast that with the mailers... Putting the picture of the state's lieutenant governor in a pill bottle and talking about shady drug deals, this is something that she did and personally signed off on."
Halter also stuck to his role as the outsider, pointing to a wave of anti-incumbent anger sweeping the nation.
"We saw this across the country -- people are really making a strong statement about how dissatisfied they are with Washington-based incumbents and that is something that has been an important part of our race from the beginning and it will continue to be so," Halter said.
Lincoln has tried to counter that sentiment by saying she too is frustrated with Washington and wants to be part of the solution.
To that end, aides to Lincoln said she would not be campaigning in Arkansas Wednesday, but instead leaving early to return to Washington for important votes.
"Blanche is a working senator," Lincoln campaign spokeswoman Katie Niebaum told Fox News. "She wants to get back to Washington and continue to fight for Arkansans."