Leopoldo Lopez's trial restarts in Venezuela amid rumors of possible release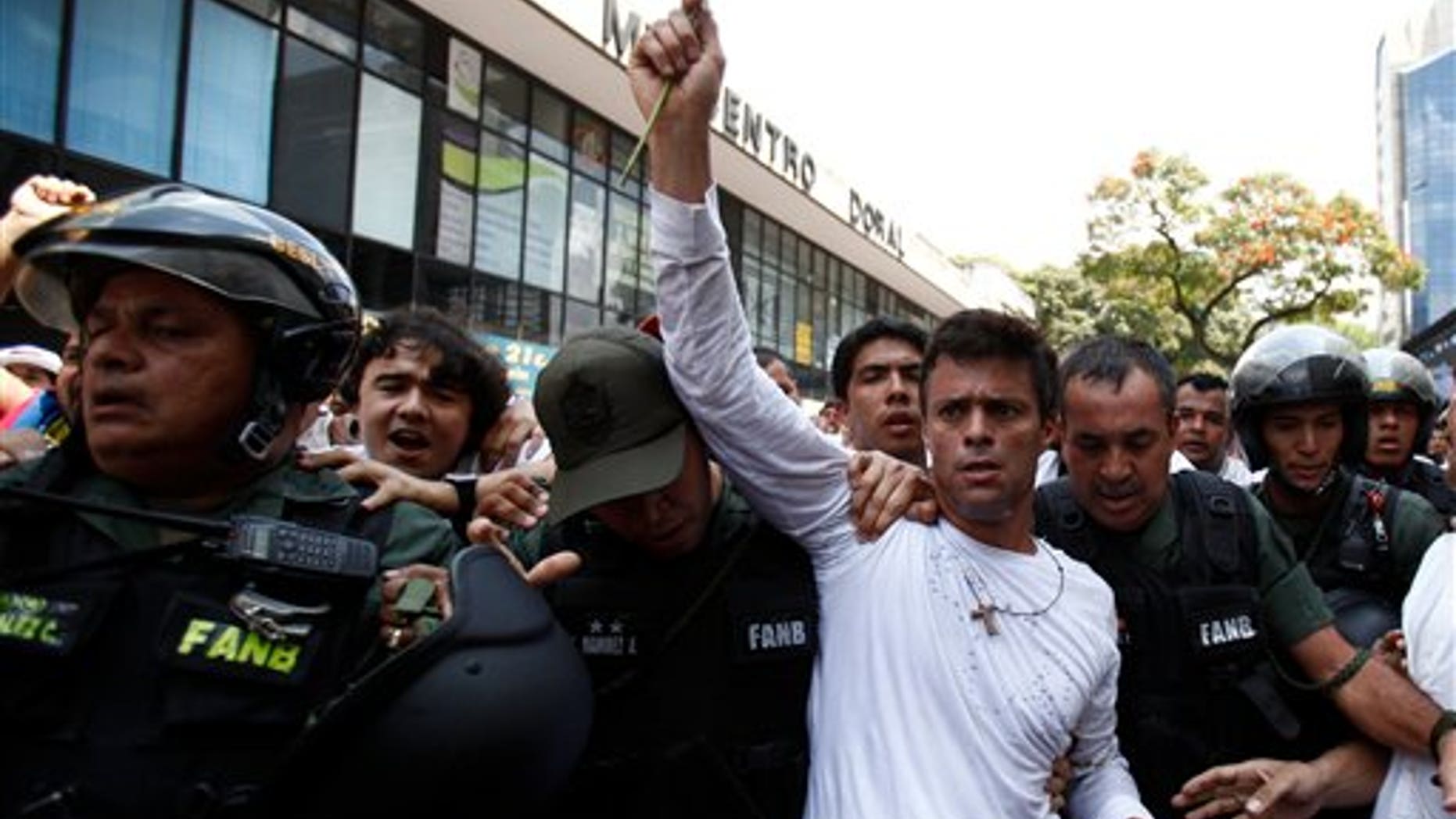 CARACAS, Venezuela – The trial of Venezuelan opposition leader Leopoldo López restarted Wednesday in Caracas, amid persistent rumors of his imminent release as a result of negotiations held last month between the government of Nicolás Maduro and senior U.S. officials.
López has been in prison for nearly 17 months now, charged with incitement of violence in mass anti-government demonstrations that took over the capital in the beginning of 2014.
"We haven't received any official confirmation [of a release], said Juan Carlos Gutiérrez, one of López's lawyers, on Tuesday. "Unofficial sources have said that this issue has been part of the negotiations between Venezuela and the U.S., yet there is no [official] news about the results of those conversations," he told Fox News Latino.
Gutiérrez said he introduced a petition for López's release last Thursday, arguing that he is not a flight risk.
The judge assigned to the case, which includes four other co-defendants, has not answered the lawyer's petition, even though according to law a decision has to be made within three business days.
"We are going to be in the courtroom every day to apply pressure and demand a resolution. We will persist with the petition during the trial hearings," Gutiérrez said.
López, 44, is not attending the hearings because he is still recovering after a 30-day hunger strike that has left him extremely frail and 30 pounds lighter. He lifted the strike last week after Maduro's government finally set a date for the legislative election later this year – the vote will be held on Dec. 6.
The last time López attended court was in May, a few days before his hunger strike demanding the release of all political prisoners and a set date for the elections.
Since López was jailed on February 18, 2014, his lawyers have requested his release 12 times. But the most recent petition has sparked some hope because it involved a U.S. party, according to a State Department official.
"We are focusing on keeping him alive, and that means talking to Venezuelan officials and tell them that López's death would imply the end of our involvement," the unnamed U.S. official told Reuters after a June 14 meeting between U.S. diplomat Thomas Shannon and Diosdado Cabello, Chavismo's second-in-command.
Meanwhile, López's jail conditions have not improved, to the exasperation of his vocal wife Lilian Tintori.
"Leopoldo cannot be checked by a doctor we trust, [he can't] read books nor write letters," said Tintori this week on a social media platform. "They are holding him in a 2.60 x 2.70 [meters] cell, he is subject to multiple violent searches and they steal his belongings; they just let him read the ruling party's newspapers and do not allow him to see his 5- and 2-year-old children," she added.
Members of López's political party, Voluntad Popular (Popular Will) said they fear Maduro's government might come up with a formula that satisfies the U.S. but keeps the opposition leader neutralized.
"If they put him under house arrest and ban him from speaking to the media or traveling, it would be to reduce his political impact, because they know that his popularity is growing," said Ismael Leon, one of the leaders of Voluntad Popular, to FNL.
"We cannot support that, he has to be set completely free," he said. "We are going to keep protesting until all the political prisoners, more than 70 right now, are released," Leon added.
But the government doesn't seem willing to concede an inch.
On Monday it announced that Daniel Ceballos, a former mayor of the city western of San Cristobal who is also jailed, was banned to run for office for one full year because he failed to declare his assets properly.
In a primary election held weeks ago, Ceballos had been elected to run for the National Assembly (or Congress).
"This is another indication of the government's fear, because it is now aware of the new leaders the party has," said Leon. "We will appeal the decision [to ban Ceballos] again and will not change the nominee in the ballot."