Leah Vukmir projected to win Wisconsin GOP Senate primary, face Baldwin in November
Wisconsin Sen. Leah Vukmir was projected to defeat political outsider Kevin Nicholson in Tuesday's GOP Senate primary, clearing the way for a closely watched general election battle against Democratic U.S. Sen. Tammy Baldwin.
Though pre-primary polls showed a close race between Vukmir and Nicholson, with about a third of Republican voters undecided, Vukmir -- a 15-year veteran of Wisconsin's legislature and an ally of Gov. Scott Walker -- was leading Nicholson by 14 percentage points when The Associated Press called the race.
National Republicans have targeted Baldwin, who ran unopposed in the Democratic primary, and outside groups already have spent millions on television ads attacking her in a state that went for President Trump in 2016. The race is one of a handful of key contests expected to decide which party will hold the Senate after November's midterm elections.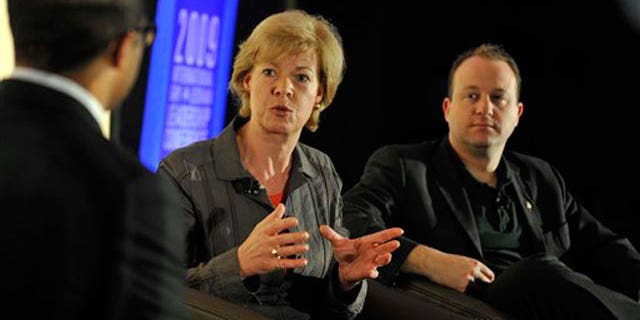 Both Vukmir and Nicholson, a Marine combat veteran and a former Democrat, pledged not to raise taxes, to support the repeal of ObamaCare and back the building of a border wall with Mexico.
Neither Nicholson nor Vukmir initially supported Trump in 2016, but both got behind him in the general election. Trump did not endorse either of them in the primary, but retiring House Speaker Paul Ryan backed Vukmir, as did longtime Rep. Jim Sensenbrenner.
Two weeks before the primary, video of Vukmir badmouthing Trump in 2016 re-emerged and became fodder for TV ads attacking her loyalty to the president. Vukmir, who initially supported three others for president before lining up behind Trump, has insisted she's an ardent backer now.
Vermont was one of four states holding U.S. Senate primaries Tuesday, along with Connecticut, Minnesota and Wisconsin.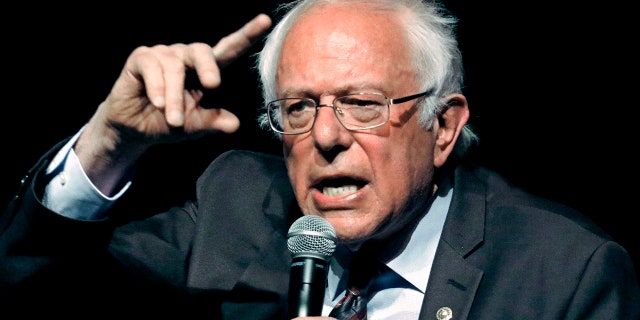 In the Green Mountain State, Sen. Bernie Sanders was projected to win the Democratic nomination for a third term Tuesday – though Sanders was expected to decline the nomination and run as an independent in November's general election.
With 83 percent of precincts reporting, the democratic socialist Sanders had received 94 percent of the vote compared to six percent for self-described Democratic activist Folasade Adeluola. Sanders, who received 65 percent and 71 percent of the vote in his first two Senate election victories, is a heavy favorite to win re-election.
Under Vermont law, Sanders cannot appear on the November ballot as both a Democrat and an independent. In his previous U.S. Senate races, in 2012 and 2006, he declined the Democratic nomination but accepted the formal endorsement of the state's Democratic Party.
Sanders' long-time political adviser Jeff Weaver told The Associated Press that the Sanders campaign is donating $150,000 to the Vermont Democratic Party.
Adeluola moved to Vermont from Indiana in 2017 to run against Sanders, whom she blamed for dividing the Democratic Party with his insurgent run for the presidential nomination against Hillary Clinton.
"I did not like the way Sen. Sanders caused the DNC to lose the White House," Adeluola told the Burlington Free Press. "That is why I'm angry." The paper reported that Adeluola, like Sanders, is registered as an independent candidate and plans to carry on through the November election.
In the Republican primary, perennial candidate H. Brooke Paige held a narrow lead over real estate broker Lawrence Zupan with 83 percent of precincts reporting. In a twist, Paige was also projected to win the Republican nomination for Vermont's lone U.S. House seat, currently held by Democrat Peter Welch.
In Connecticut, Matthew Corey was projected to easily defeat Apple computer executive Dominic Rapini to win the Republican nomination to face incumbent Sen. Chris Murphy. Corey, a Navy veteran who owns a window-washing business as well as a Hartford bar, described himself in a July Connecticut Post interview as a "blue-collar fella" who supports Trump's tax cuts and regulation rollbacks.
Murphy, a prominent gun control advocate and strident Trump critic, ran unopposed in the Democratic primary and already has raised approximately $13.5 million for his re-election campaign.
Unusually, both of Minnesota's Senate seats are up for grabs this year. In the regularly scheduled race, Democratic incumbent Amy Klobuchar was projected to easily win the party's nomination for a third term. She will face Republican state Rep. Jim Newberger, who was projected to defeat three other candidates in the GOP primary, but faces an uphill battle against the popular Klobuchar.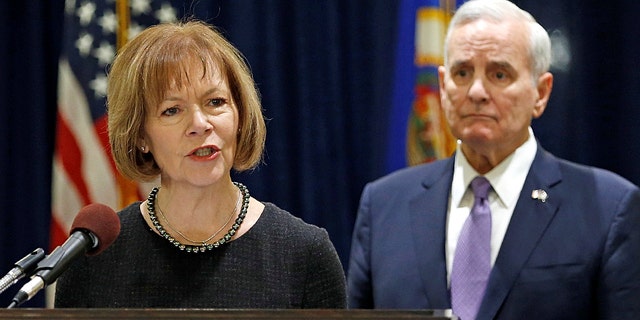 In Minnesota's other Senate primary, Democrat Tina Smith was projected to defeat challenger Richard Painter, a former ethics lawyer in the George W. Bush administration. Gov. Mark Dayton appointed Smith to fill Al Franken's Senate seat earlier this year after Franken resigned over allegations of sexual misconduct.
In the Republican primary, state Sen. Karin Housley -- the wife of Hockey Hall of Famer Phil Housley -- was projected to defeat opponents Bob Anderson and Nikolay Nikolayevich Bey for the right to face Smith in November.
By Minnesota law, Franken's seat will be contested in a special election later this year and the winner of that contest will complete the remaining two years of Franken's term before coming up for re-election in 2020.
The Associated Press contributed to this report.