Kevin Cramer hits Heidi Heitkamp on abortion stance in North Dakota Senate race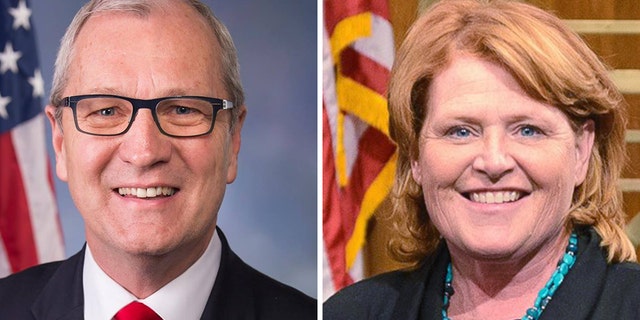 With two months left to go until midterm Election Day in North Dakota, GOP Senate candidate Kevin Cramer released an ad attacking incumbent Democrat Heidi Heitkamp on her late-term abortion stance.
In the 30-second ad released by Cramer's campaign, titled "Respecting Life," the candidate's two daughters — one of whom is pregnant — argue that Heitkamp doesn't support their father's "strong commitment to life."
Heitkamp, according to the daughters, "disagrees" and "even high fived another senator after voting yes to allow late-term abortions" alongside footage of the senator cheerfully high fiving Sen. Chuck Schumer, D-N.Y. on the floor of the U.S. Senate.
Politifact, however, reported that after Heitkamp voted no on proceeding to a motion that would make almost all abortions after 20 weeks illegal, she was chatting with fellow Democratic Sen. Cory Booker, of New Jersey.
Schumer appeared, and the two waved hello and the grabbed their hands in a "very gradual meeting of awkwardly waving hands."
"They were greeting each other to say hello," Heitkamp's communications director told Politifact at the time. "As senators often do during votes."
Heitkamp, a former state attorney general, won her seat in the State Senate in 2012 by less than one percentage point.