Kentucky Democrats fear Trump because of the coal industry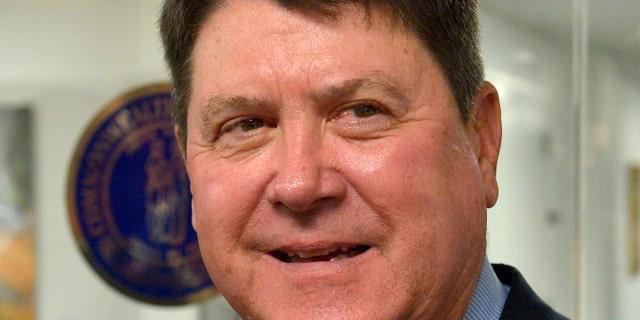 FRANKFORT, Ky. – Democrats could lose control of their only legislative chamber in the South because of a blustery hero for folks in coal country — Donald Trump.
The New York real estate developer's anger on the campaign trail matches the mood of many in Appalachia, where job losses associated with the declining coal industry have fueled a backlash against national Democrats that has slowly trickled down to the local level.
In Kentucky, the backlash could spill over into races for the state House, where Democrats hold a precarious 53-47 majority. Kentucky House Speaker Greg Stumbo, a Democrat, has not lost an election in 36 years. But this time, he's scared.
"My opponent can't beat me," Stumbo said. "But Donald Trump can."
Trump's appeal helps make the mountains of Appalachia one of the few regions of the country where the Republican nominee could help GOP candidates down the ballot. Republicans sense that opportunity, paying for TV and radio ads in the region to connect Stumbo and House Democrats with national party leaders, including Hillary Clinton, the presidential nominee who said earlier this year that she would "put a lot of coal miners and coal companies out of business" by shifting to renewable energy.
"It is hard to be a Democrat in coal country right now," said Angie Hatton, a Democrat running for the state House in eastern Kentucky.
Trump does not fit the profile of someone who would find mass appeal in rural eastern Kentucky, the heart of the state's coal culture. But for Monk Sanders, a 78-year-old retired mine supplies salesman, Trump is exactly what the area needs.
"The man's a billionaire. He don't need nothing. He can talk the way he talks on account of that," Sanders said. "That's what's resonating with the people in eastern Kentucky."
John Tripplett, a Republican attorney in eastern Kentucky who monitors local politics closely, said Trump's appeal is mostly in response to Clinton and her comments about coal miners.
"It's very difficult to find anybody that would publicly admit they are for Hillary Clinton," he said.
About a year ago, after Democrats lost four of the six statewide races, Stumbo referred to Clinton on statewide TV as an "Arkansas traveler" who was "going to come here to Kentucky next year and help us rebuild this party." But in a recent debate with his opponent, Republican Larry Brown, Stumbo said he will not endorse Clinton.
"You're not going to hear me ask people to vote for her," Stumbo said, according to television station WYMT.
Democrats have tried to make the fall elections a referendum on the job performance of Republican Gov. Matt Bevin, whom they believe is unpopular. Stumbo has appointed a special committee of state lawmakers to investigate whether Bevin broke the law when he tried to persuade several Democratic legislators to switch parties last year.
Stumbo also sued Bevin to block his vetoes of portions of the state budget that would provide community college scholarships to Kentucky high school graduates.
And Stumbo highlighted a series of recent court cases that have gone against Bevin, including a decision where a judge said the governor's attempt to use state troopers to arrest the ousted chairman of the retirement systems board was "a flagrant abuse of executive power."
Bevin has called Stumbo "absurd" and "desperate."
Hatton said several Republican ads against her have referred to the "Obama-Clinton-Hatton" ticket. She said she has tried to fight back by emphasizing her family's history. She said she left a job at a Lexington law firm to work as general counsel for her father's coal company until it dissolved in 2004.
"I'm a Democrat because my grandfather was a Democrat," she said. "I would rather stick around and try to save this party that my grandfather loved than to abandon it."
Norma Kirk McCormick, a Republican House candidate in eastern Kentucky, is sure Trump can help in her district. When she visits voters at their homes, she said, they often tell her "If you're against Trump then don't get out of the car."
"I'm running with Trump," McCormick said. "He is going to be our parachute."