Kasich to newspaper editors: 'I want you to survive'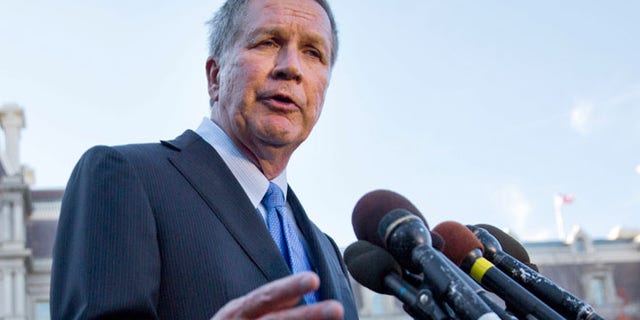 COLUMBUS, Ohio – Republican Gov. John Kasich repeated his belief in the importance of the free press Wednesday as tensions between the media and the administration of President Trump remain high.
The former congressman and 2016 presidential contender declined to directly take on Trump, who he refused to endorse, campaign with or vote for last year, while speaking to editors and publishers convened by the Ohio Newspaper Association.
But Kasich said he wanted to see the industry survive and thrive.
"I'd like to stand for all of you, for all of you who have real content, for all of you who've decided in a really crazy, changing world that your point of view, your editorials, your writings, your articles are critically important," Kasich said.
Kasich sided with Trump on the sanctuary cities issue, saying he believes the president is right to oppose their efforts to enact certain immigrant protections.
Cities across the country, including Columbus and Cincinnati in Ohio, are declaring themselves sanctuaries in response to Trump's executive orders on immigration. That entails instructing police to avoid inquiries solely based on immigration status and opposing local coordination with immigration officials.
"I think this is a bad, bad thing," Kasich said. "When people break the law, they need to be held accountable for something like coming in here illegally."
A Republican proposal in Ohio would outlaw and criminalize sanctuary cities, and a Democratic one would extend sanctuary protections statewide.
Kasich said people need to spend more energy caring for their neighbors and getting involved in their communities, because that's going to be the most effective way to tackle big problems such as the opioid epidemic, human trafficking, infant mortality and poverty.
He said he was asked during a Martin Luther King Jr. Day appearance in Atlanta about Trump and he shared his belief that government can help people, but people need to solve their own problems from the bottom up.
"I said, why don't we forget about Trump?" he said. "What about your neighbor? Who's looking after them? Are they going to school? Are they off drugs? Why are you thinking that somebody in Washington is going to fix your problem — because they're not. They're not going to fix it."