Kansas OK's Obama Ballot Spot for November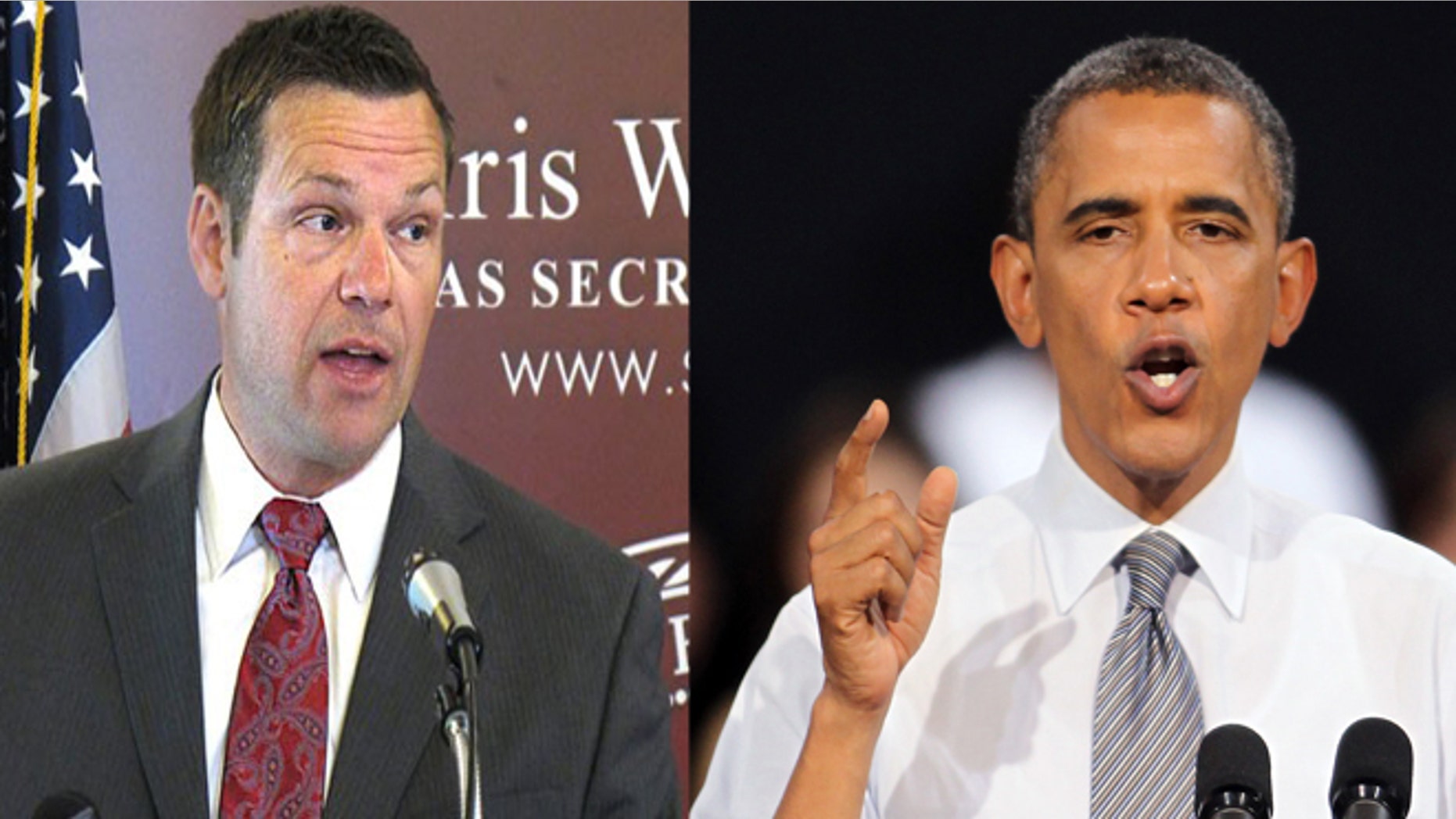 TOPEKA, Kan. – President Barack Obama will officially be on the November election ballot in Kansas after an all-Republican board decided to end its review into whether Obama qualified to be listed as a candidate.
The all-Republican State Objections Board, led by Secretary of State Kris Kobach, an adviser to the Romney campaign on immigration policy and an ardent voter ID proponent, decided on Monday to formally end its review of whether the Democratic president qualified to be on the ballot.
At issue was the assertion by so-called "Birthers" that Obama is not eligible to be president because they doubt he was born in Hawaii -- an argument Kobach made as part of his successful election campaign in 2010.
The "birther" issue was reignited after a Kansas resident made an issue over Obama's eligibility on the ballot because his father was from Kenya. The resident, Joe Montgomery, like other birthers, also questioned whether Obama has a valid birth certificate.
Montgomery ended up dropping his objection, and the board in turn scrapped its review of Obama. Montgomery said Friday he was withdrawing his challenge because of what he called intimidation directed at him and people around him.
At the board meeting, California lawyer and dentist Orly Taitz showed up demanding to speak. She told board members they were ignoring evidence questioning Obama's citizenship. That brought an angry response from Topeka progressive activist T.J. Gaughan. He and a few other Obama supporters shouted at Taitz.
A security officer ordered them outside.
Kansas election officials then said they needed more information before moving forward with the birth certificate validity claim.
The notion that Obama was born anywhere other than in Hawaii has long been discredited, and the White House released his long-form birth certificate last year. Hawaii officials also have repeatedly confirmed his citizenship. His mother was a Kansas native.
"We have to take our responsibilities seriously," Kobach said of the board. "Taking it seriously means that we make a decision with all of the evidence that can be obtained before we decide it."
Kobach, the architect of some of the most hard-line state-level immigration policies in the United States, including those of Arizona and Alabama, has been critical of Obama for what he says is the current administration's failure to address illegal immigration. Kobach also was the force behind a strict immigration component in the Republican party platform that was recently adopted at the Republican National Convention in Tampa, Fla.
Kobach says he has been advising Mitt Romney for years. But in an interview with Univision America Radio on Monday, Romney said he had never met with Kobach. The campaign later clarified that he had met with him but not in 'formal policy' meetings.
The comments seemed to back away from the enthusiastic endorsement he had given Kobach in January during the Republican primaries.
"I'm so proud to earn Kris's support," Romney said in a statement in January announcing the Kobach endorsement. "Kris has been a true leader on securing our borders and stopping the flow of illegal immigration into this country. We need more conservative leaders like Kris willing to stand up for the rule of law."
Romney's relationship with the controversial Kobach has been widely criticized by Democrats.
"From enthusiastically welcoming his endorsement to letting him write the most extreme Republican platform on immigration in modern history..." Obama campaign spokeswoman Gabriela Domenzain said in statement. "Mitt Romney has made it clear that Kris Kobach and him are partners in extremism."
The Associated Press contributed to this report.
Follow us on twitter.com/foxnewslatino
Like us at facebook.com/foxnewslatino