On Eve of RNC Convention, GOP Adopts Tough Immigration Platform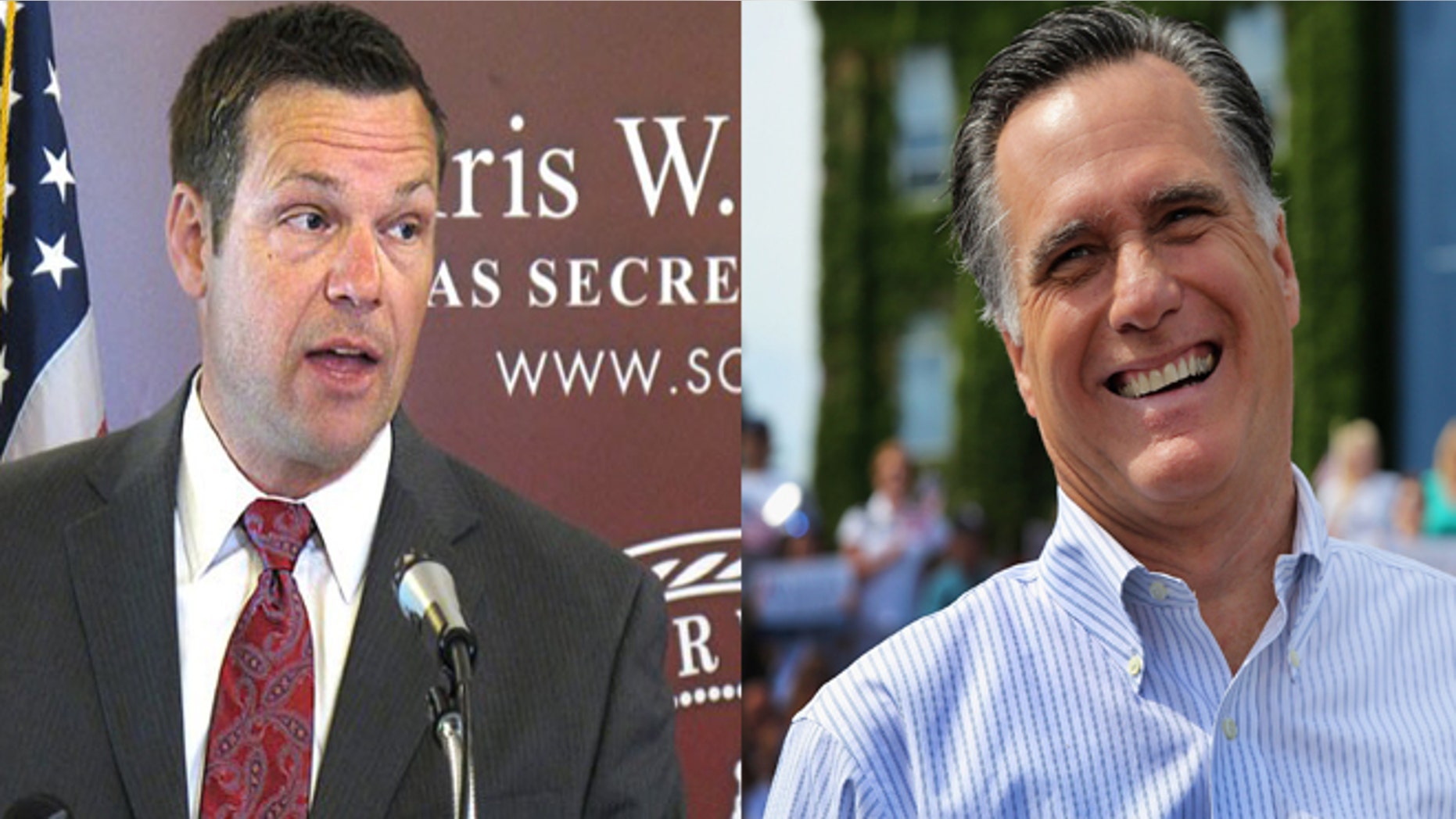 While plans for the Republican's national convention – scheduled for next week in Tampa – include a concerted effort to win over Latino voters, a committee has overwhelmingly approved a tough position on immigration as part of the GOP platform.
The platform stance on immigration is the brainchild of Kansas Secretary of State Kris Kobach, the chief architect of the country's most controversial state immigration laws, including Arizona's SB 1070, key parts of which the U.S. Supreme Court struck down.
The stance supports completion of a fence along the U.S.-Mexico border, supports E-Verify, a program in which employers check a person's eligibility to work in the United States through a computer database that includes Social Security and immigration records, but opposes in-state tuition for undocumented immigrants brought to the country as minors, as well as other policies or programs that give breaks to those who are here illegally.
"We recognize that if you really want to create a job tomorrow, you can remove an illegal alien today," the website Politico quoted Kobach as saying to the more than 100 representatives to the committee. "That is the way to open up jobs very quickly for U.S. citizen workers and lawfully admitted alien workers."
Those measures were in the 2008 Republican platform but had been dropped from the draft this year, Politico reported.
The party's approval of the tough line on immigration came as the presumptive GOP presidential nominee, Mitt Romney, said he hopes to win more Latino votes this November than U.S. Sen. John McCain did in his unsuccessful 2008 presidential bid.
The Romney campaign has set a target of 38 percent of Latino votes nationally, The Hill reports. That figure represents an ambitious goal for Romney, who has rarely prioritized Latino voters and has alienated some by taking a hard line on immigration.
"Our goal is to do better than four years ago and the McCain campaign did — our goal is to hit 38 percent with the Hispanic vote," Jose Fuentes, a co-chairman of Romney's Latino leadership team, told The Hill, which first reported the story. "That's our goal. That's our national average."
That figure marks a significant jump from the 31 percent that McCain won in 2008, and closes in on the 40 percent that George W. Bush got when he was re-elected in 2004. Romney currently polls at 31.5 among Latinos, according to an average of survey data compiled by Talking Points Memo.
Polls of eligible Latino voters show that they care most about jobs and the economy, followed by such things as education and healthcare. While immigration is not a driving concern when it comes to whom they prefer for president, Latinos surveyed indicate that they do care about a candidate's tone when addressing immigration and other areas with which Latinos have close ties.
Before a national gathering of Latino leaders earlier this year, Romney said that as President, he would give undocumented immigrants brought to the United States as minors the chance to stay in the country permanently --and an eventual path to U.S. citizenship-- but only if they serve in the U.S. military.
Romney made his statement at the National Association of Latino Elected and Appointed Officials (NALEO) conference in Orlando.
His announcement came less than a week after Obama said he was going to give a two-year reprieve to undocumented immigrants who were brought to the country as minors before the age of 16 years old, as long as they met other criteria, including those currently in school or have graduated from high school as well as serving in the military.
Critics denounced Obama's move -- which could benefit about one million immigrants -- as a political ploy that really offered only a Band-Aid approach, not a permanent solution to the broken immigration system.
Meanwhile, in an appeal to Latino voters, three Senate candidates in the Southwest have called on delegates to the Democratic National Convention -- which is scheduled for the week of Labor Day  in Charlotte, North Carolina -- to make support of a bill to help undocumented immigrants who were brought as minors gain citizenship a part of the party platform.
Rep. Martin Heinrich, the Democratic nominee for a Senate seat from New Mexico, is leading the effort and said that formally supporting the immigration proposal would provide voters with a clear choice on an issue that many care deeply about.
"I think the time has come for the DREAM Act to be part of our identity as a party," Heinrich said to the Associated Press.
Meanwhile, others are asking both candidates and both parties to address immigration in earnest.
"For starters, we must demand that the presidential candidates and their surrogates stop using immigration as a prod to excite their respective bases and begin treating it as the serious economic issue it is," said New York Mayor Michael R. Bloomberg in a written statement. "Neither Barack Obama nor Mitt Romney offers more than lip service about immigration's role in the economy. That's inexcusable."
Follow Elizabeth Llorente on Twitter: @Liz_Llorente
Elizabeth Llorente can be reached elizabeth.llorente@foxnewslatino.com
Follow us on twitter.com/foxnewslatino
Like us at facebook.com/foxnewslatino