Kagan in Limited Role as Court Convenes to Tackle Immigration and More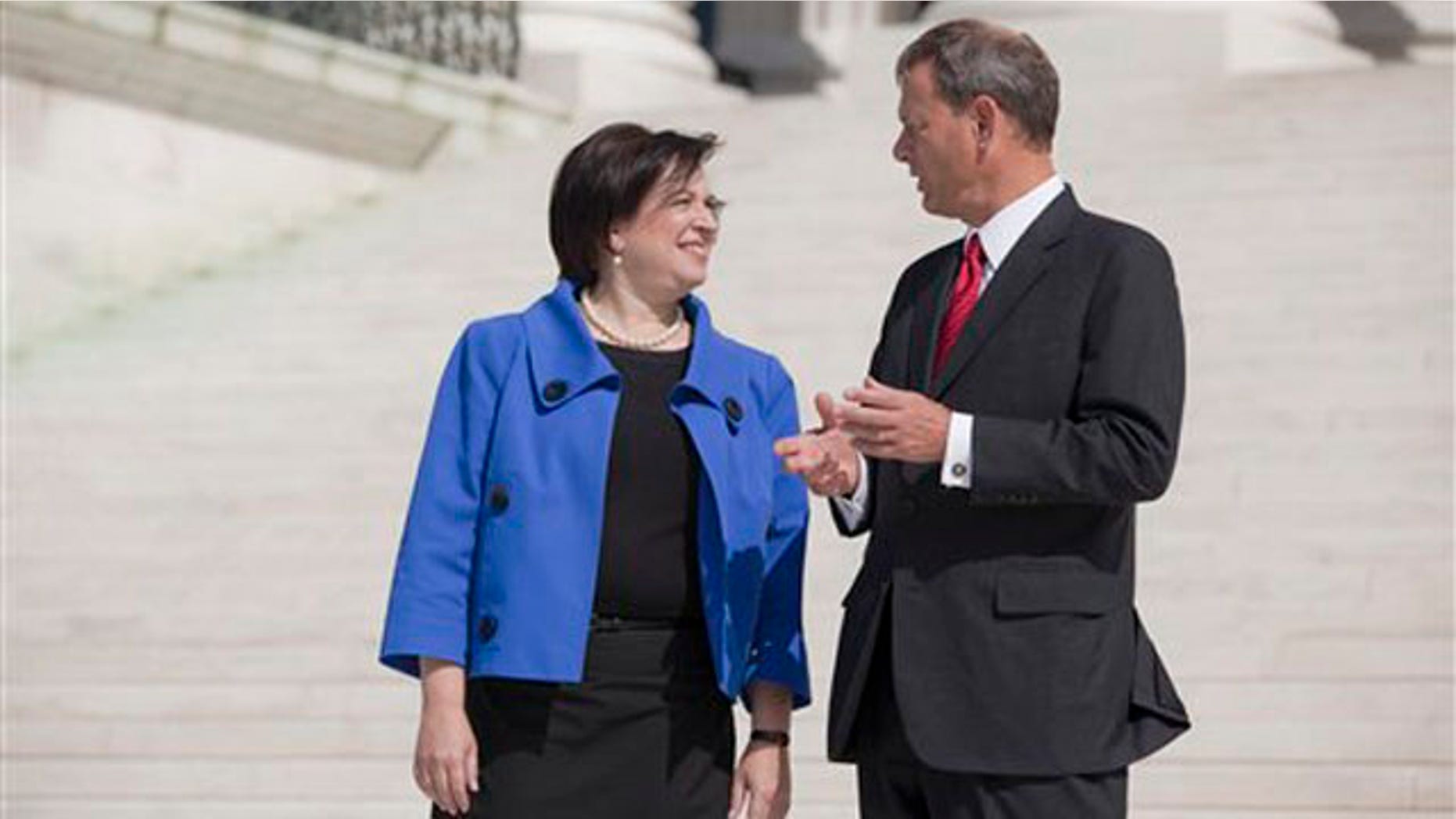 For an institution that stands for the stability of law, the Supreme Court begins its new term Monday with its fourth new justice in five years.
The high court's session starts with its usual mix of anticipated cases and interest in the performance of its latest addition, in this instance Justice Elena Kagan -- who formally took her seat in a ceremony Friday. Yet anyone looking to quickly divine insight into Kagan's role as a judge will be thwarted by the fact that she will not hear more than half of the cases set for arguments in the court's first three months of business.
During her summer confirmation, Kagan said she would step aside from cases in which she was "substantially involved" in her previous job as solicitor general. So far, that involvement means she will miss arguments in 21 of the 39 cases set for oral arguments until the end of the year.
"I wasn't surprised by the number of cases she's now recused in because I had her job before," said Paul Clement, President Bush's solicitor general. "I know how many cases the solicitor general gets involved in either directly or even to consider whether the United States should get involved. And I think it's those latter cases that maybe caused the surprise."
As her testimony made clear, Kagan's absence from these cases is not unexpected but creates the possibility that the remaining justices will split evenly.
"When you're arguing to eight I don't think it's any different than arguing to nine," observed Arnold & Porter lawyer Lisa Blatt who has two Kagan-less cases before the high court this term. "I mean you're trying to put your best foot forward and convince them. I think it would be incredibly disheartening to go all the way up to the Supreme Court and not get a decision."
If a case ends in a 4-4 tie, the decision of the lower court is affirmed but the legal conflict that prompted the justices to review the case remains unsettled, as no precedent is set. In 2007, a case from New York City about special education funding was evenly divided when Justice Anthony Kennedy took himself out of the picture. A year later, a nearly identical case from Oregon with a full nine-member court present produced a decision.
Some of the cases Kagan will miss include a controversial dispute over an Arizona immigration law cracking down on employers who hire illegal immigrants and a disagreement over a parent's ability to sue a drug manufacturer whose vaccine supposedly injured children.
The court reworked its schedule after Kagan was sworn in to office in an apparent effort to make sure that Monday's first case has Kagan's participation. After those arguments, about bankruptcy law, the lawyers for the day's second case will take their spots in front of the justices and Kagan will quietly leave her chair at the end of the high court's bench.
Clement, now a lawyer at the King & Spalding law firm in Washington, D.C., says the next few months remind him of five years ago when Justice Samuel Alito arrived to the court in the middle of the term and the justices were left to rule on cases that Justice Sandra Day O'Connor heard before her departure.
"My sense was that the court tried a little harder to get a resolution of those cases and not to divide 4-4 even if it meant they decided the case 8-0 on a narrower ground," Clement said. "And I think you could see the same thing this term on some of these recusal cases."
Any 4-4 decision will clearly show the impact of Kagan's recusals on the final outcome of case, but behind the scenes her absence will also be felt in areas that are less visible.
"What we won't know and will be much harder to judge is how many cases the court decided not to hear at all because it thought it was important to have all nine justices there to hear it and she disqualified herself," ACLU Legal Director Steven Shapiro said. "And we also won't know what cases litigants chose not to bring to the court because they were worried about the impact of her absence on the ultimate result."
Without naming specific cases, Shapiro said the potential make-up of the bench does play a role in deciding what cases he will petition to the high court.
The Term's Big Cases
The term's first high-profile dispute will come Wednesday, when the justices will hear about the notorious Westboro Baptist Church in Topeka, Kan. Its spiritual leader, Fred Phelps, has led congregants and others on a nationwide crusade protesting military funerals, saying they oppose government policies they believe promote or at least tolerate homosexuality.
In the aftermath of one protest, a jury found that Phelps had caused the intentional infliction of emotional distress on the family of a Marine who was killed in Iraq. An original award of more than $10 million was knocked down to $5 million then the entire verdict and jury award was overturned on appeal when it was determined that the funeral protest was free speech protected by the First Amendment.
In November, the court will examine a California law attempting to keep violent video games from minors and an Arizona program allowing its citizens to target tax dollars to a scholarship fund for students to attend private schools.
Opponents to the California statute believe that video games are "a modern form of artistic expression" and that the law, which was has so far been blocked in lower courts, is unconstitutional.
The Arizona case, which will be argued on Nov. 3, focuses on that state's tax-credit scholarship program. Critics argue that the scheme unfairly favors private religious schools and therefore violates the First Amendment's Establishment Clause prohibiting excessive government support for religious purposes.
Arizona is also the focus of another case that will be of interest to everyone engaged in the debate over controlling illegal immigration. The state is targeting employers who hire illegal workers. The "Legal Arizona Workers Act" allows the state to fine or even shut down businesses it nabs for knowingly hiring undocumented immigrants. It also mandates that all employers use the federal e-verify system to help with employment verification.
The justices will be asked to determine if Arizona's law can co-exist with federal laws that normally cover immigration policy. Opponents of the law believe the federal government's immigration authority preempts Arizona's efforts. While the case has many similarities to and may be a preview of the dispute surrounding the controversial SB 1070 law that was largely enjoined by a federal judge this summer, that case is under appeal and has not yet made it the Supreme Court.