Japanese PM offers 'condolences' for Americans lost in WWII, in speech pushing trade pact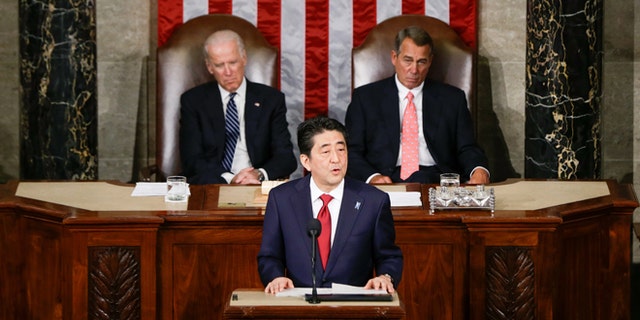 NEWYou can now listen to Fox News articles!
Japan's prime minister used a joint meeting of Congress on Wednesday to offer his condolences for the Americans who died during World War II, highlighting the close relationship since to urge lawmakers to back a contentious trade bill being negotiated by President Obama.
Shinzo Abe's wide-ranging and historic speech was the first of its kind for a Japanese prime minister. His speech comes as both countries mark the 70th anniversary of the end of World War II.
Coming close to a rare apology for Japan's actions during the war, he reflected on having visited the World War II Memorial in Washington and seeing the stars which represent lost Americans.
"History is harsh. What is done cannot be undone," he said. "With deep repentance in my heart, I stood there in silent prayers for some time."
He said: "On behalf of Japan and the Japanese people I offer with profound respect my eternal condolences to the souls of all American people that were lost during World War II."
The speech was part of a visit promoting Abe's staunch support of an even-tighter relationship between the former wartime adversaries in both trade and defense as the allies contend with a rising China.
The most immediate challenge is a trans-Pacific trade pact, which has pitted Obama against members of his own party and labor unions who have resisted it.
Abe, in his speech, urged all sides to "take the lead" in building a better market, and finish the 12-nation Trans-Pacific Partnership.
"The goal is near. Let us bring the TPP to a successful conclusion through our joint leadership," he said.
Abe, who also has faced opposition at home over the deal, said the issue goes beyond economic benefits. "It is also about our security. Long term, its strategic value is awesome -- we should never forget that."
On Capitol Hill, pending legislation would give Obama the authority to negotiate the TPP, a cornerstone of his second-term agenda. In a reversal of politics-as-usual, it's Obama's own Democratic base that opposes him, and Republicans who support the deal.
Shortly ahead of Abe's speech, the White House posted a blog answering Democratic critics who charge the deal negotiations are shrouded in secrecy.
The post said: "President Obama has taken important steps to include new voices and increase the transparency of our trade negotiations."
After an Oval Office meeting with Abe on Tuesday, where the two leaders declared progress in bilateral trade talks that are critical for completing the wider TPP agreement among nations accounting for 40 percent of global GDP, Obama conceded to reporters: "It's never fun passing a trade bill in this town."
Abe, who called for an "early conclusion" of TPP, may play a small part in trying to tip the balance in what is viewed as a strategic push to shape the economic future of Asia-Pacific.
Since winning election in December 2012, Abe has been a strong advocate of closer ties with the U.S., an alliance that emerged from the ashes of World War II, which ended 70 years ago. He's been granted the full pomp and ceremony at the White House, and was being feted Tuesday night with a state dinner.
But it's the invitation to address Congress that sets him apart from his predecessors. While past Japanese prime ministers -- including Abe's own grandfather, Nobusuke Kishi, in 1957 -- have addressed the House, this is the first time for a leader of the East Asian nation to speak to both chambers.
The Associated Press contributed to this report.