Janet Napolitano Says Obama's Immigration Enforcement is Smarter than Bush's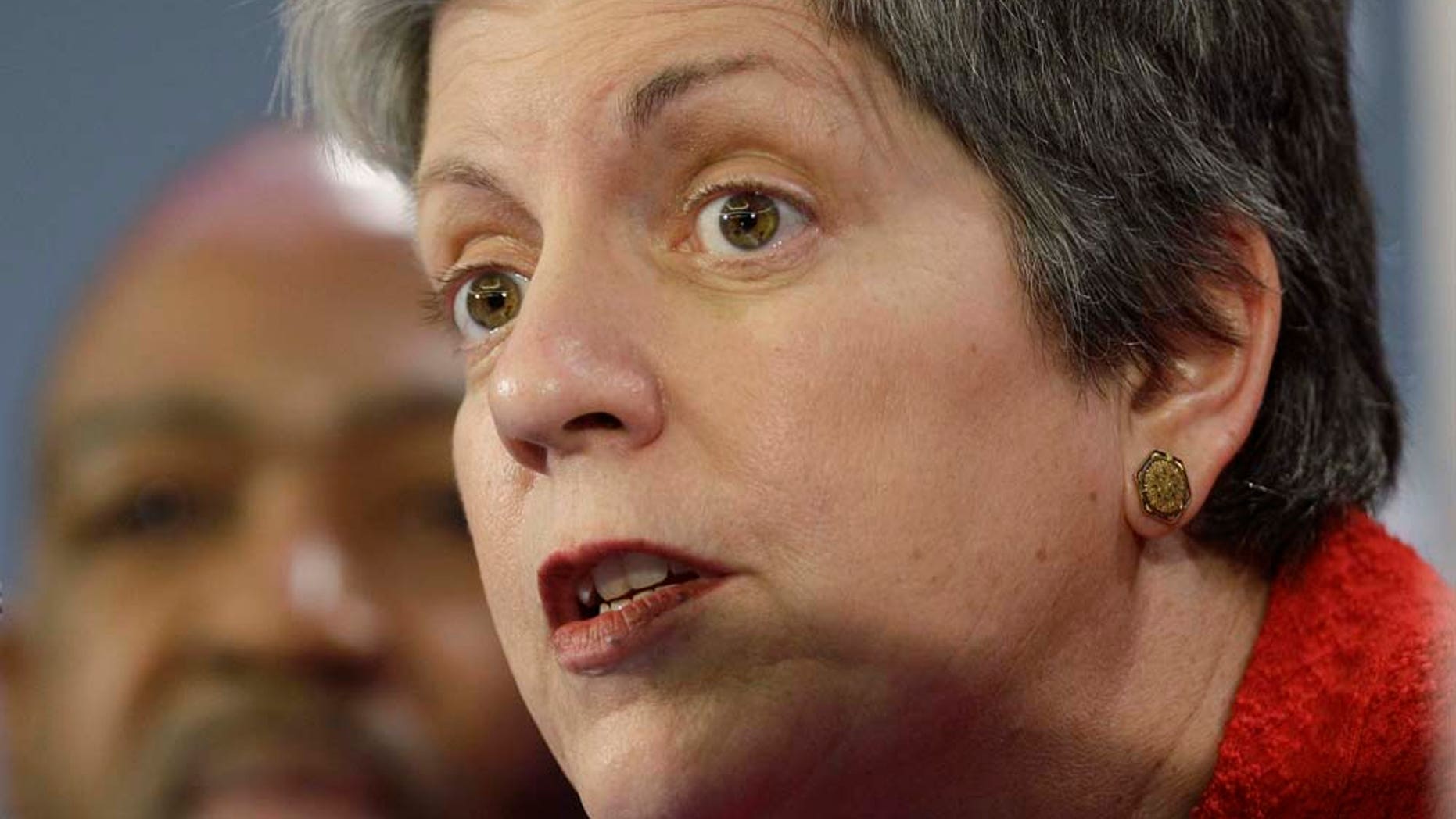 Homeland Security Secretary Janet Napolitano came out swinging on Wednesday against critics of the Obama administration's handling of illegal immigration.
Napolitano said that the Obama administration is enforcing immigration laws in a more efficient and practical way than the Bush administration did.
"Nearly three years ago, when President Obama came into office and nominated me for this position," she said in a speech at American University, "he and I both knew that we were inheriting a broken immigration system with a patchwork of laws and outdated requirements that were in desperate need of updating."
She said policies inherited from the Bush administration "allowed as many resources, if not more, to be spent tracking down and deporting the college student as were spent on apprehending criminal aliens and gang members."
Now, the Obama administration is deporting record numbers of undocumented immigrants, she said, but putting at the top of the line those who pose a public safety or national security threat.
Republicans say making it a priority to deport those immigrants amounts to a back-door way of granting amnesty to other people who are living in the U.S. illegally but haven't committed crimes.
"Secretary Napolitano continues to mislabel the Obama administration's enforcement of our immigration laws as smart and effective," said Rep. Lamar Smith, chairman of the House Judiciary Committee, in a statement. "But there is nothing smart about it -- seven million illegal immigrants work in the U.S. while 14 million Americans are unemployed."
"Worksite enforcement activities are down 70 percent," said Smith, a Texas Republican. "The Obama administration has abandoned worksite enforcement, allowing illegal workers to take jobs that should go to American workers."
Under the Bush administration, Napolitano said, authorities would conduct large raids at companies without consistently punishing the employer or targeting immigrants who posed a threat.
"Public safety wasn't enhanced by these raids, and they sometimes required hundreds of agents and thousands of hours to complete," Napolitano said.
Now, she said, the Department of Homeland Security is using the Secure Communities program to check fingerprints collected from those held in local jails to identify and deport criminals and repeat immigration violators
Immigration advocates complain that the administration -- through programs such as Secure Communities -- is still deporting undocumented immigrants who have no known criminal or terrorist backgrounds.
Advocates for an immigration overhaul say Secure Communities has resulted in the deportation of people accused of traffic violations or other misdemeanors. Several states have said they don't want to participate, arguing that immigration is a federal, not state, responsibility.
Napolitano denied that the program had led to more annual deportations and didn't give police immigration authority. She did acknowledge missteps. For example, participation at first was thought to be voluntary, but department officials later made it mandatory.
"But as flawed as the beginnings of this program were, it has already helped accomplish a great deal toward ensuring that we use our enforcement resources where they do the most good," Napolitano said.
She also said the administration was committed to comprehensive immigration changes.
Congressional Republicans have said the government must first secure the border before discussions can turn to an overhaul.
Last week, Immigration and Customs Enforcement announced the arrests of nearly 3,000 criminal undocumented immigrants in weeklong, nationwide sweep. Those people will now face deportation proceedings.
"We are effectively managing our resources by carrying out our responsibilities in a smart, fair and efficient way," the agency's deputy director, Kumar Kibble, told a House subcommittee Tuesday.
Kibble said that despite the focus on criminals, immigration enforcement for other undocumented immigrants hasn't stopped.
In June, the agency's director, John Morton, issued a memo outlining when and how officials could use discretion when deciding which individuals to try to deport.
Among the examples of such cases: young people who were illegally brought to the U.S. by their parents or people without a criminal history who were arrested.
Napolitano, in a letter this summer to senators who have supported comprehensive immigration changes, promised a review of about 300,000 cases pending in federal immigration courts. She wrote that many people who had no criminal history may have their cases delayed indefinitely.
Those people would then be eligible to apply for permission to work in the United States, though such approval is not guaranteed.
Republicans have accused her department of circumventing Congress and creating a policy of administrative amnesty. Napolitano has denied that.
This story contains material from The Associated Press.
Follow us on twitter.com/foxnewslatino
Like us at facebook.com/foxnewslatino