It's go time: Jeb's shock announcement will spur 2016 field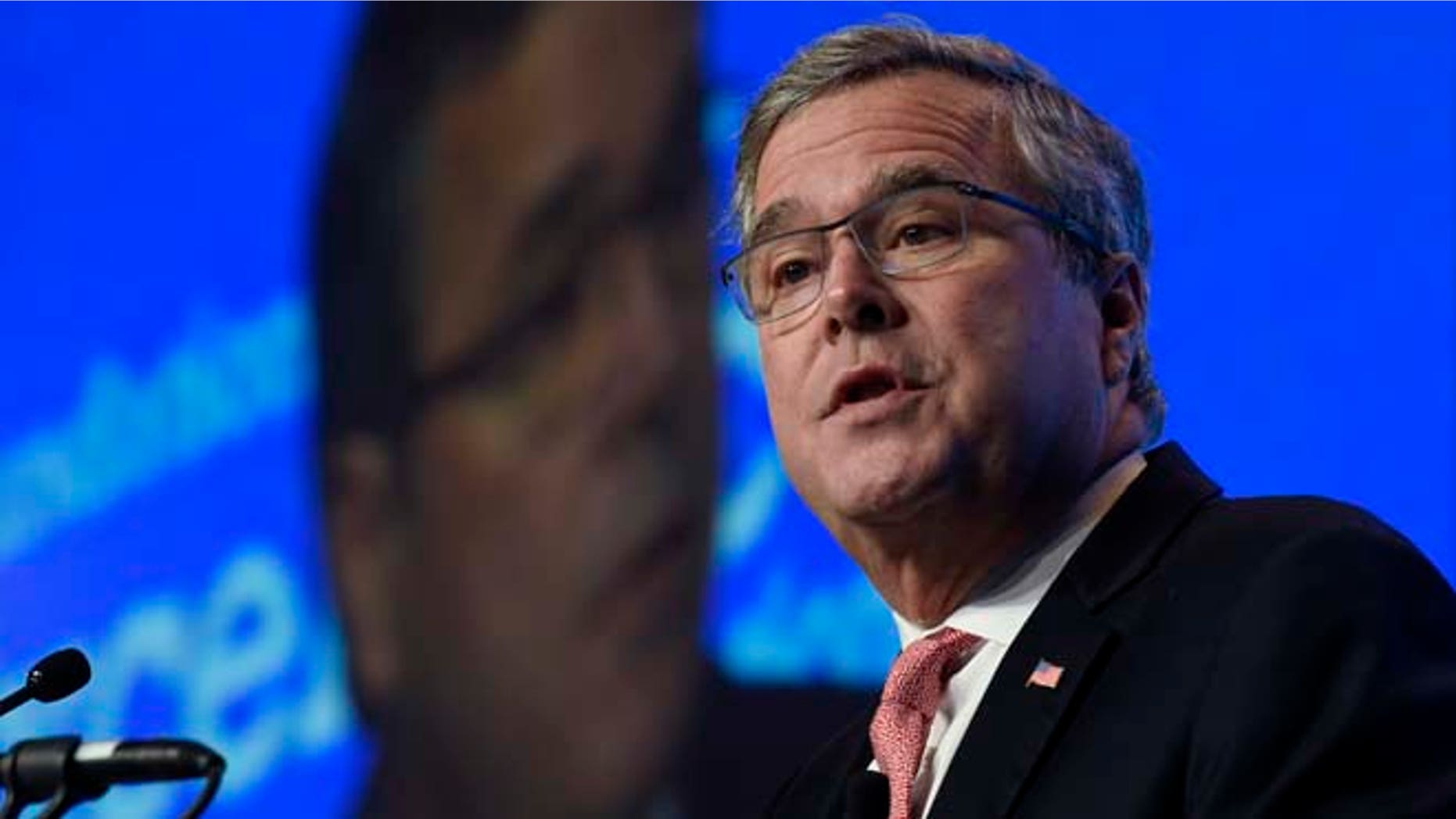 **Want FOX News First in your inbox every day? Sign up here.**
Buzz Cut:
• It's go time: Jeb's shock announcement will spur 2016 field
• Cruz not to blame for gun control backer's confirmation
• Iowa Straw Poll: It's baaaaack
• While left wilts for Warren, Hillary builds war machine
• Hot ticket
IT'S GO TIME: JEB'S SHOCK ANNOUNCEMENT WILL SPUR 2016 FIELD
In a Facebook post this morning, former Florida Gov. Jeb Bush announced he will "actively explore the possibility of running for President of the United States." He's launching a political action committee to fund his campaign travel and staff. Why is Jeb, who had been coy until the last few weeks, jumping in so early? Simple. He needs the time to build a campaign. Remember, for all the talk about the Bush machine, which is not to be underestimated, this Bush in particular hasn't run for office in 12 years. Most members of his brother's team are either out to pasture or making too much money in the real world to be ready to jump in. Plus, there has been considerable concern that Jeb would flake out in the end after a long flirtation. He needed to send a strong message to his family network that he was in for real. Plus, 2012 nominee Mitt Romney has been sniffing around the same big-dollar donors Bush will need. The announcement today from the second son of the 41st president pretty effectively put the damper on Romney's ability to run a shadow campaign.

[Trails Mitt in new poll - In a new Marist/McClatchy poll of GOP voters, Jeb Bush carded 14 percent of support, trailing 2012 nominee and 2016 frontrunner Mitt Romney by 5 points. The rest of the field is close behind and so muddled as to defy any clear strata.]

The bell is rung - While presidential pretenders and the press pack hounding them had been looking to Hillary Clinton for the sign that the presidential contest is underway, it turns out that Jeb, remarkably, was the one to kick things off. Watch now for a burst of announcements and news as the idea of lurking around until the dogwood blooms is no longer tenable. Jeb just made the process longer and more difficult for those hoping to run insurgent campaigns without deep pockets.
Cruz not to blame for gun control backer's confirmation, but the Senate is a dangerous place - Did you hear? Texas Republican Sen. Ted Cruz's weekend stunt to slow down a budget vote over President Obama's temporary amnesty totally backfired. Not only did it fail, but because of the blunder, one of the president's key political supporters, Vivek Murthy, an aggressive gun-control advocate, was able to win confirmation as surgeon general. Here's what the LAT said: "Not only did Congress clear the $1.1-trillion spending bill without restrictions on immigration policy, but Democrats used the rare Saturday session to speed up the confirmation process for nearly two dozen nominations that would have otherwise languished." And it was everywhere on Monday as the instant and absolute Washington conventional wisdom. Except that it's not true. While the weekend session may have allowed Senate Majority Leader Harry Reid to jam through a few more low-level nominees, the calendar was not the issue in the Murthy nomination. But the aggressive Cruz shaming shows exactly how dangerous a place the Senate can be if you want to run for president – especially if you want to, you know, do things.

"Reid's decision to move Murthy first suggests it was the most important nominee in his mind. Even in the absence of a Saturday session, we could have expected to see a final vote on Murthy on Wednesday.  And for all the talk about retiring and defeated Senator Democrats wanting to flee town, they have a powerful incentive to stay.  Reid delayed the process of passing the tax extenders package by nearly a week.  As the clock runs on the extenders, which pretty much everyone wants, Reid will be busy processing nominees." – Dan Holler, communications director for Heritage Action in an email to Fox News First.

"Everyone knows Harry Reid planned to jam forward as many nominees as he could after the omnibus passed. He made this clear to members last week, and his spokesperson confirmed so publicly. Unfortunately, there are many on both sides of the aisle who want to distract from the more important debate over the President's unilateral action to grant amnesty." – Cruz spokeswoman Catherine Frazier in an email to Fox News First.

Iowa Straw Poll: It's baaaaack - Des Moines Register: "Remember the predictions that the much-ridiculed Iowa Straw Poll was going to its grave? Not so fast. The event is likely to live on almost as-is, despite some resistance — including from the governor. 'I'll be honest,' Republican Party of Iowa Chairman Jeff Kaufmann told The Des Moines Register on Monday, 'we want to have an event where we can attract all the candidates.' Traditionally, the straw poll is held in Ames in the August before the caucus. It's often viewed as a dress rehearsal for the caucuses a few months later, and as a means to help winnow a large field of candidates…"

[Gov. Bobby Jindal, R-La., will be headlining the Polk County GOP Holiday Victory Party today in Des Moines.]

Feels like the first time - The Hill: "As President Obama touched down in New Jersey on Monday, he met a man who might have visions of being the next person given the keys to Air Force One: New Jersey Gov. Chris Christie (R). The Republican lawmaker greeted Obama on the tarmac, and the pair exchanged handshakes, some small talk and a few pats on the arm."

WITH YOUR SECOND CUP OF COFFEE...
The National Football League is known for hard hits and even harder attitudes among both players and fans. (Pelting snowballs at Santa? C'mon, Iggles fans!) But Indianapolis Colts superstar Quarterback Andrew Luck takes a different approach. As WSJ reports, Luck is known for his unique on-field chatter, congratulating opposing players who sack the quarterback, yelling "great job" or "what a hit!" His level of sportsmanship is unheard of and rather puzzling when quarterbacks are better known for arguing for a penalty following a hit. Eagles defensive back Nolan Carroll says, "With Luck, you thought you hurt the guy, you hear 'good job' and you just say 'aw, man.'" Of the 12 NFL players contacted by WSJ, every player received the same compliments from Luck. So is it a head game for Luck or just a relentlessly good attitude? Maybe a little of both. His father, Oliver, a former quarterback for West Virginia University and now the school's athletic director, said, "My wife and I raised all four of our kids with appropriate values, with respect for other people and to be kind and generous and I guess that carried over to the football field."

Got a TIP from the RIGHT or LEFT? Email FoxNewsFirst@FOXNEWS.COM

POLL CHECK
Real Clear Politics Averages
Obama Job Approval: Approve – 41.9 percent//Disapprove – 53.3 percent
Direction of Country: Right Direction – 26.7 percent//Wrong Track – 65.7 percent

WHILE LEFT WILTS FOR WARREN, HILLARY BUILDS WAR MACHINE
Another day, another new excitation of the left about Sen. Elizabeth Warren's rising profile. MoveOn.org is trumpeting a petition signed by 110,000 Americans urging her toward a 2016 presidential bid. While Warren continues her carefully tensed denials, a new Marist poll shows frontrunner Hillary Clinton still far ahead of the Democratic field. Apparently unfazed by Warren's fights with the White House and Wall Street over the recently passed government spending bill, Clinton has maintained radio silence, as she has on a growing list of controversial issues. The Hill: "The reason for Clinton's silence, some of her staunchest supporters say, is that she likely supported the spending bill — even if she didn't want to go on record with that support. …And while Clinton allies acknowledge the last week has given more oxygen to the idea of a Warren candidacy, they aren't signaling it will move up an announcement by Clinton."

Emotionally yours - NYT's David Brooks writes how Sen. Elizabeth Warren, D-Mass., can make a strong case for 2016, saying, "But there is something in the air. The fundamental truth is that every structural and historical advantage favors [Hillary Clinton], but every day more Democrats embrace the emotion and view defined by Warren."

Hillary harvesting the Iowa crop - As MoveOn's "Run Warren Run" campaign heads to Des Moines for its Iowa kickoff rally Wednesday, FiveThirtyEight's Datalab pens, "A memo to MoveOn: 2016 is not 2008; Clinton is in far better shape now than she was then….Over the past six months, Clinton has had double the support in Iowa than she did in 2008. She's at 61 percent in the polling average. That matches her strong standing nationally. Warren, on the other hand, is at 12 percent in Iowa. For Warren to win, she'll have to overcome a 49 percentage-point deficit, compared with the 12-point difference between Clinton and Obama at this point in the 2008 cycle."

In the tank - So what has Hillary been doing? NYT: "The most colorful moment in Hillary Rodham Clinton's joint appearance with Michael R. Bloomberg on Monday came when they posed in front of the former mayor's huge tank of exotic fish. What had brought them together was a much drier topic: a philanthropic effort to measure and track data about issues affecting women and girls around the world."

Calling in chits: Franken falls in line - Politico: "Six days after Howard Dean endorsed Hillary Clinton in POLITICO Magazine, another prominent liberal - Sen. Al Franken (D-Minn.) - will back her for president at 3 p.m. today, in an interview taped with Ari Melber for MSNBC's 'The Cycle.' Franken: 'I think that Hillary would make a great President. ... I think that I'm ready for Hillary. ... People have asked me about Elizabeth Warren. She is great but she's not running.'"

Ripple in still water - Hillary Clinton will be honored tonight by the Robert F. Kennedy Center for Justice & Human Rights with its Ripple of Hope award for her "deep commitment to human rights." Other honorees include Robert De Niro and Tony Bennett.

O'Malley slows his roll - WaPo:"Maryland Gov. Martin O'Malley will probably push off an announcement about running for president until spring, a timetable that reflects the dominance of Hillary Rodham Clinton in the Democratic field and the daunting challenges that O'Malley faces in raising money, according to several people helping him prepare for a possible bid. The thinking comes as O'Malley convenes some of his biggest supporters in Annapolis on Tuesday for a day of political briefings capped off by a reception at a private residence."

Nowhere to go but up, baby! - WaPo: "A new poll from Monmouth University [shows Vice President Joe Biden] languishing badly in the 2016 primary. In fact, he's at just 2 percent. … Now, to be fair to the VP, this poll is an outlier. It has a very high number of undecideds -- 32 percent -- and 7 percent opt for "no one" (Update: Steven Shepard points out this is because candidate names weren't read to people), which depresses the vote totals for all involved."

HOT TICKET
A Boeing 747 was forced to make an emergency landing in Shannon, Ireland while flying from the Dominican Republic to Paris following a fire alarm in the cargo hold. The Irish Times reports that the Air France crew was forced to declare "mayday" just south of Shannon. The plane with 142 passengers and 12 crew members landed to awaiting emergency crews who checked the cargo hold and fuselage for any signs of fire or scorching. After thorough examination and finding no signs of any fire, it is believed that peppers being transported in the cargo hold generated enough heat to activate the fire alarm system of the plane forcing the emergency landing. Passengers were able to eventually continue their journey to Paris after some delay.

AND NOW, A WORD FROM CHARLES…
"I think [Elizabeth Warren] ought to run. I'd be her number one supporter. I'd love to see her run. It would be a festival if you're a conservative or a Republican. We put up anybody sentient on the other side it'll be a good night on election night." – "Special Report with Bret Baier" Watch here.

Chris Stirewalt is digital politics editor for Fox News.  Want FOX News First in your inbox every day? Sign up here.