Interior Sec. Ken Salazar Says He Regrets Threatening Reporter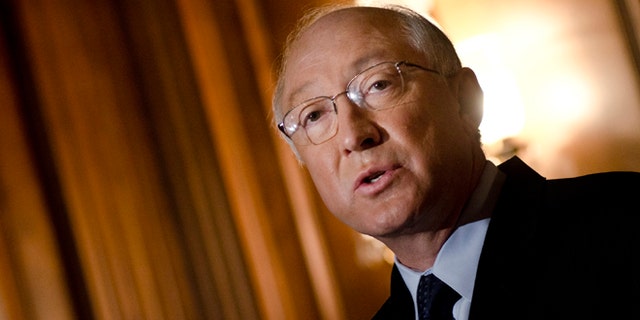 COLORADO SPRINGS, Colo. – Ken Salazar's office said that the U.S. Interior Secretary regrets threatening to hit a reporter who questioned him about problems in the government's wild horse program.
The exchange happened Election Day at a campaign event in Fountain while Salazar was on a state tour in support of President Barack Obama's re-election.
In audio posted by The Gazette newspaper of Colorado Springs, reporter Dave Philipps is heard asking for an on-camera interview with Salazar, a Colorado native who previously served as a U.S. senator from the state.
After a few general questions, Philipps asked Salazar what he knew about Tom Davis, a Colorado horse slaughter proponent who has purchased hundreds of wild horses gathered from public lands by the Bureau of Land Management and about the agency's wild horse management program, which Salazar's office oversees.
Salazar answered briefly but after the interview accused Philipps of setting him up, then posed the threat.
"If you do that to me again, I'll punch you out," said Salazar.
During the interview, Salazar said he was appearing at the campaign event in a "personal capacity" and said his office could arrange to talk about Davis "at an appropriate time."
Philipps said he previously tried to arrange an interview through Salazar's press secretary multiple times but got no response.
The Gazette (http://tinyurl.com/c7wduc3 ) reports it held the audio in hopes of getting an interview with Salazar. But a Colorado Springs-based wild horse advocacy group, The Cloud Foundation, publicized the exchange on Monday.
The BLM has struggled with how to manage growing horse herds, which can double naturally within five years if left unchecked. Horses have been injected with drugs and vaccines to slow reproduction and rounded up for adoption, but the agency currently has more horses in captivity than are left roaming the range.
The Gazette previously reported that Davis acknowledged shipping horses out of state without inspections in violation of branding laws. The case has been turned over to prosecutors in southern Colorado.
Based on reporting by The Associated Press.
Follow us on twitter.com/foxnewslatino
Like us at facebook.com/foxnewslatino