Indicted Missouri governor blasts 'reckless liberal' prosecutor
Missouri Gov. Eric Greitens lashed out against a St. Louis prosecutor Thursday, hours after a grand jury indicted him on a felony invasion-of-privacy charge related to an extramarital affair.
"I know this will be righted soon," Greitens wrote in a Facebook post. "The people of Missouri deserve better than a reckless liberal prosecutor who uses her office to score political points."
The governor was referring to Circuit Attorney Kimberly Gardner, whose office announced Greitens' indictment Thursday. The charge stems from an incident that allegedly occurred in March 2015, she said.
Meanwhile, some Missouri lawmakers from both sides of the aisle promised an investigation of the governor's behavior -- and some Democrats called upon the Republican to resign.
"We will carefully examine the facts contained in the indictment and answer the question as to whether or not the governor can lead our state while a felony case moves forward," House Speaker Todd Richardson, a Poplar Bluff Republican, told the Kansas City Star. "The people of Missouri deserve no less. We will begin the process of tasking a group of legislators to investigate these serious charges."
"Gov. Greitens has to go," state Sen. Jamilah Nasheed, a St. Louis Democrat, told the paper. "Missourians thought they voted for a person of character and integrity, and instead they got a liar and alleged criminal."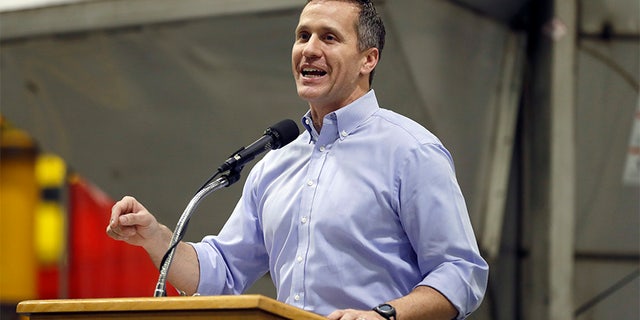 Greitens, 43, was booked at the St. Louis Justice Center, officials told the St. Louis Post-Dispatch. He was released on his own recognizance, St. Louis Circuit Attorney spokeswoman Susan Ryan told the Associated Press.
According to Gardner's news release, the grand jury "found probable cause" that Greitens broke a state law.
The indictment said Greitens allegedly took a photo of a person - who was identified only by initials - "in a state of full or partial nudity" without their knowledge or consent and "in a place where a person would have a reasonable expectation of privacy," according to the Post-Dispatch.
It adds that Greitens allegedly "transmitted the image contained in the photograph in a manner that allowed access to that image via a computer," which is a felony, according to Gardner's release.
MISSOURI'S GREITENS ADMITS HE WAS 'UNFAITHFUL' BUT DENIES BLACKMAIL ALLEGATION
An investigation into Greitens' behavior was opened in January following his admiting to an affair, reportedly beginning in March 2015.
Local station KMOV-TV previously reported that Greitens allegedly threatened to publicize nude images of the woman he was having the extramarital relations with if she exposed their relationship, according to her ex-husband.
The man secretly recorded a conversation with his then-wife, in which she reportedly admitted to having an affair with Greitens.
The recording alleges that Greitens invited the woman to his home and the sexual encounter was consensual.
In the tape, the woman claims the governor asked her to "come downstairs" at his home where he would show her "how to do a proper pull-up."
The woman alleges he then taped her hands, blindfolded her, took a partially nude photo of her and then warned her to stay quite about the sexual encounter.
DIRTY DETAILS OF MISSOURI GOVERNOR'S AFFAIR FUEL RESIGNATION CALLS
"You're never going to mention my name, otherwise there will be pictures everwhere," Greitens allegedly said.
While acknowledging that he was "unfaithful" in his marriage, Greitens denied allegations that he blackmailed the woman.
Gardner declined to comment to the Associated Press but Ryan confirmed the indictment stemmed from the alleged photo.
In his statement following the indictment, Greitens maintained that he "did not commit a crime," and said the charge was a "misguided political decision."
"As I have said before, I made a personal mistake before I was Governor," he said. "I did not commit a crime. With today's disappointing and misguided political decision, my confidence in our prosecutorial system is shaken, but not broken."
Gardner is a Democrat who has faced her own share of scrutiny.
Last summer, after Gardner's first six months on the job, the St. Louis Post-Dispatch reported that at least a dozen experienced prosecutors had left her staff. By August, St. Louis radio station KMOX was reporting that staffing issues were having an effect on the resolution of criminal cases.
In January, a St. Louis judge disqualified Gardner's office from prosecuting a police shooting case, the Post-Dispatch reported. The judge ruled that the removal would "avoid an appearance of impropriety" because her office was simultaneously investigating whether the shooting was justified.
In a separate statement, Greitens' lawyers called the charges "baseless and unfounded," in a statement to the Post-Dispatch. They'll reportedly file a motion to dismiss the charges.
Greitens, a Republican, is a decorated former Navy SEAL officer whose received a Bronze Star and Purple Heart, among other awards, according to his service record. He enlisted in the Navy in 2000.
He was elected as governor in November 2016.
Fox News' Lucas Tomlinson, Barnini Chakraborty and the Associated Press contributed to this report.