In Strategy Shift, Romney Making Play for Iowa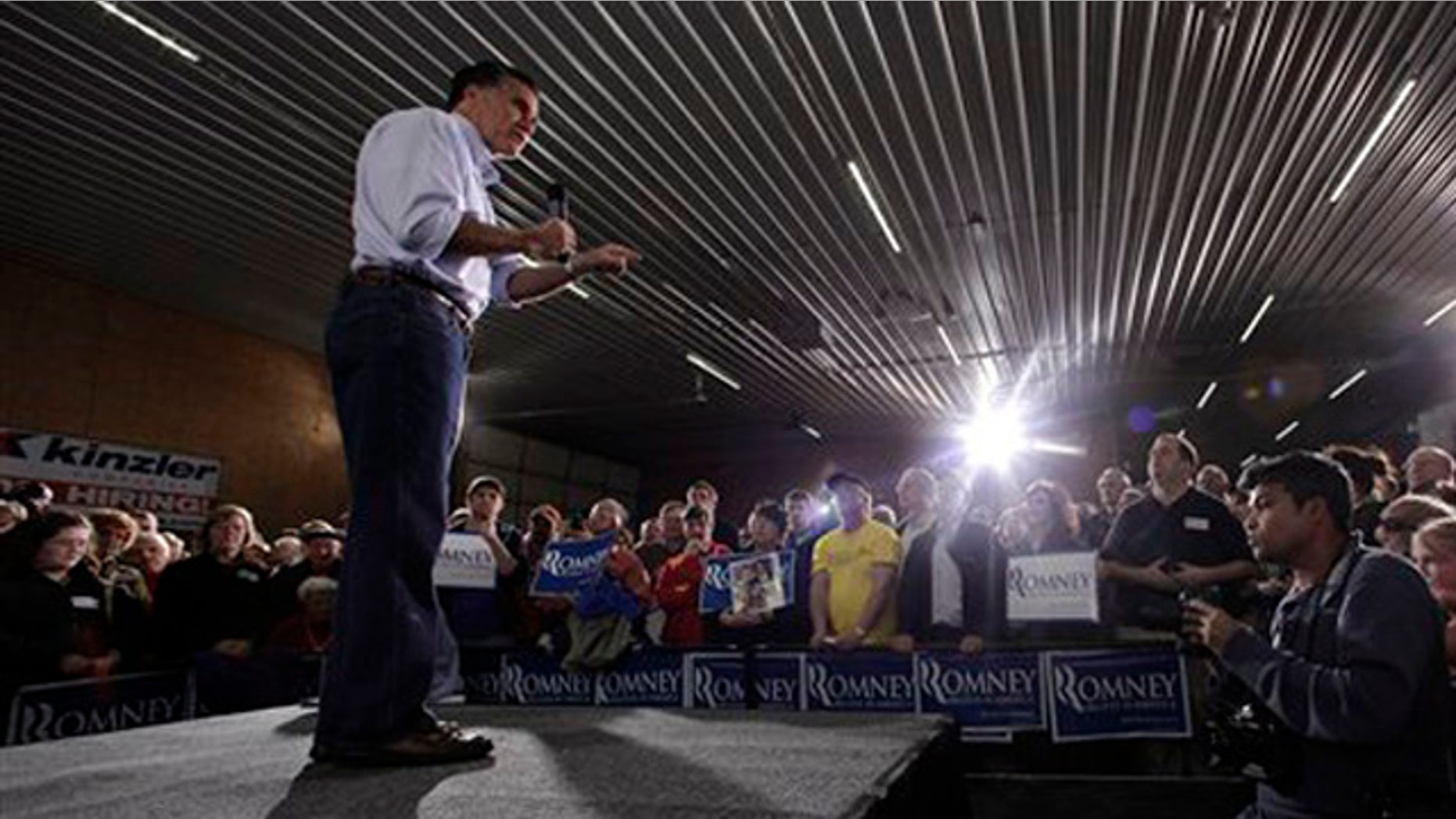 As the rest of the Republican presidential candidates leap-frog one another in the polls, Mitt Romney has over the last several days watched his numbers quietly rise, lending confidence to his sudden push for a strong finish in the Iowa caucuses.
All along, the former Massachusetts governor's strategy was built around a dominating performance in the first-in-the-nation primary, in New Hampshire. Iowa, a caucus state where he finished a distant second to former Arkansas Gov. Mike Huckabee in 2008, had not been a priority for Romney -- he skipped the Iowa straw poll in August and until recently had for the most part kept the state off his campaign itinerary.
But while Romney still looks untouchable for the moment in New Hampshire, several recent polls show him narrowly leading in Iowa -- a contest where he is now devoting all his time.
Challenged on whether he really had his heart in the Iowa game Thursday, Romney said he did, noting that he's looking beyond Iowa as well.
"I want to get the support of the people of Iowa, but I also want to make sure that I get the people in New Hampshire and South Carolina and Florida," he said. "I want to make sure that your vote backing me is a vote that leads me to become the nominee."
Romney is making what is arguably his most compelling case to the pragmatic side of Republican primary voters -- poll after poll shows he is better positioned to defeat President Obama. "This is a process not just of putting your name or your hand next to someone who you kind of like," Romney said in Mason City. "It's also selecting who our nominee ought to be, who you think could beat Barack Obama, who you think can get the 1,150 delegates it takes to become our nominee."
A newly released NBC News-Marist poll once again showed Romney with a slight lead in Iowa, pulling 23 percent support. Ron Paul clocked in close behind with 21 percent. In the next tier were Rick Santorum with 15 percent, Rick Perry with 14 percent and Newt Gingrich with 13 percent. The poll of 433 likely caucus-goers had a margin of error of 4.7 percentage points.
A Rasmussen Reports poll the day before showed similar results, and Romney was considered by caucus-goers as the strongest potential GOP opponent to challenge Obama.
Romney, among others, seemingly has benefited from Gingrich's recent slide in the polls, both nationally and in Iowa. A new Gallup poll also showed Romney 4 points ahead of Gingrich nationally.
The results do not necessarily mark a turnaround for Romney. He still has not broken above the 25 percent range in national polls, though for now he has closed the gap with Gingrich. In Iowa, undecided voters could yet change up the race -- the NBC News-Marist poll showed 7 percent of likely voters were still undecided. And Gingrich has dominated polls in the key early states of South Carolina and Florida, though few recent surveys have been conducted and the results of Iowa and New Hampshire could impact the standing of candidates in Florida and South Carolina.
Back-to-back wins for Romney in the first two contests could help assuage concerns of reluctant primary voters who have for the better part of the year courted a string of Romney alternatives.
Romney is making a big push in Iowa in the final days. On Friday, one of his best-known surrogates, New Jersey Gov. Chris Christie, is hitting the trail in Iowa on Romney's behalf. Christie and Romney were holding a rally Friday morning in Des Moines before branching out across Iowa.
Romney's rivals, however, were working in overdrive to emerge as his chief rival. None went directly after the former Massachusetts governor though. Instead, they kept their focus on each other as all hoped a strong showing here could yield momentum heading into the next contests.
"Don't settle for what's not good enough to save the country," the newly ascendant Santorum implored Iowans on Thursday at city hall in Coralville. He urged voters to put conservative principles above everything else and suggested that his rivals, specifically Paul, lacked them.
For the first time, Santorum, a former Pennsylvania senator who lost a bruising 2006 re-election bid, became a target.
"When he talks about fiscal conservatism, every now and then it leaves me scratching my head because he was a prolific earmarker," Perry, the Texas governor, said of Santorum, referring to special spending projects members of Congress seek. "He loaded up his bill with Pennsylvania pork."'
Rep. Michele Bachmann of Minnesota also criticized Santorum on the spending set-asides in a conference call late Thursday with supporters.
"He has a real problem with earmarks," she said.
Santorum defended the practice as part of lawmakers' constitutional role as appropriators, telling CNBC that he owed it to Pennsylvanians to bring money to the state. He said earmarking became abused and that he would support a ban on them if he were president.
The maneuvering underscored the fluid -- if not convoluted -- state of the GOP presidential race as Tuesday's caucuses loom while cultural conservatives and evangelical Republicans, who make up the base of the electorate here, continue to be divided. That lack of unity could pave the way for someone who is seen as less consistently conservative.
The Associated Press contributed to this report.