In hacked email, Clinton's campaign manager urges her to court 'needy Latinos'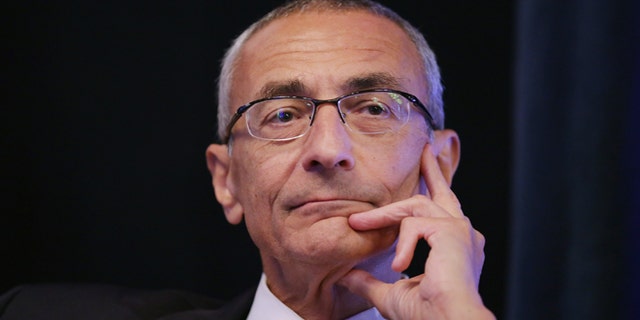 NEWYou can now listen to Fox News articles!
The latest dump of hacked emails by Wikileaks includes one by Hillary Clinton's campaign chairman John Podesta urging the Democratic presidential nominee and a top aide to make phone calls to prominent Latino politicians – including New Mexico Gov. Bill Richardson and former Transportation Secretary Federico Pena – to ask them to endorse her White House run.
In an email dated August 21, 2015 and titled "Needy Latinos and 1 easy call," Podesta urges Clinton to lay out the reasons why she should reach out to the two Hispanic politicians that served in her husband's cabinet.
Podesta, who also heaps praise upon former Secretary of the Interior and Clinton surrogate Ken Salazar, said that Pena was close to committing to an endorsement but had some reservations and hard feelings from his days under Bill Clinton.
"Fed (sic) never said this to me but he confided to Ken that his Cabinet stints ripped up his family," Podesta wrote in an email apparently addressed to Clinton and top aide Huma Abedin.
The email goes on to say that Pena endorsed Barack Obama during the president's 2008 White House run ("the only candidate that asked for his support was Obama, so he endorsed.") and says that Pena's new wife is a fervent supporter of Clinton's current White House bid.
A more tricky call, Podesta added, would be to Richardson, who despite serving as Secretary of Energy and U.S. ambassador to the United Nations under the Clinton White House, has had a rocky relationship with the Clintons since his own failed run for the presidency in 2008.
"[N]ot withstanding the fact that he can be a d***, it was worth getting him in a good place," Podesta wrote. "He had a good conversation with the President and has been good in his interviews since."
Podesta added: "I think it will take a call from you to get a formal endorsement … Probably worth a quick call to ask him to stay stout and publicly endorse, but if it's too galling, don't bother."
The idea of a call, however, was apparently not too galling for Clinton as Richardson publically endorsed her White House bid only two days after Podesta sent the email.
"I have spoken to President and Secretary Clinton and we have patched up our disagreement from the 2008 election," Richardson said in a statement to ABC News. "I am pleased to announce I wholeheartedly support Secretary Clinton's candidacy for the presidency."
In a statement released on Thursday, Richardson said despite the email revelation that he still "strongly" supports Clinton.
"I do not care about any characterization of me made in an email. I have worked with John Podesta for many years and am neither concerned nor unhappy about this email repartee," he said. "I fully respect John and recognize the difficult job he has. I say this as someone who is neither seeking nor expecting any appointment or role in a Clinton White House, as evidenced by the emails."
For his part, Podesta has not responded to questions about individual emails but said the FBI contacted him over the weekend and confirmed it was investigating the hacking of his account as part of the ongoing probe in other Democratic Party hacking by groups with Russian ties.
The Associated Press contributed to this report.