Immigration Reform: Pessimism And Optimism Alike On Prospects For 2014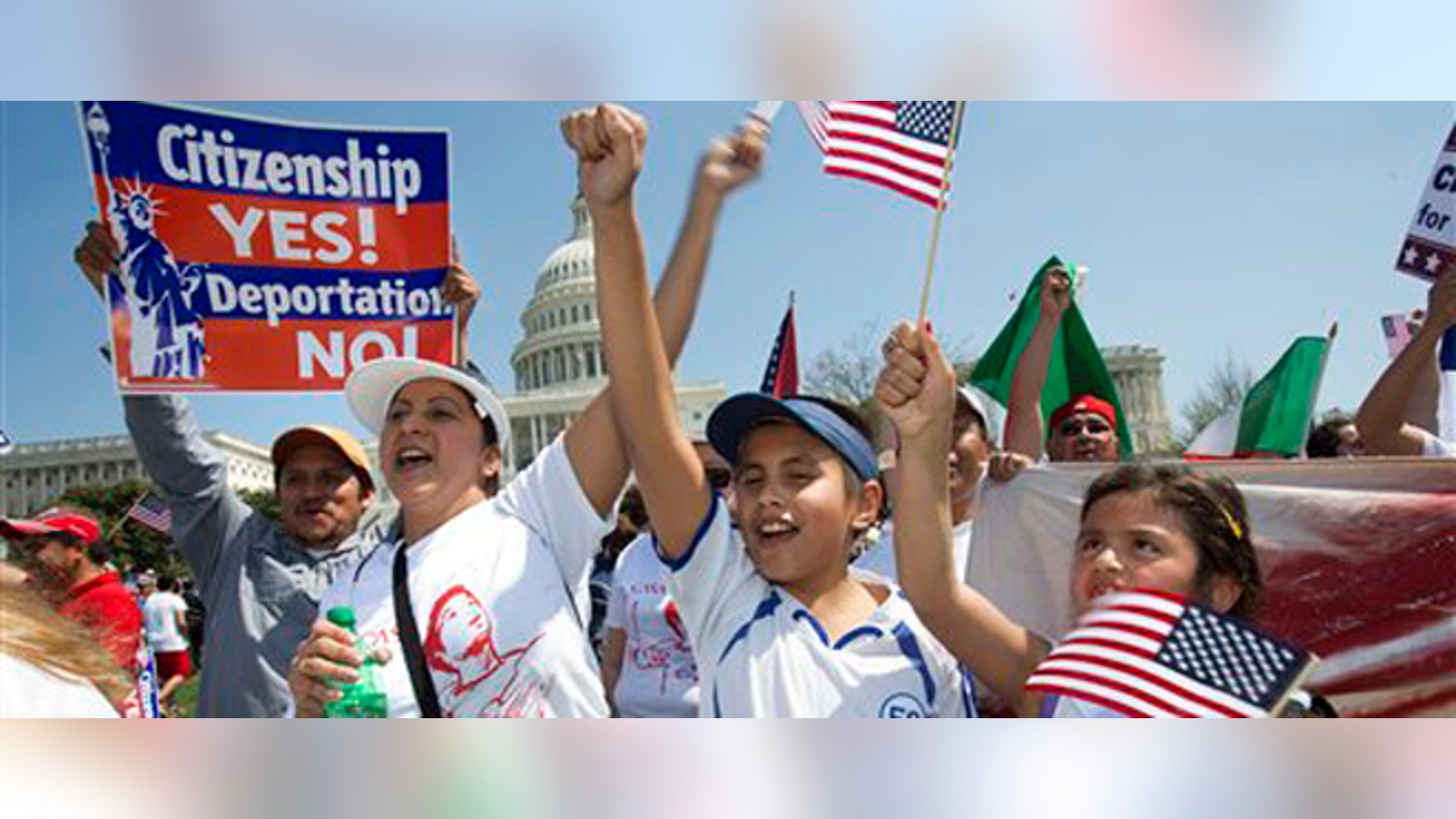 At first, it seemed 2007 was going to be the year marking the first time in a generation that the country was poised to systematically overhaul its national immigration system. But the effort went down in flames. Then it was widely expected that this year all stars were aligned.
Again, no dice.
So will immigration reform finally take place in 2014?
Yes.
No.
Maybe.
Those are the answers of political experts to the question that – like the end-of-the-year question about the future of the stock market, and the question about the verdict that a jury is likely to return – defies consensus.
Some say they are optimistic that the flawed immigration system will see an overhaul, either in a comprehensive or piecemeal way, in 2014.
Alex Nowrasteh, an immigration policy analyst at the Cato Institute, a libertarian think tank, departed from commonly accepted thought arguing that immigration reform died with the lack of a vote in the House this year on a version of the bipartisan comprehensive measure the Senate passed in June.
"Both Republicans and Democrats are moving toward a compromise in the House as we speak," Nowrasteh told Fox News Latino. "Republicans need to give a little on legalizing unauthorized immigrants, and Democrats need to agree to more legal-worker immigration for the future."
Kica Matos, the director of the immigrant rights program at the Center for Community Change, an immigrant advocacy organization, said reform will happen next year because – if for no other reason – the movement pushing for it is too fired up and better organized than it's ever been.
"I recognize I am reading tea leaves," Matos said. "But immigration reform is alive and well. I'm not just saying this out of desperation. The Republican leadership in the House has recognized that it has to move forward. [Rep. Bob] Goodlatte said it is a priority for 2014, [Rep. John] Boehner said he recognizes that immigration reform has to happen."
To be sure, many in Congress sounded similar tunes at the end of 2012 and beginning of 2013 – after GOP presidential contender Mitt Romney's crushing defeat, said by many to be partly rooted in his his hard-line position against any measure that would provide a path to legal status.
The reality [is] that the vast number of undocumented persons in this country, over 11 million, need to be either legalized or documented. You cannot simply deport 11 million persons.
Many Latinos said in voter polls in 2012 that Romney's tough position, and that of the GOP in general during the primaries, fueled an alienation the community felt from Republicans. After President Barack Obama won 70 percent of the Latino vote, many GOP leaders – including House Speaker Boehner, of Ohio – described it as a wake-up call, a motivator for the party to soften its stance on immigration and to make overtures to Latinos.
But as 2013 wore on, the talk of a wake-up call grew softer, and the resistance by many conservative Republicans to what they see as rewarding law-breakers grew stronger, picking up more moderate members of the party along the way.
What's to say the firmness of some GOP leaders about immigration reform in 2014 won't end up the same way as the year wears on?
"It has to move forward in 2014," Matos said, adding that advocacy groups pushing for a reform that will include a path to legal status will not let up on their increasingly provocative acts of disobedience, and others forms of pressure.
These were some of the actions taken the last 365 days: Activists blocked immigration buses carrying immigrants slated for deportation. They held sit-ins in congressional offices. They fasted by the hundreds across the nation, some going without food for some three weeks – the largest group was staging their hunger strike in tents around the National Mall. They cornered Boehner while he was having breakfast alone at the counter of a diner in Washington D.C. And more than 100 activists held a vigil outside Boehner's home just before Thanksgiving.
"Nearly 200 people visited congressional offices" on a recent day, Matos said. "What will be different in 2014? A game changer is the militancy of this movement. We weren't doing acts of civil disobedience a year ago, we are winning in terms of legislation at the state levels, our movement has become more sophisticated and stronger over time."
Rep. Luis Gutierrez, an Illinois Democrat who is a leading voice in Congress for comprehensive immigration reform, told reporters recently that next year will be the last chance in the foreseeable future for the passage of legislation. After that, he said, there will be a new Congress (in 2015) decidedly less inclined to take up the issue.
His fellow Democrat, House Minority Leader Nancy Pelosi, told reporters last week that Boehner had told her that the House would take up immigration reform in 2014.
"He told me yes, we have to wait until next year," she was quoted as saying in Politico.
Republicans in the House, where they have the majority, have resisted bills that would extend a path to legal status to undocumented immigrants and bring in more workers, which they say would create competition for jobs at a time when many Americans are out of work.
The Senate passed a bipartisan immigration reform measure in June that, among other things, tightens security along the border, steps up interior enforcement, expands foreign worker visas and provides opportunities for undocumented immigrants who meet a strict set of criteria to legalize their status.
The immigration reform effort, however, stalled in the House. Boehner and other Republicans said if they did move on immigration, they would not rubber-stamp the Senate bill. Instead, they said, they would tackle the issue in a series of measures dealing with different aspects of immigration.
Sen. John McCain, a Republican from Arizona who was part of the bipartisan group in that chamber that drafted the comprehensive measure, said in recent days that his party would be more willing to take up the issue again after the primaries in 2014.
"I think conventional wisdom is that time is not on our side," McCain was quoted as saying in published reports. "But there are a number of members of Congress who have primaries and when those primaries are done, they may be more inclined to address the issue of comprehensive immigration reform."
Others think the elections in 2014 may be a reason political leaders and candidates stay away from immigration.
"Repeating the amnesty of 1986 is Republican party suicide," said D.A. King, a Georgia-based, nationally known activist who fights state-level and national efforts to provide breaks to undocumented immigrants.
"Pew [research institute] says that illegal Latinos would vote nearly 8-1 for big-government Democrats if they were legalized."
King, leader of the Dustin Inman Society, which pushes for tighter immigration enforcement, has designed and financed bumper stickers and billboards in Georgia taking aim at Republicans he sees as sell-outs for backing a path to legal status.
"The smart money is on pro-enforcement Americans defeating another amnesty and attempt to double immigration in 2014," he said. "For the same reasons we beat back the billion and a half dollar lobbying effort from the LearJet crowd this year and 2006 and 2007."
Jan Ting, who was second in charge of the country's immigration system in the early 1990s, said Republicans have their sights set on winning back a majority in the Senate in 2014 – a goal that could be in jeopardy if they touch the hot-potato issue of immigration.
"I don't think anything is going to happen," said Ting, who now teaches immigration law at Temple University in Philadelphia.
"In a year of closely contested congressional nationwide elections, the leaders of the Republican party would not want to put their members on the spot. No matter how they vote, it will lose them votes."
For his part, Chris Pawelski, a fourth-generation upstate New York onion farmer who lobbies for farming legislation, hopes reform happens because, he said, the country has a serious agricultural labor shortage.
"If nothing happens in 2014, more of the same will continue," he said. "In agriculture, you will continue to see a farm labor shortage. Over the past few seasons on my farm and neighboring farms we have had a hard time finding workers. Many of us have had a partial work force though most of the season."
Many undocumented workers, he said, would be willing to work in the United States, pay taxes, but keep their native homeland as their primary residence.
"The reality," Pawelski said, is "that the vast number of undocumented persons in this country, over 11 million, need to be either legalized or documented. You cannot simply deport 11 million persons."