Immigrant rights group calls for resignation of DNC spokesman over leaked email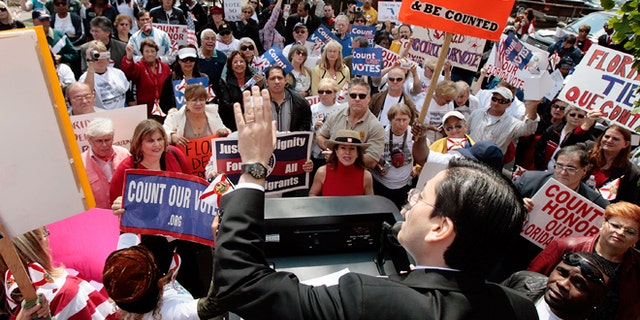 NEWYou can now listen to Fox News articles!
In another bit of fallout from the recent WikiLeaks email release, the Washington, D.C., area's largest immigrant advocacy group, CASA in Action, is pushing for the resignation of the Democratic National Committee's chief spokesman, Luis Miranda.
CASA in Action sent a letter Tuesday to the DNC's interim chair, Donna Brazile, to express their outrage and concern over one of Miranda's leaked emails, which stated that people or groups, such as CASA, that asked for federal protection of Central American unaccompanied minors under the Temporary Protected Status (TPS) were being "irresponsible."
In the letter the CASA president, Gustavo Torres, wrote, "It's incredible that someone who purports to stand in our corner like Miranda could characterize the leadership and years of work our organization has given to immigrant causes as self-serving and irresponsible. To suggest that we would call for an action that would put immigrants in harm's way is ludicrous. These are words we could expect from our Republican rivals, not from our allies."
"While we understand that these emails were not meant for public consumption, they indicate a lack of understanding of our immigrant community and those who fight for it."
In Miranda's May message about the Obama administration's immigration raids he wrote:
"The problem is these groups don't want to hear this. They want us to send a message to Central Americans to keep paying smugglers and put those kids at risk of abuse and even death. Frankly, the rhetoric on this and calls for TPS are irresponsible – they send a message that ends up in more lives [being] lost. So we'll focus our points on how much has already been done to make things better, and that the GOP is standing in the way of real reform. We're not going to get into a fight on the Central Americans specifically: We're going to focus on Republican obstruction."
Miranda's email suggests that any federal money spent protecting Central Americans who were caught entering the U.S. illegally could serve as a kind of lure for others.
In CASA's statement, Torres demands Miranda's ouster from the DNC saying that such a move would send a resounding message that the party stands strong for immigrants moving into the election season and would encourage groups like CASA to "mobilize our voters and inspire support."
As of publication time, Miranda had not responded to Fox News Latino's request for comment.
Like us on Facebook
Follow us on Twitter & Instagram