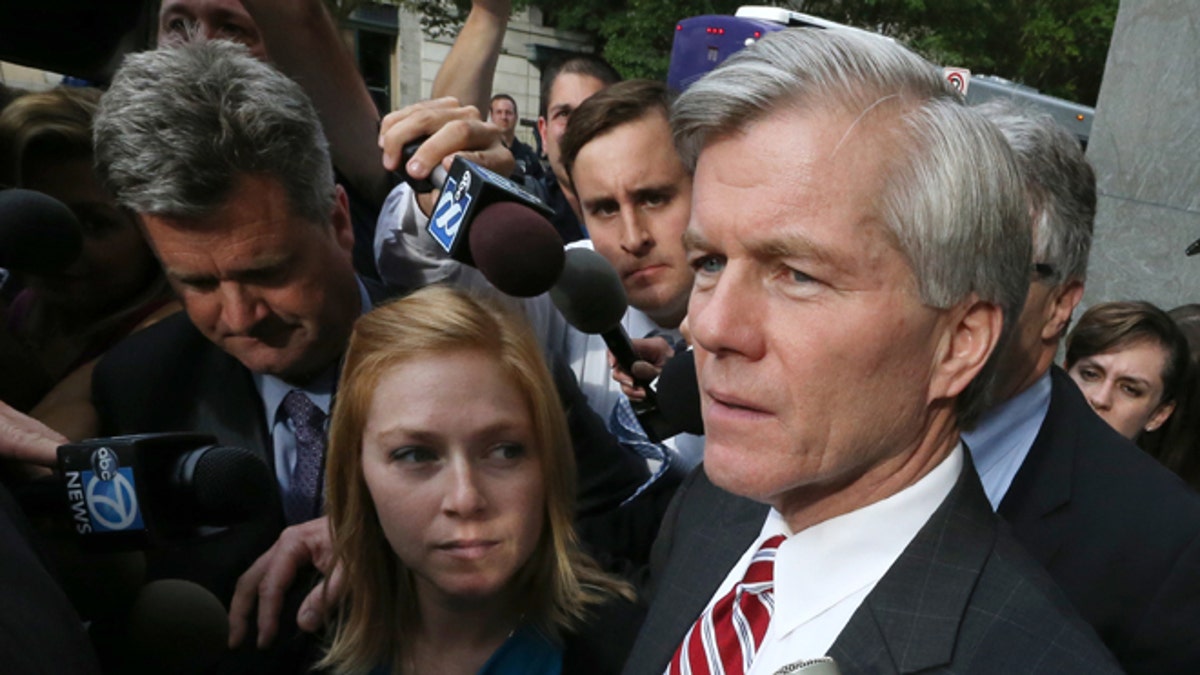 Former Virginia Governor Bob McDonnell wrapped up testimony in his corruption case Tuesday, saying he "takes responsibility" for bad judgment but denying he broke any laws.
The Republican former governor said he regrets accepting gifts and loans from former Star Scientific Inc. CEO Jonnie Williams, who was seeking state-backed research for his company's tobacco-derived dietary supplement, Anatabloc. McDonnell and his wife Maureen are charged with providing special favors to Williams in exchange for the more than $165,000 in items while McDonnell was in office.
McDonnell said he firmly believes he did not break any laws. When asked by his attorney Hank Asbill once again if he ever knew what it was Williams wanted for all the money and gifts, McDonnell said he did not.
"He never told me what he specifically wanted," he said.
However, McDonnell did admit that he exhibited poor judgment in the situation.
"I let my life get out of balance," he said. He later added, "My judgment was not as good as it should have been... that is my error and I take responsibility for that."
Earlier in the day, prosecutor Michael Dry during cross-examination took pains to explain to the jury what Williams wanted from the McDonnells.
Dry showed the jury text messages and a June 16 letter from Williams. In the correspondence, Williams said repeatedly that Anatabloc needed clinical studies at major Virginia universities like the University of Virginia and Virginia Commonwealth University. Then-Governor McDonnell did pass that letter on to his Health Secretary, but the studies never materialized.
McDonnell responded forcefully when questioned about the emails.
"We don't make decisions based on money. No sir," McDonnell said.
He said his email to his staffer and lawyer, Jasen Eige, was "to ask him to get a phone call returned, which I've done thousands of times. It's basic constituent service."
Jurors also saw an email that Maureen McDonnell sent to Eige earlier that month in which she wrote "Gov wants to know why nothing has developed w/ studies."
Under the timeline developed by prosecutors, Maureen McDonnell sent the email while she and the governor were riding in a car together to a political event.
Bob McDonnell said he was not pressing for information on the studies, and he didn't know why his wife said as much in an email. Dry responded with incredulity.
"Your wife was misleading one of your most trusted advisers?" Dry said.
"I don't know. I'm saying that is not true," McDonnell said.
Dry also pointed out that McDonnell got a lot more careful about his finances after he learned that his wife had been interviewed by law enforcement about loans and gifts from Williams, suggesting he had something to hide.
McDonnell also had his bookkeeper sign a confidentiality agreement, something she had never had to do before. Dry also told the jury that Williams had loaned McDonnell's LLC $70,000 and the checks had been cashed for 45 days before there was ever any kind of written agreement.
Dry closed by quoting Mr. McDonnell's inauguration speech, which itself quoted scripture, "to whom much is given, much is required... Williams gave you approximately 177 thousand dollars in gifts and loans, is that correct?"
"Yes," McDonnell answered.
McDonnell's defense said they will call one witness on Wednesday, but keep it "short." Then Maureen McDonnell's defense will present its case, but her lawyer said he will only need about three hours.
After that comes prosecution rebuttal, jury instructions and final arguments, leading many court watchers to speculate that the jury could get the case by Friday.
Judge Spencer closed today's proceeding by joking with the jury, "Maybe I was wrong about yesterday being the longest day... Slowly but surely, we're getting there."
The Associated Press contributed to this report.