How Venezuela's Opposition Candidates Stack Up Against Hugo Chavez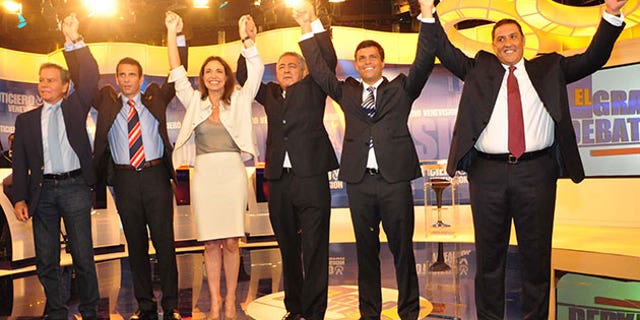 As Venezuelans head this Sunday for the first primary election in the country's history, five candidates' will vie for a spot to challenge President Hugo Chávez in Venezuela's October general election.
While the candidates and their credentials are varied, one thing for certain is the election will be one of the biggest challenges to the ailing Chávez's power in his 13 years as the leader of the Bolivarian Republic. Here is a rundown of the candidates who hope to be the next leader of Venezuela.
María Corina Machado: Currently a Venezuelan congresswoman, Machado is the former CEO of Súmate, a volunteer civil organization that aims to defend voting rights and in 2004 led a petition drive to recall Chávez's presidency.
Chávez branded her as a traitor and authorities charged her with treason and conspiracy over Súmate's acceptance of funds from the National Endowment for Democracy (NED). She also faces treason charges for signing the Carmona Decree during the failed 2002 coup attempt against Chávez. Machado claims the signature was false.
While she has recently softened her stance towards Chávez, Machado is still considered a leading anti-Chavista. In 2005 the New York Times called her "the Venezuelan government's most detested adversary, a young woman with a quick wit and machine-gun-fast delivery who often appears in Washington or Madrid to denounce what she calls the erosion of democracy under President Hugo Chávez."
Venezuela's 'Devil Dancing' Festival
Henrique Capriles Radonski: Capriles is youngest man in Venezuelan history to become a Congressman, and the youngest to become vice-president of the country's congress. The current governor of the Venezuelan state of Miranda spent four months in jail under accusations of fomenting attacks on the Cuban Embassy in Venezuela during the attempted 2002 coup.
Capriles has become popular among young Venezuelans with his lack of connections to the country's old guard. His idea of moderate leftist government modeled on that of Brazil under Luiz Ignácio Lula da Silva has struck a chord among voters.
Currently one of the frontrunners in the primary, Capriles got a bump when former Caracas mayor Leopoldo López dropped out of the presidential race and threw his support in Capriles' camp.
Pablo Pérez: The long time protégée of former Zulia state governor Manuel Rosales, Pérez took over from his mentor when Roales fled to Peru to avoid corruption and assassination charges
Pérez has built a name for himself as the mayor of the city of Maracaibo and, since 2008, as governor of the oil-rich Zuilia. His campaign focus on healthcare and education, and Pérez claims to be the only candidate who can guarantee an orderly transition if Chávez loses.
"I'm the only governor, the only elected official from the opposition that has had some sort of dialogue with the national government," he said, according to the Miami Herald. "A real democracy needs a strong government but also an equally strong alternative point of view … There is no reason for Chávez's supporters to be scared."
Former Miss Venezuela Loses Battle With Breast Cancer
Diego Arria: Arria is unique among the hopefuls in that he has experience both domestically and internationally. His lengthy resume highlights acheivements both on the national and international stage.
Arria began his political career as the governor of the Venezuela's Federal District (Caracas), where in 1976 he petitioned Chile's Pinochet dictatorship for the release of his friend Orlando Letelier, who eventually was assassinated in Washington D.C.
Arria became Venezuela's Permanent Representative to the United Nations in 1991 and became President of the UN Security Council in 1992.
The former Diplomatic Fellow at the Council on Foreign Relations and Visiting Scholar at Columbia University is also the only candidate not registered on the unity pact called Mesa de la Unidad (MUD).
World's Biggest Arepa Weighs over Half a Ton
Pablo Medina: The former labor leader and ex-Chávez supporter is the race's outsider candidate. His platform of reorganizing the political structure and creating a "Republic of Workers" has not gone over well a Venezuelan public tired of Chávez's socialist ideology and a struggling economic situation.
With no party affiliation and the memory of his time as a Chávez supporter, Medina has high hurdles to overcome to become the candidate.
Whichever candidate wins the primary election on Sunday will be facing off with a wily and battle-tested campaigner in Hugo Chávez. It will be an election contest followed around the world.
Jennifer Barreto-Leyva is a freelance writer based in Venezuela.
Follow us on twitter.com/foxnewslatino
Like us at facebook.com/foxnewslatino