House Votes to Defund National Public Radio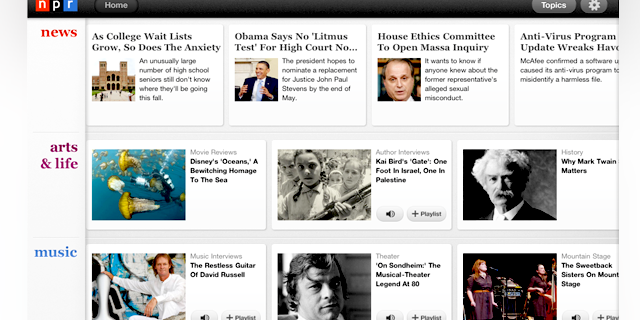 The House of Representatives on Thursday voted 228-192 on a bill to defund National Public Radio, the vast public radio network whose leadership has been questioned after a series of executive decisions about programming, staffing and reporting bias.
Seven Republicans broke with House leadership and voted against the package. One GOP member, Michigan Rep. Justin Amash, voted present.
Click here to see how your representative voted.
Though Republicans have been targeting NPR for months, in earnest after the firing last October of Fox News contributor Juan Williams, the charge to stop taxpayer cash from reaching NPR coffers was recently refueled by James O'Keefe. O'Keefe, the investigative reporter whose hidden camera expose led to the defunding of ACORN, recently captured on tape an ex-NPR executive calling Tea Party members gun-toting, racist, religious fanatics and saying the network doesn't really need federal money.
Opponents of government spending for NPR said the O'Keefe video was the last straw.
"Of all the data that we've seen, we still have not absorbed the culture of NPR until we saw the video" of that meeting, said Rep. Steve King, R-Iowa.
NPR currently receives millions in indirect and direct funding to supply programming to hundreds of radio stations. But if the bill debated Thursday were to become law, the federal government would be prohibited from direct federal funding of NPR -- valued at $5 million in fiscal year 2010 -- and stations would be prohibited from using federal funds to pay NPR dues.
The legislation also bans public radio stations from using federal funds distributed by the Corporation for Public Broadcasting to purchase programming produced by NPR. Programming fees are the largest single source of NPR revenue, at $56 million in 2010's budget.
Current federal law requires approximately 26 percent of federal grants to public radio stations be used for the production or acquisition of programming. Stations can continue to receive federal grants for the production of their own programming, according to the bill.
In a statement of policy issued by the White House Office of Management and Budget before the vote, the Obama administration announced its opposition to defunding NPR but did not suggest a veto would be coming -- likely because the legislation would have to mount a tough hurdle to pass the Senate.
Nonetheless, the OMB said the bill would "unacceptably prohibit" the use of federal funding for public ratio station content purchases.
"The vast majority of (the Corporation for Public Broadcasting)'s funding for public radio goes to more than 700 stations across the country, many of them local stations serving communities that rely on them for access to news and public safety information. Undercutting funding for these radio stations, notably ones in rural areas where such outlets are already scarce, would result in communities losing valuable programming, and some stations could be forced to shut down altogether," the statement reads.
Thursday's back-and-forth on the House floor included discussion on the quality of content, the reach to rural communities with limited access to news and claims the cuts would not save taxpayer money. It also featured sarcasm-laced theatrics by Rep. Anthony Weiner, D-N.Y.
But opponents of cuts argued as well that the Republican majority failed to live up to its pledge to post the legislation online for three days prior to a vote.
"The majority is breaking its own rules on transparency to rush this bill to the floor before the American people have time to make their voices heard," said Rep. Earl Blumenauer, D-Ore., founder of the bipartisan Congressional Public Broadcasting Caucus.
The Sunlight Foundation issued a statement that the "Read the Bill" rule was "artfully evaded" by splitting the definition between hours and calendar days.
"Sunlight has advocated using a '72-hour' time frame instead of three calendar days to prevent possible gamesmanship," the group said.
Blumenauer also argued that polls show a vast majority of Americans want funding for public broadcasting to remain in place.
"This bill clearly goes against their wishes," he said.
On March 1, PBS released a poll it had commissioned from Hart Research and American Viewpoint that showed 69-27 percent opposition to proposals to eliminate government funding of public broadcasting, with voters 83 percent of Democrats, 69 percent of independents, and 56 percent of Republicans saying they don't want it defunded.
While the House spent several hours of its afternoon debating the legislation, the Democratic-led Senate is unlikely ever to bring up the measure for a vote.