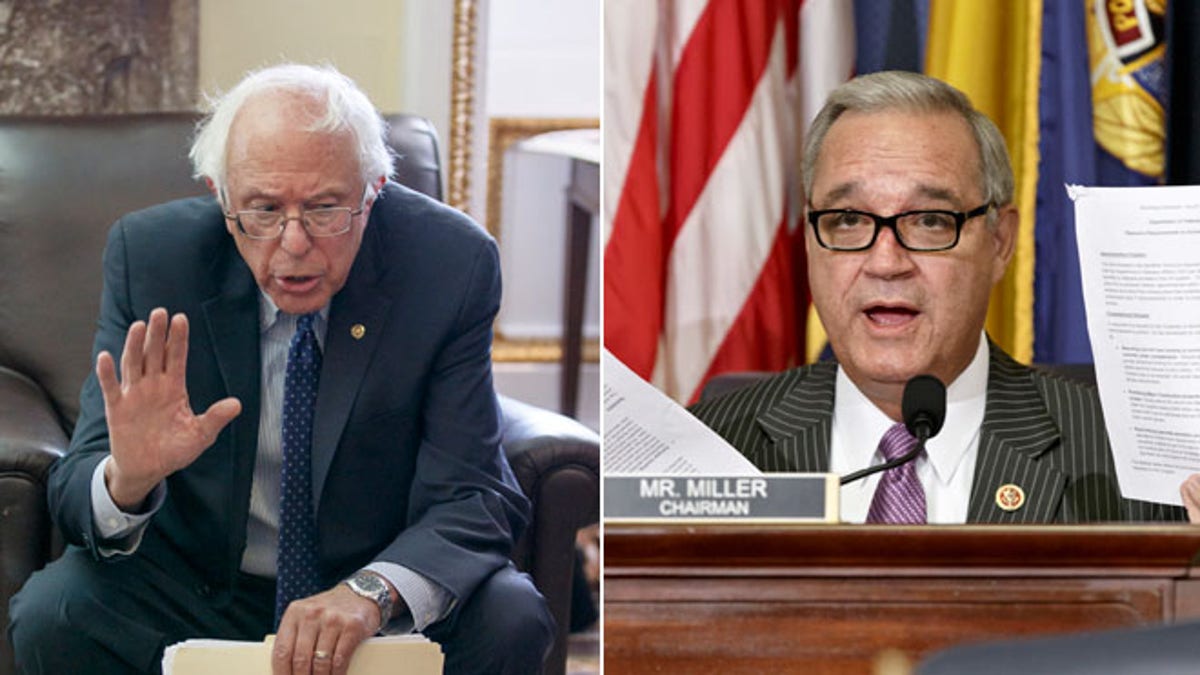 A massive and costly package meant to address the litany of problems at the Department of Veterans Affairs was getting caught in the congressional grinder Thursday, as House and Senate lawmakers clashed over how to iron out differences in their competing bills.
Tempers flared as House Republicans went in one direction, and the chairman of the Senate Veterans Affairs Committee went in another. With the August recess looming, it remains unclear whether the two chambers will be able to pass a bill before the break.
"I don't know where the ball is right now," House Veterans Affairs Committee Chairman Jeff Miller, R-Fla., said Thursday.
Lawmakers are trying to figure out how to fix the beleaguered Department of Veterans Affairs in response to the furor over long patient wait times and falsified records covering up the delays. The talks have been bogged down over costs and how much the VA should turn to outside doctors to address the backlog.
Miller -- who also said reports that talks are on the verge of collapse are "exaggerated" -- spoke after holding his own "conference committee" meeting, which hardly any Democrats attended.
A conference committee typically is called to resolve differences between competing House and Senate bills – in this case, two different versions of a VA reform bill. But Miller did not have the blessing of Senate Veterans Affairs Committee Chairman Bernie Sanders, I-Vt., who refused to attend.
In a bizarre development, Sanders and Miller were each presenting their own plans, in turn dimming the chances of House and Senate lawmakers reaching an agreement before the recess.
On the Senate side, Sanders detailed what he described as "compromise" bill that would reform the troubled VA and help the department give timely care to veterans. He said it would cost less than $25 billion over three years.
That is $10 billion less than a bill passed by the Senate last month and nearly $20 billion less than a House-backed measure. Both bills allow veterans to go to private doctors to avoid long wait times plaguing Veterans Affairs hospitals and clinics.
On the House side, Miller presented the parameters for his plan at the 20-minute session attended largely by House and Senate Republicans. He said the plan would include $10 billion in emergency funding and $25 billion afterwards.
He said he'd still like to meet with Sanders on Monday, saying "the clock is ticking" in that chamber.
Sanders and fellow Democrats in turn called on Miller to stay in D.C. over the weekend and hammer out a compromise. (Miller, firing back once more, said in a statement he's "committed to working in a bipartisan manner with the Senate" but a compromise will be "impossible" if Senate Democrats won't participate in conference committee meetings and talks.)
Sanders also blasted Miller for "unilaterally" calling the conference committee.
"This is a sad indication that the House leadership is not serious about negotiations. We don't need more speeches and posturing. We need serious negotiations – 24/7 if necessary – to resolve our differences in order to pass critical legislation," Sanders said in a statement.
On the Senate floor, Sen. John McCain, R-Ariz., implored Sanders to work with Miller. He said the failure to come to an agreement is a "gross disservice" to veterans.
Sanders accused Miller of pushing a "take it or leave it" deal, which Miller denied.
Meanwhile, the Obama administration says it needs about $17.6 billion to hire thousands of doctors, nurses and other health professionals, lease new facilities and upgrade its computers to reduce a backlog of veterans awaiting care at VA hospitals and clinics. The administration's request does not include money to make it easier for veterans to get health care from private doctors, the biggest cost in Congress's bills.
Republicans complain that Acting VA Secretary Sloan Gibson's budget request is thinly documented. Miller told Gibson Thursday that he was surprised that such a large request was made in a slim, three-page memo.
At a hearing Thursday, Miller told Gibson that the request "makes it very difficult for us to do our job."
Gibson said the request reflected his judgment about what the department needs to serve veterans.
Fox News' Chad Pergram and The Associated Press contributed to this report.