House Republicans Dispute Claim That Gitmo Relocation Would Be Jobs Engine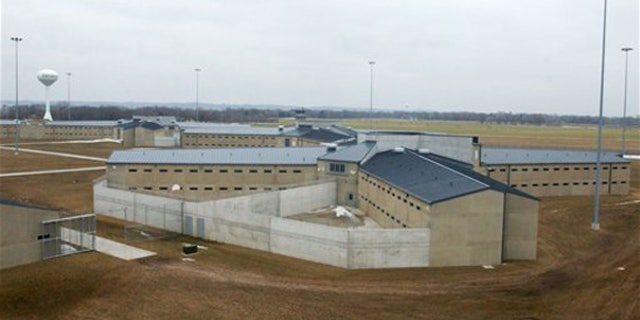 House Republicans on Monday disputed claims that moving Guantanamo Bay detainees to rural Illinois would bring thousands of local jobs to the community, saying a proposed detention facility in Thomson would amount to little more than "the new Gitmo."
Rep. Mark Kirk, R-Ill., released a statement claiming that a Republican colleague was told in a private Pentagon briefing Sunday that up to 1,500 soldiers would be posted at Thomson to guard the detainees, and that the Bureau of Prisons says the plan would only generate between 450 and 500 extra jobs, with no preference given to local residents.
"By moving the Al Qaeda core to Thomson along with 1,500 U.S. troops, the United States will publicly brand Illinois as the new Gitmo," he said. Kirk and other Republicans warn that Thomson could become a terrorist target and say the economic benefits would be relatively slight.
But Democratic officials in Illinois say the conversion of the near-empty prison in Thomson to a federal penitentiary could pump up to $1 billion into the local economy over four years and generate more than 3,000 jobs. In a reversal of the not-in-my-backyard approach many communities have taken to the idea of housing terror detainees stateside, the thirst for prison-centered employment has caused Thomson and several other towns to plead with federal officials to let them become permanent hosts to dozens of alleged killers.
"At a time when Illinois is facing recession ... this is a lifeline. This is an opportunity," Sen. Dick Durbin, D-Ill., told reporters Monday, predicting that high-paying jobs with benefits packages would accompany a proposal to bring up to 100 detainees, in a revamped federal prison, to his state. "These people deserve a fighting chance to save their communities ... and this project will give them that chance." Durbin called it a "competition."
Gov. Pat Quinn said in a statement that such a facility could cut the unemployment rate of Carroll County, where the prison is located, in half from its 10.5 percent level as of September. Quinn predicted local income could increase by up to $223 million annually.
Regardless of where the money goes, the relocation represents a big federal expense. Charles Stimson, a former deputy assistant defense secretary for detainees, told FoxNews.com that costs would include spending up to $200 million to upgrade a facility, another $100 million a year for an operating budget and an unknown shift of annual federal homeland security funds to pay for additional terror threat monitoring and security for the community hosting prisoners.
"You're going to have to harden the facility so that people cannot commit acts against it. ... It will be a homeland security bonanza," he said. He warned that fraud and abuse would surely be commonplace in the process -- but also recalled an argument from former Defense Secretary Donald Rumsfeld in saying the cost of keeping such a facility is slight compared to the $3 trillion in losses to the global economy caused by the Sept. 11 attacks.
Pentagon spokesman Bryan Whitman stressed Monday that no decision has been made as to where the federal government will relocate the prisoners.
But Thomson's not the only city looking for some detainee stimulus.
Other communities that have expressed interest include Hardin, Mont.; Marion, Ill.; Standish, Mich.; and Florence, Colo.
The surrounding Big Horn County in Montana has an unemployment rate of 10.2 percent, which approaches Carroll County's. Hardin's got a 460-bed detention center that's been sitting empty for two years. The city argues that the relatively new, modern facility would be easy to upgrade to accommodate the prisoners now in Cuba. And it's remote enough to make escape considerably difficult.
The county where Marion is located also has a relatively high unemployment rate, though below the national average, at 9.6 percent, according to September statistics.
"Bring them on," Mayor Robert Butler said of the detainees over the summer.
Housing detainees would entail restoring the medium-security prison to its former high-security status. But the restoration could also bring with it the return of lost jobs.
In Standish, the county unemployment rate was a whopping 15.8 percent in September. Local officials there were looking to land a detainee deal to keep their shuttering local prison open, and the facility has been reviewed by prison officials.
Florence, which has a lower unemployment rate of 7.7 percent, has also pitched its federal Supermax prison as a potential home for Guantanamo detainees. Prison officials also have looked at the Navy brig in Charleston, S.C.
But as the prospect of gainful employment wins over supporters to such host-city plans, several lawmakers say housing detainees locally carries too many risks.
"Instead of focusing attention on policies that will create good private sector jobs for the future, they're offering us their prisons and calling this a dream come true," Rep. Judy Biggert,R-Ill., said Monday. "I'd like to say it's more like your worst nightmare."
Kirk, a Republican running for President Obama's old Senate seat, circulated a letter among elected officials asking them to write to Obama opposing the plan. He said bringing Guantanamo prisoners to the state would make it a target for terrorist attacks.
"At best, these people will also be able to convert other prisoners to the cause of Jihad against America," he told Fox News. "At worst, the anger and attention that is brought to the city of Chicago and the state of Illinois would make us a target."
Senate Minority Leader Mitch McConnell told "Fox News Sunday" that he expects Illinois residents and lawmakers to object and that he and his colleagues will seek to block funding at the federal level.
"Hopefully the Senate and the House will speak on this issue," McConnell said.
The Associated Press contributed to this report.